Ok, she's here! Tell me what you think :)
---
Alright guys, this is "Dreamy". She's a 14yr old TB mare that I have on trial this week. She just came in tonight, sweet as pie and super super calm in her new environment so I am hoping for the best
We are looking at her for a possible Hunter show horse...I've only ever shown Morgans, etc so the H/J is still a bit of a mystery to me. My trainer will of course look at her, etc and give me her expert advice, but I am curious to see what you guys think of her. I included a quick lunging video of her. Nothing fancy, just a trot. Do you see "hunter" in her? I am looking for something competitive for the local circuit.
**FYI! She's been sitting in a pasture for 2 years! I know she has no muscle...at all. And a hay belly...and bad fungus on her legs...and a giant sunburn on her nose lol.
But I am hoping to gain insight on her conformation and movement. Be brutal. She's on tryout
THANK!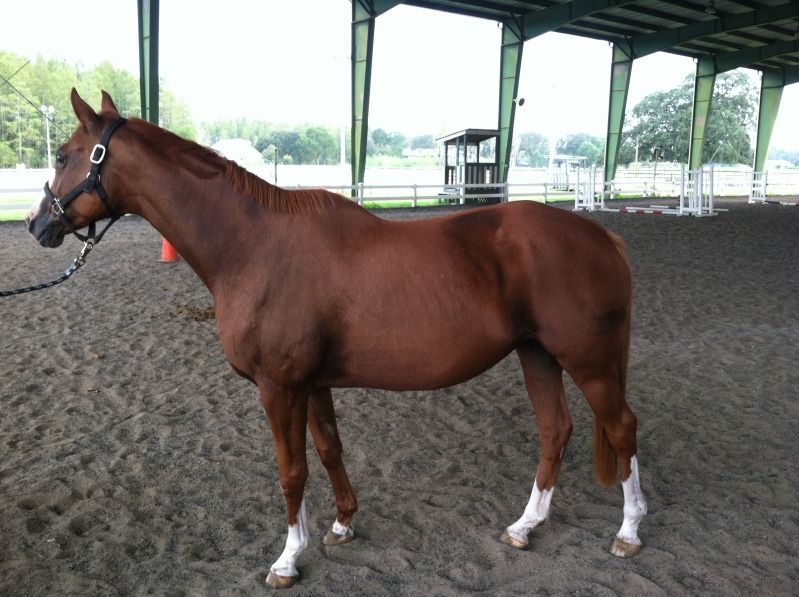 She has really nice bone and I love her nice low set knees and hocks. She may be very hard to fit a saddle to due to her extremely prominent withers.. may need a cut back saddle. She does not have the most open shoulder and so I doubt whe will do well over fences.. may point her knees down. Her peak of croup is set a bit further back than I like.

In spite of the withers looking like this next statement is untrue.. she is actually built heavy on the forehand and a bit down hill.

Lots to like about her. She looks an honest type.
---
There is something about the outside of a horse that is good for the inside of a man.
~Winston Churchill
(or woman!!!!
) Dinosaur Horse Trainer
Oh wow them withers . . . .
Weanling
Join Date: Oct 2011
Location: Illinois www.saddleonline.com
Posts: 509
• Horses:
1
Holy Withers Batman! :) She is really cute, and looks like a good solid citizen, someone you could learn on. I like her trot, pretty straightforward. What level hunters are you thinking of doing? Based soley on conformation I would be suprised to see a tight kneed hunter style jump come out of her. I also feel like she would not really have the "hunter" look over the fences, where they jump round with their nose by their feet, really "looking" over the fence. She might surprise you and he a super cute jump hidden in there though!
Structure-wise, as said in previous post, she is built a little down hill, although the withers make it hard to see. He hip and shoulder angle aren't going to do her any favors or make it easy for her to open up over fences. Her hind end is not the best, but I have seen some powerhouse QH jumpers with that kind of motor behind. The issue with that is they weren't smooth enough for hunters. You want an ideal hunter to be smooth and supple as silk over fences, making it look effortless. Jumpers, as long as you make it over you are good ;) style doesn't come into play as much there.

Nothing beats a good connection though, and she looks like a good horse to learn on, kind and understanding.
Good Luck!
---
"Riding: the art of keeping the horse between you and the ground."
~Author Unknown
Sadly the mare didn't work out. Come to find out the owner forgot to mention to key injuries that she had sustained that wouldn't even had me considering her if I knew about them before she dropped her off. She was notified on Monday and the mare is leaving. Sad to see such a sweet horse go, but her health it just not a gamble worth taking.

On a better note! I did get a new horse :) New post coming!
sorry to hear she didnt work out