Pasterns too long to jump? Pictures*
---
Simon is a 10 year old appendix from Alota Gator Bait. He has always been an amazing jumper but the past few years (3-4) he has been left basically completely out of work. I used to get on him every now and then for a quick walk trot but then he had two back to back abscesses, then his feet were left undone for WAY too long (see pics in my other thread on hoof health) now he has shoes on and he is finally sound. I am going to walk him bareback tomorrow and were going to get back into work SLOWLY but I'm wondering when we start jumping, are his pasterns too long? He was a jumper before i got him but I don't want to do anything that would hurt him.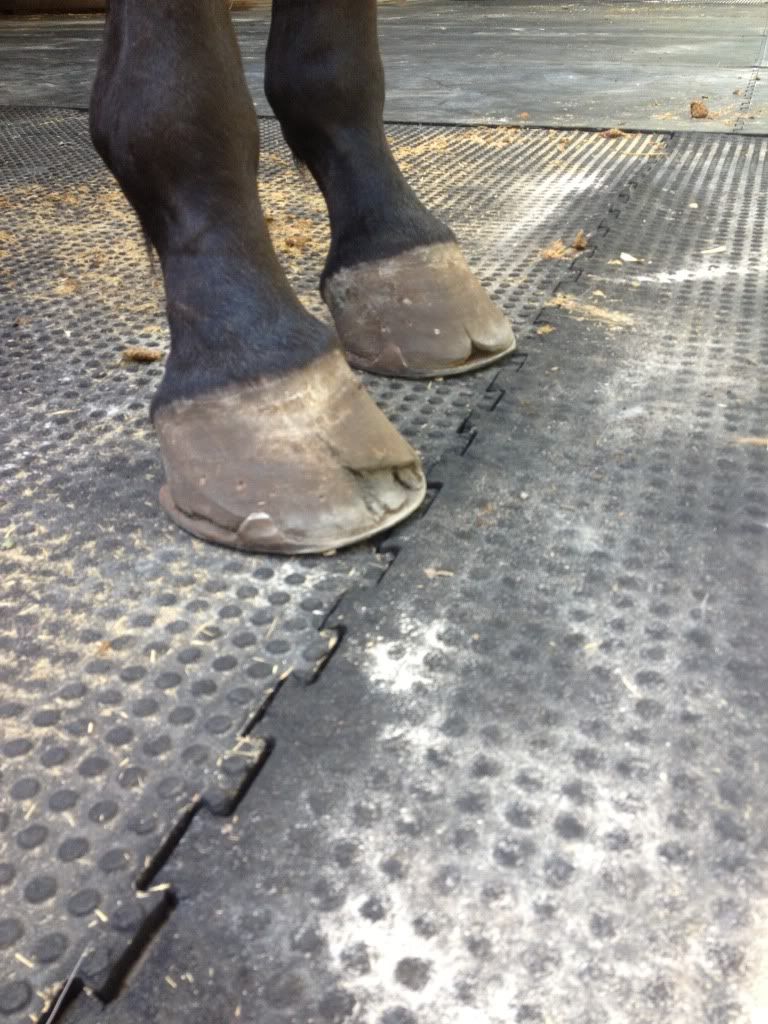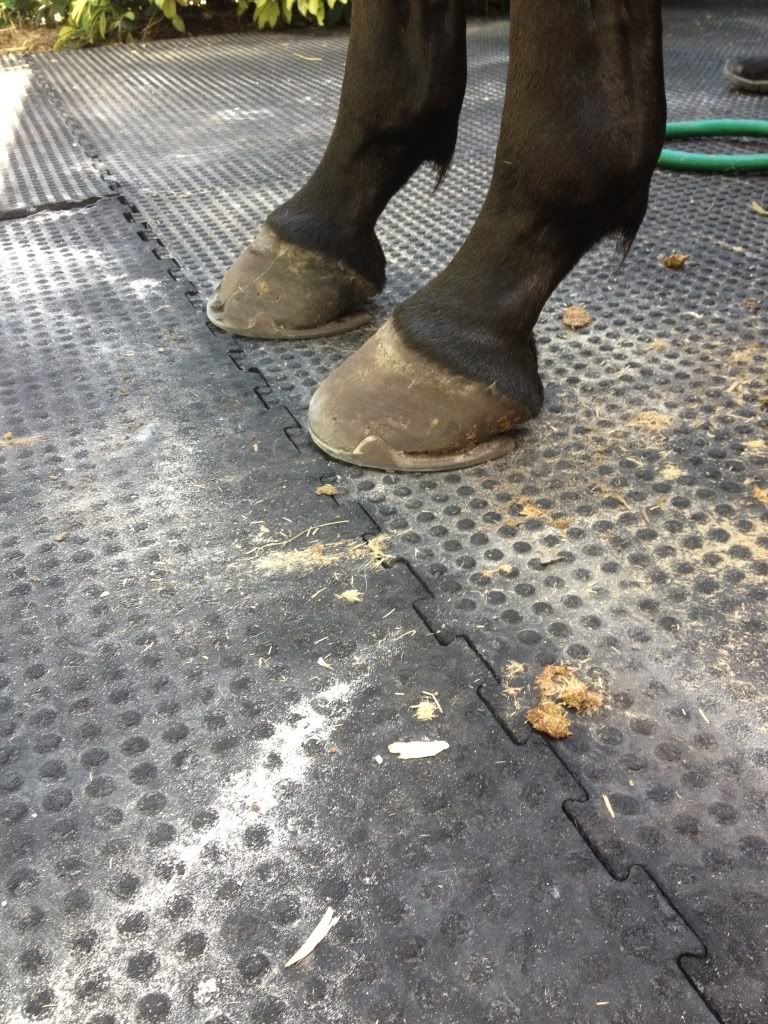 Excuse his horrid feet, I tried a new farrier and IT DODNT WORK OUT
Posted via Mobile Device
I thought you didn't own this horse as per your other thread?
Posted via Mobile Device
They are on the long side, but I wouldn't say too long to jump at all. You should be ok as long as you aren't jumping high, and it will just have to be a part you pay special attention to. However, he's not ok to jump now with his feet the way they are. The shoe job is terrible, the angle of his hooves don't match his pasterns (which will cause stress on the joints), and his feet just aren't in good enough shape at this point to deal with that kind of extra stress.
Showing
Join Date: Jun 2011
Location: Cariboo, British Columbia
Posts: 11,762
• Horses:
3
I wouldn't even be riding this horse until his hoof problems are resolved and his body condition improves.
Frankly, I'm much less concerned about his pastern length (they are longer but they have good angle) than I am about those horrible feet.

Are those the shoes that your farrier put on him? If so, you need a new farrier...yesterday.
---
Always remember that feeling of looking at a big, open country over the ears of a good horse, seeing a new trail unwind ahead of you, and that ever-spectacular view from the top of the ridge!!! Follow my training blog:
http://robertsontraining.blogspot.com/
I DID just say that I am fully aware that his feet are bad and I am getting a new farrier. I also said I will not be jumping him now or until he is ready, which he obviously is not.
Posted via Mobile Device
Showing
Join Date: Jun 2011
Location: Cariboo, British Columbia
Posts: 11,762
• Horses:
3
His pasterns are long, but they are not upright, there is a good slope to them. Should be fine for lower level jumping. Again, I would not even get on this horse's back, he's in no shape to support his own skinny frame, let alone a rider's.
Agree with all the other posters. Unfortunately it looks like you've learned the hard way that some horses can't be left past due. At all. And that even when you aren't riding you need to keep up with maintenance or when you ARE able to ride your horse wont be ready. I would keep off his back, get his feet in better shape and then start working with him.
Whoever did your farrier work did it wrong. I'd definitely be asking around for a good farrier ASAP. It takes a long time for hooves to heal after abcesses and it takes regular hoof care to get them back in proper shape, and there also may be internal damage that may take awhile to heal and hopefully when he abcessed he didnt get coffin bone damage. I'd definitely would not get on this horse for any length of time even when the feet grow back out you need to check thoroughly for soundness. Good luck with him.
---
Noey's Herd
I believe, per her other thread she recently bough the horse....
I am no expert on jumping so i will leave that question for others to answer...