You are all right, of course :) Like I said, it's more of a passing fancy at this point. It was part of my motivation behind posting her conformation shots - besides being just curious. It's just like a dog - I don't breed dogs, but if I did, I would never breed one with hip dysplasia or one that was pigeon toed, no matter how much I loved them. But, while I can usually tell in dogs, I'm terrible at horse conformations :p

One last question for you all - If she has such chicken legs for her heavier body, can she jump? Not show jumping, just leisurely over low jumps kind of things. I thought someday to get a horse that could do jumping - I don't think Clem is cut out for anything big - but I thought low jumps (Like, foot off the ground kind) would be fun practice. But, if it'll be too much for her skinny little legs, then I don't want to! Right now she's just my casual pleasure horse, to ride down trails and learn on.
Once she loses weight, she might be okay to do small jumps every once in a while, but I definitely wouldn't jump her on a regular basis (even over low jumps).
Here's a good comparison to see how lacking in bone your mare is. This is my 3.5yo Percheron/paint gelding. See how thick his cannon bones are? That's a good amount of bone for his size (he's 16.1hh and 1500lbs...and not chunky for his size, just thickly built).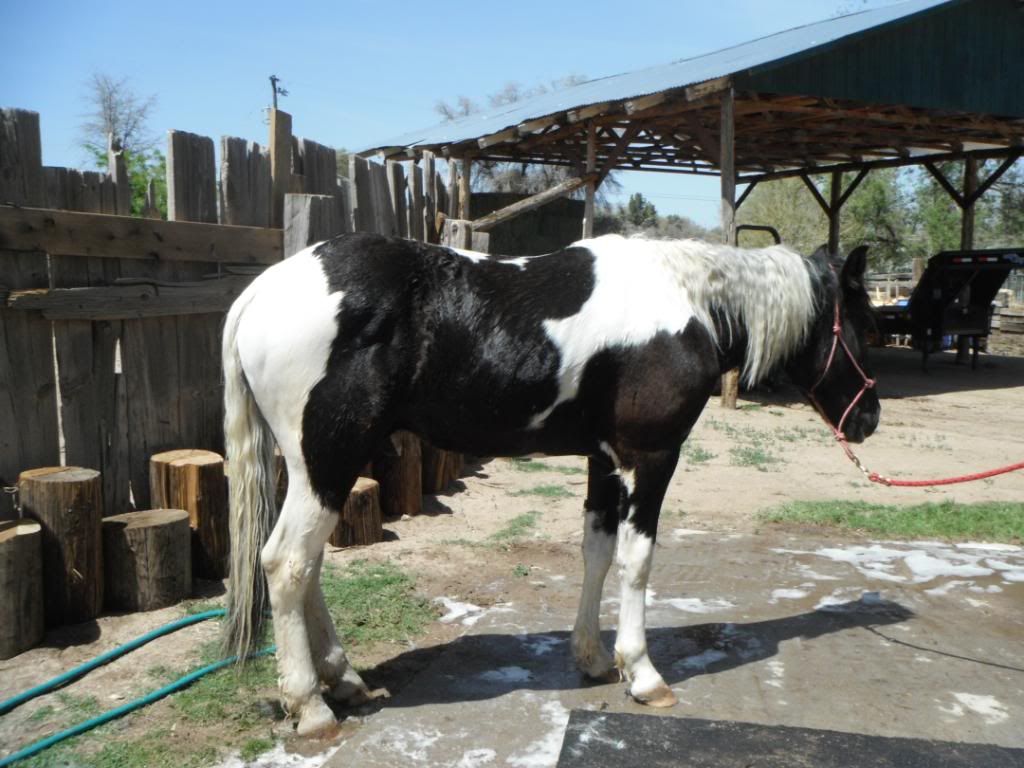 ---
Do not tell me I can't...because I will
show
you that I can.
I am feeling the urge to stick up a bit for the crossbreds here... The comments about this mare's faults are valid...
But without seeing either parent it is impossible to say for certain which faults came from which parent.
I know TONS of registered QH's which are sickle hocked, and straight behind... plenty are also tied in and back at the knee too. It is as possible that she inherited all her weaknesses from one parent or the other... Rather than sticking a breed generalization on faults, simply acknowledging the fault's existence is probably good enough.
Maybe I have been lucky, but I can't say I have seen too many sickle hocked Percherons compared to how many stock horse breeds I have seen sporting that fault (and all of this mare's leg faults, actually). But that is rather besides the point, I guess.

I actually have nothing against crossbreds... I worked with outfitters for awhile and we used, primarily, QH x Drafts (Belgians and Percherons) for packing, driving and carrying around green riders. Most of the ones we had were no more riddled with conformation issues than any other horse. (A couple exceptions... But you do see that within registered breeds as well) We had some AMAZING looking animals in our strings... Stocky bodied, medium height, heavy bone, large feet and nice square profiles. The breedingstock for the working strings was carefully balanced. None of the QH stock was light in bone, or small in hoof, and the drafts were chosen carefully to not be too heavy. Conformation faults were minimal, and never doubled up in both the mare and stallion. Again, I sort of digress though.

I do, totally, agree that this mare does not need to be bred. To me, the idea behind any breeding is to better the parents, with a specific purpose in mind. Looking at this mare, I feel, she is a nice enough looking lady, which will make a lovely pleasure mount (as in not heavily competed or hard used... Not the actual discipline, just to clarify that comment) but... She does not stand out as a cross which would be a candidate for breedingstock, regardless of which way you wanted to breed back to.

There are some very successful crossbreed programs... The reason they are successful is because the breeders are careful to not breed combinations of faults. If the worst thing this mare had going for her was that she was light in bone, that would be one thing... But to be light in bone and back at the knee, then tied in behind the knee, then post legged and sickle hocked.... Well... The odds of the resulting foal having combinations of faults as well is just too high to go through all the breeding risks... IMO
Unicorn, i understand what your saying. I have a Curly x Spanish Mustang gelding. My 1D barrel horse is a 3/4 QH and 1/4 Morgan. I have nothing against Grades.

But...At this point in time, does it matter where this mares faults came from? Will it change the outcome of the mare? Will it better the foal knowing the sire has x, x, and x wrong. Dam had x, x, x, wrong. It doesnt change anything in this mares case, and this mare shouldnt be bred, even to an amazing stallion.

If your going to breed, in every situation, you pick the best of the best and hope for better then best. That includes when trying to crossbreed. Ive seen awesome draft crosses. But more times then not, they are badly bred with too many faults to count.
Posted via Mobile Device
That's exactly what I said....
I also have a querchie example - a friend of mine used to own this beauty. He was every bit of 17 hands.
---
EQUI
LOVE