Plesae critique TBx filly
---
This is my little project horse, bought as a 'minimally handled' yearling for the purpose of my breaking her in. At the time I was simply looking for something that had reasonable confo (ie, no glaring faults) and was cheap. I found this little one and took her home. The idea was that I would turn her into a nice kids horse and sell her on. However I have since become exceedingly fond of her and now plan to keep her
I have no huge goals for her, just some lower level dressage and jumping. I have some idea about what her flaws are, but would love to hear others opinions of her.
Anyway, this is River, just gone 3 years old, currently about 14.2hh and I'm thinking she'll get to around 15hh. Dam was a 15.1hh TB, sire is registered as an Arabian Derivative (12.5% Arabian blood, the rest is Australian Stock horse lines) and is 14.3hh.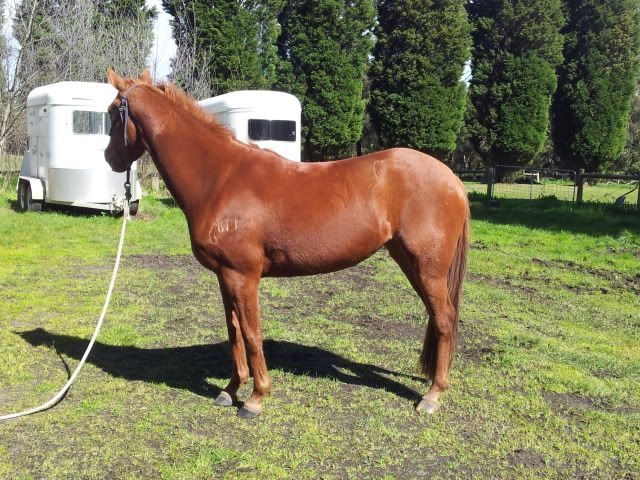 ---
Do not follow where the path may lead, go instead where there is no path and leave a trail...
Looks a nice one actually. Her neck is over length.. but his is a real using type of horse. Decent bone, fairly correct angles behind.. perhaps a bit camped under, nice topline.. croup might be a bit steep, knees and hocks are nice and low.

I like her. Nice horse.
---
There is something about the outside of a horse that is good for the inside of a man.
~Winston Churchill
(or woman!!!!
) Dinosaur Horse Trainer
A very nice horse overall, I agree.

Beautiful head, but a long and upright neck. Which may just be her scoping out the area ;).
Very nice, sloping shoulders with small withers and a straight back. I like her haunches a lot, and could see her being able to reach under herself properly.
A very nice horse indeed, and has a lot of potential! But she seems to be fairly over at the knee, which could cause soundness issues in the future.
I can't tell from these pictures, but she seems slightly pigeon toed? Is that true? It commonly only causes shoeing problems, and is not a huge concern.
sounds silly but i would rather have a horse whose neck is a little longer than one that is too short.
She is adorable considering how you found her. Not sure if it is the photos or not but are her cannons a little short? I cant really tell. I like her though and if she has the personality to boot.. what fun!
Thanks for the replies! :)

Her neck is not usually as upright as in the 2nd & 3rd pictures, like HunterJumper said she was just looking around. She carries it more like in the first picture.

She's not pigeon toed, agree that she may be a little over the knee, but not much. The way she's standing under herself in these pictures makes it appear like that, and she's standing under because she kept wanting to walk off. She'd lean forward, I'd go "Argh! Stand!" and she stayed like that. Ah well...

Gozlingd - she does have the personality! Very smart, friendly and BOLD.
---
Do not follow where the path may lead, go instead where there is no path and leave a trail...