Possibility of Buying
---
Paint. 7 years old. 16hh.
Whats your opinion?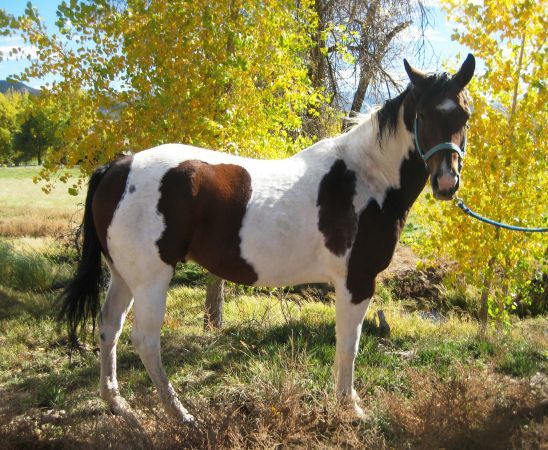 ---
All it takes is all you got
He is OK. Neck set correctly, enough bone, straight front leg, large hocks set correctly, MAY be camped under a bit behind, may be a bit "long" in body. Shoulder seems a bit steep, point of shoulder a bit low and average muscling behind. He is not spectacular but he is not bad. Looks useful.

What is his story (training wise) and what are your plans?
---
There is something about the outside of a horse that is good for the inside of a man.
~Winston Churchill
(or woman!!!!
) Dinosaur Horse Trainer
He's cute. He looks sickle hocked and post legged in the rear end in the first photo, but not so much in the 2nd photo. I like his pastern length. I like his color. His shoulder is ok, maybe just a tad straight. His back is a good length. He is not long in the body, but he has a very weak hip which makes him appear slightly long bodied. I'd like to see a stronger hip/rear end and longer croup, but that is just his confo. Some fitness and muscle building will help it a bit, but you wont see a huge change. Also looks like he may travel a little high headed which I don't like. I like a naturally low headed horse.

What are your plans for him? Is he registered? If so, what are his bloodlines? How much are they asking? What is his current training?
---
*RedmansFoxyChic*Starlites Chapparral*ICF Take a Chance On Me*Jay Bar D's Sunshine Jaybar
Thanks! To my current knowledge he isn't registered and don't know his breeding. Has been used to trail ride and as a pack horse along with some cattle experience. Asking $1000. My plans are just to have him as a horse to ride. Use in 4H mostly along with maybe other local horse events. I haven't been on a horse since about October due to Velvet being sold and then getting a bad sprain/slightly fractured ankle from running and not having a solid, predictable horse to ride, which Rio is not.
---
All it takes is all you got
To add to what others have said, I think his neck is a little nesty even, which will really only just contribute to his high head carriage. He could be a decent english mount, and probably in 4H he would do just fine western. Could use some riding to take care of that pudgy tummy and build up his muscles :) He's cute!

A note, and I'm putting my flame suit on: I wouldn't pay $1000 for an unregistered horse in this market. I could find 10 horses for free with the same or better conformation, that are unregistered. Better yet, I could adopt an OTTB or OTTSTB for less than $500 from a place like New Vocations or what have you. Just a thought :)
---
I have said what I have said. I have not said what I have not said.
Like others have said, nothing spectacular about his confo, but nothing terrible either. Just a pretty good example of an average horse that looks like he'd be a good working horse.

I don't like it that I can't really see his legs/feet well due to the weeds, but I'm going on faith that they are about like the rest of him...average.

Personally, I probably wouldn't pay that much for him, but whether you do or not greatly depends on how he fits you. If his training and temperament is exactly what you're looking for (and he's sound and healthy), then he'd be worth it, IMHO, regardless of whether he's grade or registered.
---
Always remember that feeling of looking at a big, open country over the ears of a good horse, seeing a new trail unwind ahead of you, and that ever-spectacular view from the top of the ridge!!! Follow my training blog:
http://robertsontraining.blogspot.com/
Depends on the buyer. My little 14.2h black/white paint/arab gelding (unreg) sold for much more than $1,000 as a trail horse a couple months ago.. IMO, you cant put a price on a young, pretty, beginner safe, super quiet trail horse. :) To each their own.

Its all in what you want. If you're not showing in breed shows and its a gelding papers are kind of worthless anyways. You cant ride the papers :)
---
*RedmansFoxyChic*Starlites Chapparral*ICF Take a Chance On Me*Jay Bar D's Sunshine Jaybar
Around these parts, the price is pretty good. it seems to be kinda backwards around here where people still think they can stick any price on a horse and have it sell. as in horses that are more then his price yet in more worse condition i guess you could say.
---
All it takes is all you got