Possible buy: 2 choices.
---
OK, so if you read my last thread, I was supposed to be buying a yearling but that didnt turn out to well... So I'm on the search again, and with luck, I found two i like (well one in particular) So I'm just wondering what you think. I personaly like the black one.
First- The Belgian/QH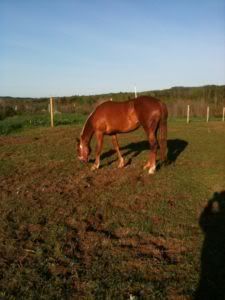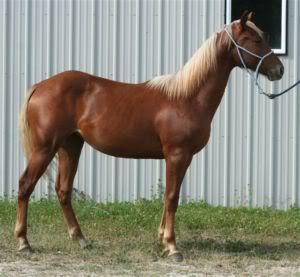 My favorite- The Belgian/TB/QH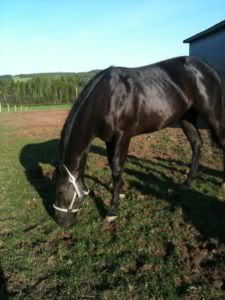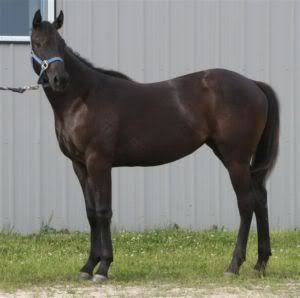 Heres some info on them:
Due to change in living arrangements I am deciding to sell my two beautiful horses (Mares) . Both are crossbreds from an Equine Ranch in Manitoba -transported to Antigonish in February. Lexie (Sorrel/Flaxen mane) is a Belgian/QH and Ebony (Pure Black) Belgian/TB/QH. Both turned 2 years old in May.They are averaging 15hh. They both take a bridle and have had a saddle pad on their backs with no issues. They are Microchipped and registered with the NAERIC program (North American Equine Ranchers Information Council) they are UTD on hooves, deworming and West Nile shot is due in July. Right now they are kept on a strict 2nd cut hay/blackoil sunflower seed/high fat high fibre diet and coats are just gleaming. They lead, tie and back up with no issues and are very easy keepers. $1900eachOBO. I would train them if I had of had more time. But the price would double.. this could be an easy way for someone to make some income.
The black is much nicer. But for a long back, he is pretty well-constructed. The chestnut is a mess, to say the least. Could be gangly baby stage but for the same price I would take the one that's obviously built well.
---
I have said what I have said. I have not said what I have not said.
I like the black, looks like good cross, will be strong, surefooted, and pro ably some speed, do nest look super drafty but that could come with age and growing. I bet this horse will grow and mature into a very nice ride!
Oh, and I forgot to add.. I wold be doing just trail riding, and if anything else comes up, maybe..
I really like the black one, good bone and good conformation. The other looks like two horses put together, but they are both 2 so that could change.
---
"Strength is the ability to use a muscle without tension"

Yeah, when I looked at the flaxen, I was like WOW, she's bumhigh! But then I saw she was two, so she might fill out a little more, but then I looked at the black and she has pretty decent conformation compared to the flaxen. And I don't know if it's just me, but something about the flaxen looks... Odd...
Posted via Mobile Device
I like the black much better too. Is it just me or does the sorrels rear pasterns (ESP the left one) look really odd and possibly swollen?

The black seems worth a look though the price seems pretty high for a grade horse with little training.