Possible buy, What do you think?
---
I am going to look at this little girl Saturday. These are older pictures that the owner sent after a foal was weaned from her, I know these are not good pics and cant tell much from them. I am told she is a 6 year old (shes grade) she is broke and been used in rodeos playdays and shows. Gentil but hasnt been ridden since she was bred (unsure of date but she foaled October 2011) I have WAY too much grass for the 1 horse I have so I have been looking for one who could use the grass thats a mare as my gelding does not like other males, casterated or not, but is protective of mares. I know their are better looking registered horses out there for $200 (Her price) but i dont really care for papers on a horse I plan to keep for a pasture buddy and riding horse. Any opinions welcome!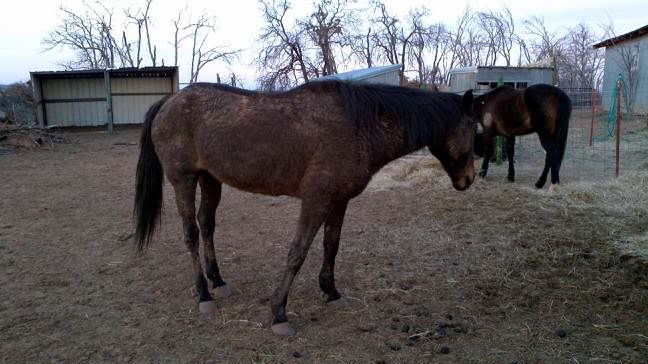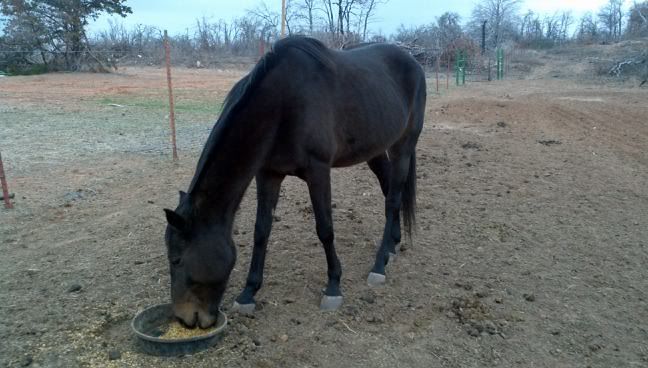 ---
"A horse can lend its rider the speed and strength he or she lacks, but the rider who is wise remembers it is no more than a loan." ~Pam Brown
If you are spending the money I would find a nice registered horse with better conformation that you will enjoy. Not much I like about that mare, but then again, they are horrible pictures
Could definitely use some weight. Looks like she's got Thoroughbred in her.
Cant' tell much conformationally from those pictures but nothing sever is pronouncing itself.
If you like her and her temperment then go for it. If you're just looking for a companion and a casual riding horse i dont see how pedigree or breed should matter.
---
"If a horse fails to do something that is because he was not trained to do it. If a horse fails to do something properly that is because he was not trained properly."
www.wildestheartart.com
Showing
Join Date: Jun 2011
Location: Cariboo, British Columbia
Posts: 11,940
• Horses:
3
$200 for a registered horse??? Not in these parts, a rotten, spoiled, untrained horses is $700 for meat.
i do like her so far. Im going to meet her saturday, I really want this grass out here to go to good use on a skinny horse.

we have registered horses going thru the auction all the time to some decent homes as low as $15 for young foals and aged horses over 20 and horses in their prime going for as low as $50. prices will be going way up soon with all this rain though. Everything was dirt, we were the only ones around who didnt have to buy hay.
---
"A horse can lend its rider the speed and strength he or she lacks, but the rider who is wise remembers it is no more than a loan." ~Pam Brown