Possible new horse. Any glaring faults?
---
5 year old mare. Green broke and has never offered to buck/kick/rear/bite. Right now I'm looking for something to ride around the backyard but I'm thinking of settling on endurance rides as a discipline. I was a barrel racer in the past, as well as a heeler, but I don't think I have that gallop gusto in me anymore.
Just wanted to see I'd anyone saw any glaring faults. I went and saw her and she's got a kind eye, willing to learn and smart. I'm not the only one looking at her.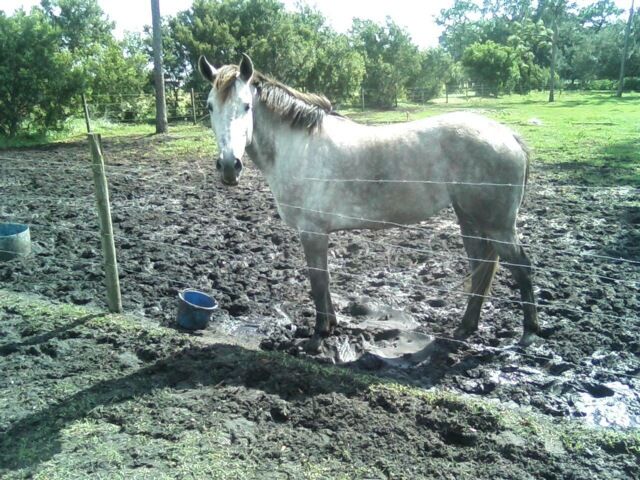 Mare 2 is 14, and was beginner safe but hasn't been ridden in a few months. She was a little more hesitant with me but of course all that can be is bond building. I know the picture is terrible for confo but she has a thicker/taller build and more of the QH do what you tell her personality.
Posted via Mobile Device
I choose door number one. I like her and she does have a kind eye. and nice confor, too.
I like the 1st one, only because she reminds me of my horse, Willow.
---
So in lies the madness, the pursuit of the impossible in the face of the complete assurance that you will fail, and yet still you chase.
.

I like # 1 because of the age, not that 14 is that old, just never like to get a Horse over 10, just a personal preference.

# 1 looks better overall too

.
One catches my eye more. She looks trusting, forgiving, and gentle. Love her build as well.
Cant give much input other than darker grey is easier to keep clean! Lol.
Thanks guys! I really loved the first one but I just wanted to see if I was looking at her through rose colored glasses. I'm second in line for her so here's hoping the first people pass. But if they do take her, I think I'd still be safe with the second mare. :)
Posted via Mobile Device
Well, good luck & let us know if one of them becomes your new ride.
I won't know for 2 weeks, but trust me, you guys will be bombarded with pictures, haha. There were so many to choose from but I always try to go with the ones I get a good vibe from, and I haven't been stomped yet!
Posted via Mobile Device