Possibly 2nd Failed Attempt
---
I would like Sonny to be critiqued but I'm sure, just like the first time I tried this, these pictures are going to not be good enough
I am getting impatient for Spring, when my mom told me she'd help me set him up on flat ground.
Anyhow...here's Sonny. Let me know what, if anything, you can tell me about him.
I can tell you he'll be 19 in June. He's a 15.3 hh palomino quarter horse gelding.
I know his fuzz makes it hard - if you can't see anything I swear I'll wait till Spring but I thought maybe these might work. But if they don't, I won't be offended so feel free to tell me they suck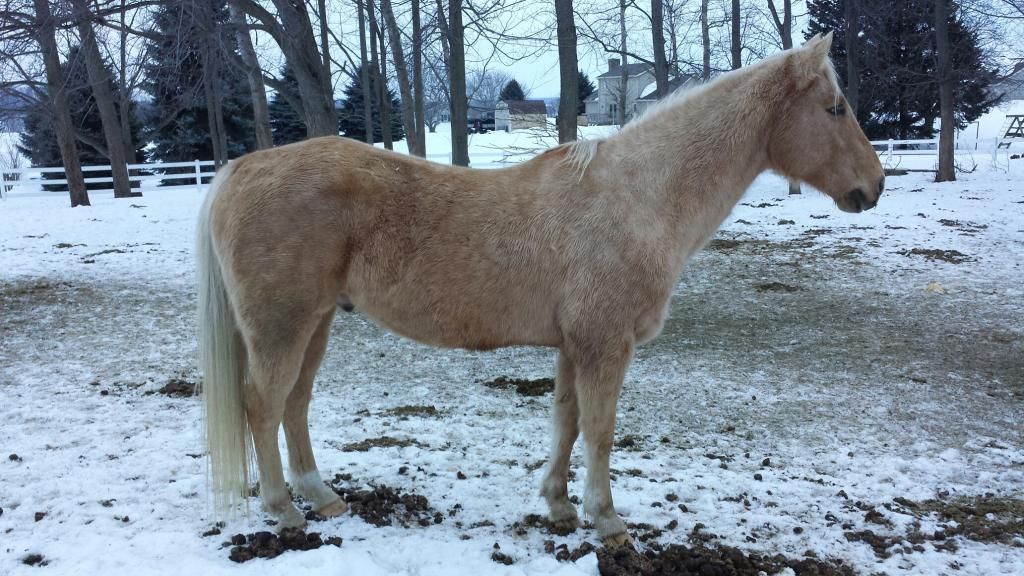 Oh and he may be on slightly uneven ground but not enough (I think) that'll make it impossible to judge him.
Oh and feel free to be very critical. He's had a successful career as a competitive barrel horse with his prior owner and he's very good to me as a trail and all around horse. I've had him for 4 years so regardless, he's going to stick around.
Again, sorry if the pictures are too bad to judge.
His front legs look to have decent bone in the first pic, when I look at the second pic the base is narrow, he stands to close, his top line needs work IMO, I think he could gain a little weight and look a bit better, his face lacks shape, this is the best I can do with these pics
His back is very long, looks like he is developing a sway back. Not very muscular and he is narrow.
Posted via Mobile Device
he may just be developing the old horse back since he is 19 years old and was a barrel horse. He is thin. At his age, that is something to correct soon.
He looks to have no major faults, and his head is probably prettier in summer without all that hair.
I agree with what everyone has said. He doesn't look thin in person but if he is it may be due to the fact that he's bottom in the herd when it comes to feedings but we did just sell a horse so hopefully he can gain it back.
And since I have been at college no one has been riding him so he's kind of a potato and is under muscled. He gets better in the summer.
Here's a picture of him in the summer (not a confo shot) but his head does look better and he's more muscled.
In any case I appreciate all the responses and any that may come.