Potential 2nd Horse :) 2yo Filly
---
Pick her apart. Shes a Perchron/QH. Will be two years old on April 28th. Going to look at her Saturday..
Price: 1500
Looking to do Eventing with her.. Mostly Dressage once broke.. but eventually eventing.
Be as harsh as you want.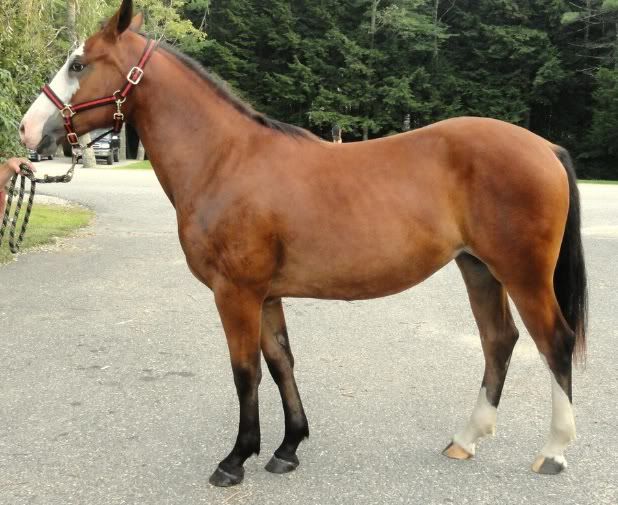 She has a very high rump and skinny neck which may interfere with dressage , but overall cute horse .
Posted via Mobile Device
Well shes High rumped I think cause of where shes not even two yet so she has quite a bit of growing to do. Shes only 15H now and shes suppose to be 16H-ish

Thanks by the way :)
Mhm , your probaly right , but just keep an eye on it . Good luck :)
Posted via Mobile Device
She does have a high butt, have you seen photos of either or both parents to see how level they are? She also looks a bit camped out in the front which may cause extra stress in jumping.
Posted via Mobile Device
Ive seen pictures but I couldn't tell much.. Ill see if I can get some pictures saturday of the mother. :)
did not expect that i would like this mare for what you want before looking at her pictures as draft/qh is not an ideal cross...but I do. Butt high- who cares. She's 2 and a draft cross, won't mature for four years or more. longish back is more of a concern as you can see she's got a potential sway issue. with proper work this can be managed. I love her hocks. can't say she's camped out because she's not square in any photo. her angles are great. pasterns are a touch long which could be a soundness problem - maybe- who knows. that deep hip is amazing...rarely do draft crosses have a hip like that, she got the Qh in that department, thank the lord. she is well balanced, also unusual for a draft cross, they are usually HUGE in teh shoulder and weak in the hip. not this mare. she's very even. I like her shoulder angle- skinny neck? don't think so. love her neck. it will only get stronger as she grows, it might actually get too large and cresty for the vogue, but I like it. I like the tie in, high enough to let her reach through the front. throatlatch is a bit thick but not awful. my biggest concerns with this mare are the front pasterns and longish back. overall as i already said, i like her alot!
I completely agree with everything Chopsticks said.
My guy is coming three in May and is a Percheron/paint cross. He hasn't been level for more than a month or two that I've had him, but it's just him growing. That's why, when someone asks for a critique on a young horse, I NEVER mention that they're butt high. It's usually rather obvious and they'll usually grow out of it, even if they're REALLY butt high.
---
Do not tell me I can't...because I will
show
you that I can.
Agree with Chopsticks and Drafty! I really like her, and she is a lot more developed than I was expecting!! Keep us updated on how everything goes
I am glad chopsticks came here. I agree with her, but she said it so very well. This horse seems to have taken after the QH more than the perchy. I love her markings as well. She will be a very good choice for dressage (maybe not high level) and is eye catching to boot.