Price The Filly
---
I don't know if this is the correct forum for this, but anyways. Many will be familiar with my girl Pickles. I have unfortunately fallen in love with a mare of my BO's that is very well suited to what I do, and its either let the mare be sold, or sell pickles and buy her my self, and I have come to the conclusion that Pickles needs to go. Here is her info, I would love some oppinions on price. Prices in my area are fairly high:
-Registered appaloosa "docs sonata dream", she has some very good bloodlines top and bottom.
All appy characteristics, slowly starting to varnish roan, just no spots.
stands 15 ish(need to measure) hh, turns four in June.
Extremely willing, curios, friendly and sweet. Barn favorite, in your pocket type. Not a mean or marish bone in her body, with people or other animals. Great in a herd, loves kids, can be handled by anyone. easy keeper, great for the farrier, fantastic to deworm, stands for shots.
She is very easy to catch(she'll usually find you), not herd bound or barn sour at all, great to work with alone or with others. Leads, ties great, loads, good around cars and machinery, goats, minis, donkeys, dogs and cats. Stands quietly to be saddled, bridled and mounted. Ground drives very well on and off property. Round pens, lunges, yields well.
Been ridden about ten times w/t, in a western saddle and snaffle or bareback in a halter. Never offered to buck, bolt, rear, kick or spook under any circumstances.
I cant stress it enough, this is a nice, NICE mare, that will make an incredible saddle horse. I can see her being very versatile and excelling in a number of disciplines.
as soon as the footing here improves her training will continue.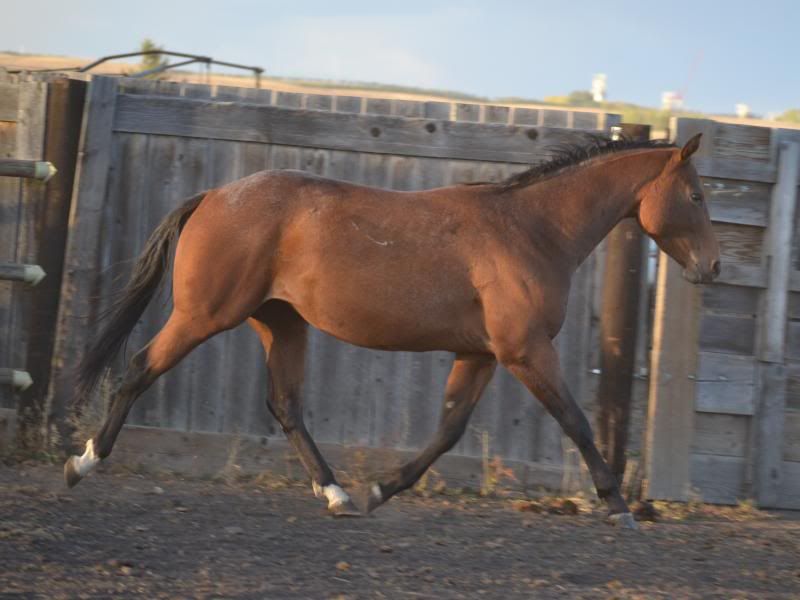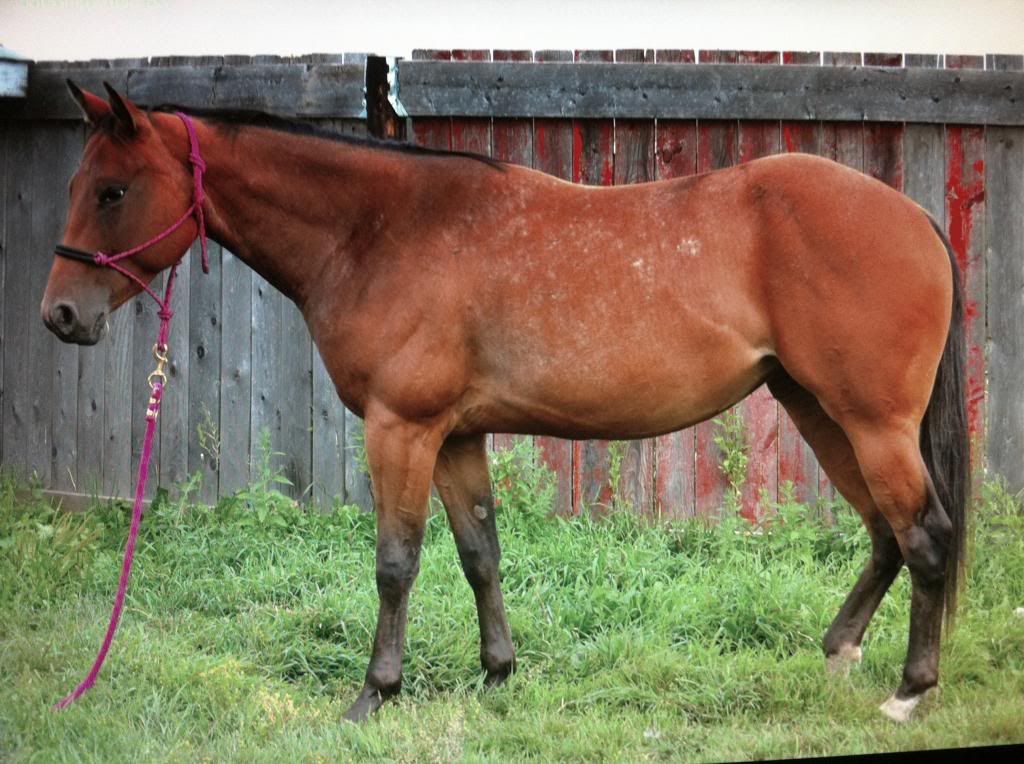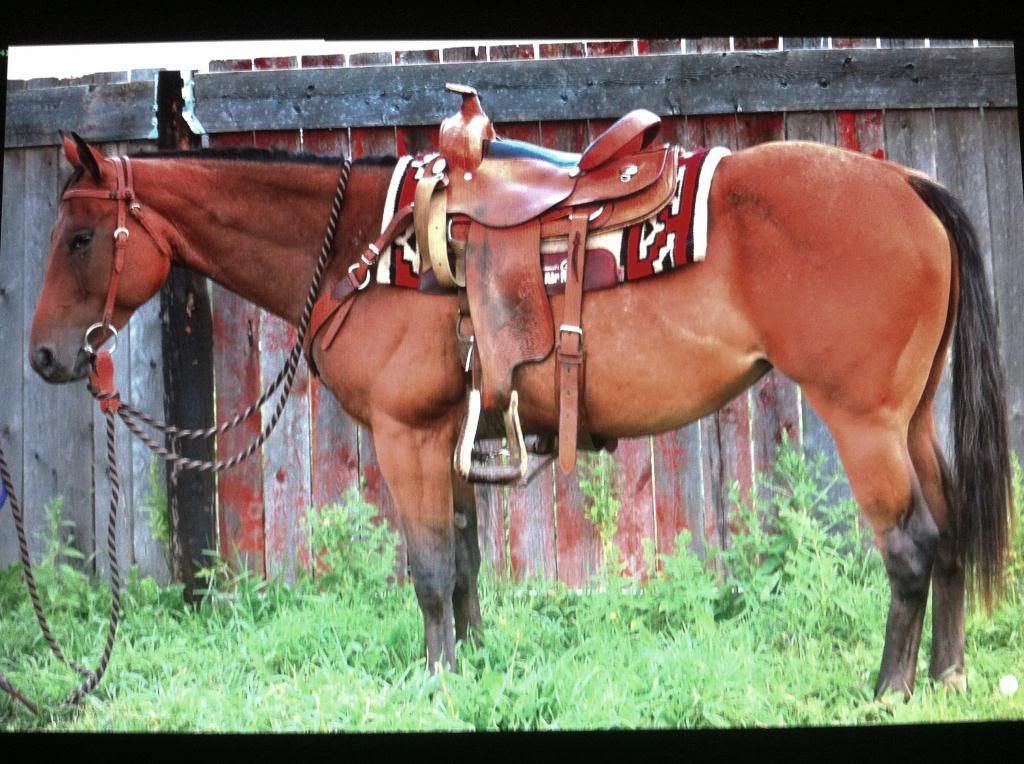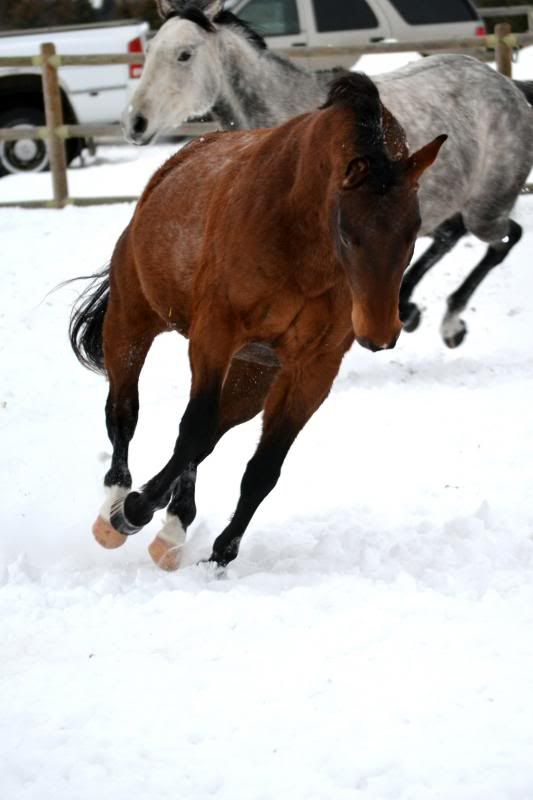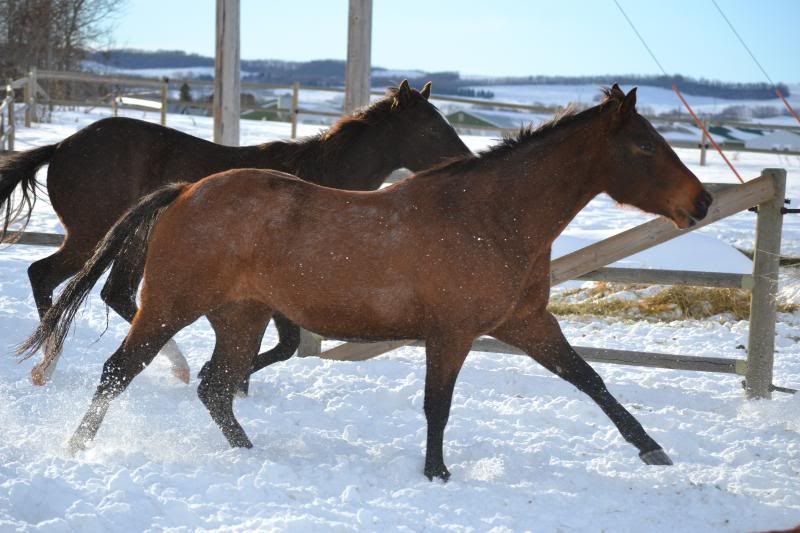 I have no idea of what horses go for in Alberta. but , she sure is a lovely horse.! you're going to let that one go?
Teen Forum Moderator
Join Date: Dec 2010
Location: South East Texas
Posts: 7,157
• Horses:
2
If only I lived in Canada, if only I could own right now...

I have always LOVED Pickles. I'm sad to see her go but someone is going to get a stellar horse.
---
Everyone in your life is meant to
be in your journey, but not all of
them are meant to stay till the end.
Quote:
you're going to let that one go?
I assume your referring to Pickles? Yes, I think so. This has been a brutal decision that's taken months. My BO bought a mare that is cutting/cow horse bred and was supposed to be a project. I just clicked with her instantly, which hasn't happened in a long time. The first time I rode her I felt instantly comfortable, and ended the ride smiling. Every ride since then has been like that. I fought it for a long time, and even stopped riding her, because I like the horses I own so much, but I think it would be a shame to let a horse I have such an awesome connection with go, and I know I would always ask "what if?".
Aside from that, for my own saddle horse I want something sane, but challenging, and pickles is so sweet that she would make a...milder rider or child an amazing mount.
I'm still not 100%(haven't put up an add), but I'm pretty close to selling her. I wish I had property so I could afford to keep them all
She's a lovely mare-I don't think I could let one that good, go. But then a trail horse is all I want nowadays, my competition days are over.
Teen Forum Moderator
Join Date: Dec 2010
Location: South East Texas
Posts: 7,157
• Horses:
2
Wow, forgot to add- in my area, she'd probably catch about $800-1,000 now since she's green as grass but has potential. Only if you advertised her correctly though. If you got her steady under saddle, w-t-c and started neck reining, her price would probably hit a little closer to $1,200 if you advertised her right.
---
Everyone in your life is meant to
be in your journey, but not all of
them are meant to stay till the end.
I live in BC and a horse like that would probably be around $2000-$2500 in my area. I think with good marketing you shouldn't have to much of a problem selling her. I think the biggest problem you will have in selling her is that there is a lot of similar horses on the market right now in AB and BC. It really is a buyers market right now.

Best of luck to you though, I know how hard it is to decide to sell one horse you really like to buy one that you absolutely love.
She is a lovely little mare. I'd advertise her between $3500 and $5000. I know Canada has a better market then the US right now and horses in general are priced higher.
Posted via Mobile Device
I'm from Alberta as well
Personally, I can see you getting around 2000$ for her. She is green broke, but she also has beautiful movement, and generally Appy's go for a little more.
---
For without a horse, i could not fly.
So we here between $1500-2500 seems like what she might go for in your area based on a quick google search, which showed a few Appys similar in age and training.

In MY area you would be looking at $800-1500.