RE: Potential Horse Purchase, New Pics
---
Hello everyone.
I got new pictures of Kid today. They are a little better. I do see what you guys are talking about with his one leg being crocked, however the vet passed him for Eventing today and said that she has seen worse on successful Eventers. I would still like to know what you guys think though. So far I have heard about his legs and about an ewe neck (which myself, my trainer and the vet do not see on him) But what about his shoulder? His back?
Here are the better pictures.
Let me know what you think. Also the collar in the old pictures is because he came from a place that had over 1000 horses so they put numbered collars on them to keep better track of them.
---
"Horses are the best medicine for the soul"
!~*~Horses4Healing~*~!
That is the straightest shoulder I think I've ever seen. He's a tad over at the knee and has long pasterns; I'd wager that there is going to be a lot of stress that those joints are going to take the brunt of. His hind legs are quite straight as well. His wither ties in very far back, past the balance point, and is a true TB shark fin wither.
There are two things I like about him: I like his stifle placement, and he is short-bodied.
Honestly, I'd pass on him. Yes, there are worse eventers out there - but you want a horse that's built well to stand up to the stress of eventing and stay sound as long as possible.
Do you have a video of his jump? I'd like to see how he uses himself..
---
The lovely images above provided by CVLC Photography cvlphotography.com
Agreed, JDI. That shoulder almost looks like it's vertical.

Eventing is a demanding sport, even at the B/N and novice levels, and you should aim to start out with the best athlete you can.
He's not so bad
---
Hello all,
I have decided to keep the horse. He passed the vet exam and I am madly in love with his personality. I have been lunging him over jumps and here are some pictures. He isn't so bad and what he has problems with can be fixed with gymnastics.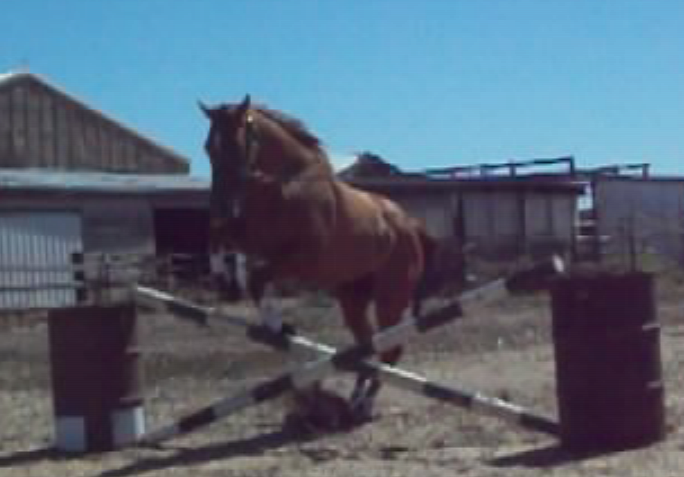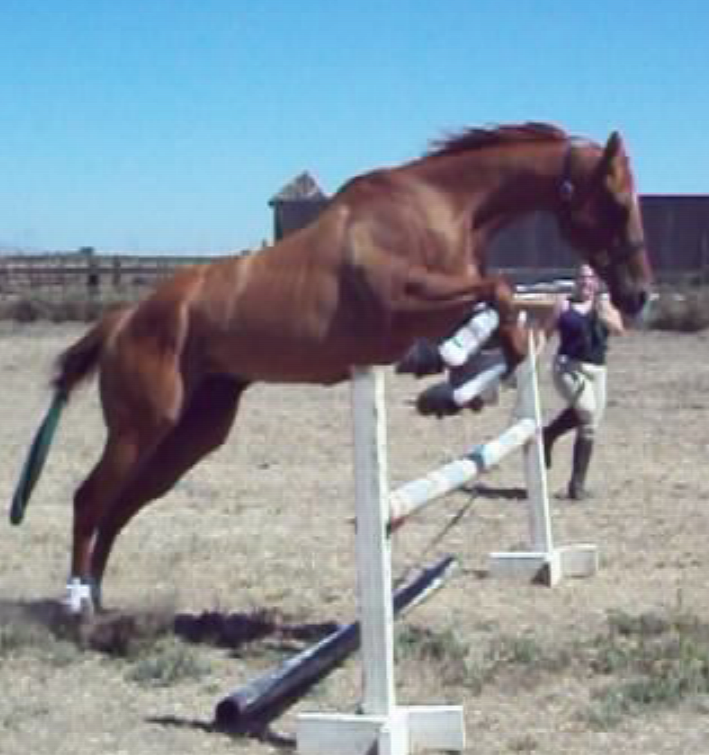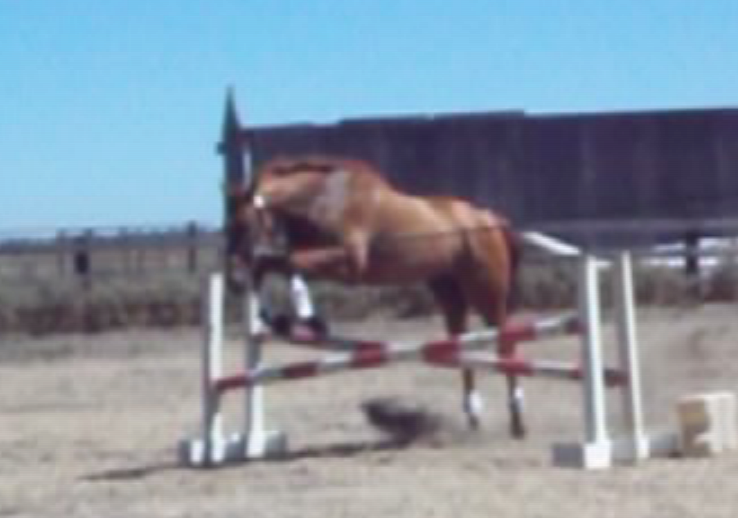 ---
"Horses are the best medicine for the soul"
!~*~Horses4Healing~*~!
I can see why you like his personality
If you don't have an extraordinary farrier already, find one. His feet....scary. o the first set of pics.
Great to hear you feel keeping him is the best decision for your situation. Here is my critique on the pictures you provided.
The general proportions of your gelding are quite good. He is evenly balanced throughout which you don't see very often. It will make it easier for him to carry himself and stay balanced. He has a high wither, but it it fairly even with his croup, which is another sign of a well balanced horse. I don't see a hunter's bump(which myself I cannot stand).
His shoulder is quite upright which isn't a trait that contributes to his athletic ability or soundness, but it will put more stress on his front end(his legs).
I find him just a little bit downhill, but VERY minor. Like posted above, I feel he is very level and well balanced.
His forearm spacing is normal for his built. His chest isn't under or over developed or uneven which would indicated he is favouring one side of his body more. Forearm spacing that is to wide usually causes a waddling gate which is not favourable in a riding horse.
Quote:
Originally Posted by
JustDressageIt
View Post
He's a tad over at the knee and has long pasterns;
I don't think he is over at the knee at all. The knee should be directly in line with his forearm and canon from all directions. If you draw a line from the middle of his shoulder to the back of his pastern, there are absolutely no changes in that line that would indicate he is over at the knee.
The pastern is lengthy but you have to take into consideration the slope of it which would influence soundness of the joints above it. The pastern determines how well the leg can tolerate concussion. You will want a slope of 47-55 degrees, which this gelding has.
Quote:
Originally Posted by
JustDressageIt
View Post
His hind legs are quite straight as well.
This gelding's legs are not straight. If you take a closer look, you can see he is pigeon toed. I bet you this guy paddles at the trot because of it. He will be more likely to have problems with windpuffs in the fetlock joints or ringbone and sidetone. I bet you if you check his hooves, the outside edge will be a little bit more worn than the rest of the hoof.
This guy has a lower placed stifle. What that means is that he will have a medium short gaskin with lower hocks which will give him more power in the hind end. It is also quite level with the shoulder which keeps him balanced. It's hard to tell because of the angle of the photo, but it looks like this guy a bit camped out. That conformation fault means it might be more difficult for him to collect himself and get his hind end underneath himself. That could mean major trouble in a horse with to straight of a pastern as well, which luckily wont be an issue with this guy.
I know you've already said you want to keep him, but it's not a horse I would have passed without trying out and seeing him in motion.
I was pleasantly surprised to see the photos over fences. With such a straight shoulder, I would have guessed he wouldn't have been so tidy with his knees. The unevenness was mostly the twist coming into the jump on the circle.

However, go buy that five point breast plate NOW!! You will need it. With that very high wither and the somewhat herring gut, that saddle will never stay in place without a fight.

And, I agree with getting a new farrier, Every one of his hooves has a different angle. The one left back hoof is toe long and very underslung, accentuating the long pastern.

I see no problem up to training level and don't think BN and novice demand much more that needed to romp around a pasture. Fitness, yes. ability? Not really stressful for the horse at all.

Go for it and have fun. First, get his platform as correct as possible.
I see the problem with his hooves and I will not be using the same farrier that they were using. He sees the farrier on the 3rd of July and he will be fixed up then. And I did try him out before I decided to keep him, even did a pre purchase exam.
---
"Horses are the best medicine for the soul"
!~*~Horses4Healing~*~!