Roping lines QH Pics and Pedigree
---
Please pick him apart! I just bought him about 3 months ago and he has been in steady work for the past 2 months.
Before that he sat in the field for 2 years. Or if you know anything about his lines I would love to hear!
Also if anybody could give me some advice on how to muscle him up more. What type of exercises.
Sorry he's so dark. There was no direct sunlight and my camera kept trying to make him a shadow!
Registered Name: Cool Twin Chex
Barn name=Cowboy
Color: Grulla
age: 4 1/2
Height: 15.2
Pedigree:
Cool Twin Chex Quarter Horse
He is 88% foundation QH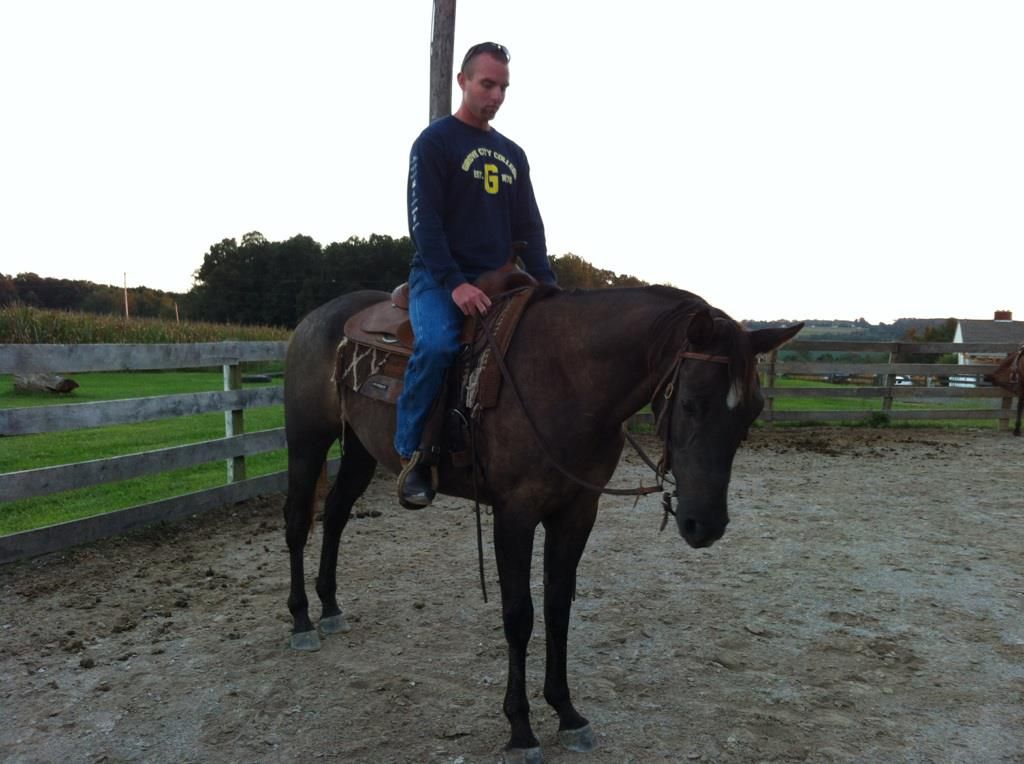 ---
Last edited by equinelyn; 10-20-2012 at

05:56 PM

.
Beautiful all around and great bloodlines. I would buy him :)
I'm no expert, but I can't really find any faults. He looks like he could be a tiny bit downhill, but his coat makes it hard to tell. I'd wait for someone like Elana to come give a critique, as well as a few others.. there's quite a few people on here who really know their stuff.
I really like him though!
---
Forever loved, never forgotten; my beautiful Indie. <3 Hoofprints on my heart.
A little light in bone, a little back at the knee and a bit light in the rump.

Interesting that he goes back to Top Breeze. I remember Top Breeze when he stood in East Nassau, NY before they moved to Florida. He was put together right but as I recall has smallish feet.

His lines look really nice. How is he around cattle?
---
There is something about the outside of a horse that is good for the inside of a man.
~Winston Churchill
(or woman!!!!
) Dinosaur Horse Trainer
I haven't had him around cattle yet. Plan to soon! One thing about this boy is he has the bounciest trot. I'm trying to figure out if its his conformation or because he still needs to figure himself out. He likes to throw a buck here and there too.
Posted via Mobile Device
Thank you all so much I would love to hear more... Would it help if I posted better lit pictures?
He is very dainty compared to the other horses in his pedigree...

-Straighter shoulder
-Small hip
-Longer weak pasterns
-Back at the knee
-Seems very straight through the stifle
-Short Neck
-Longer back
-Sorta camped out


He doesn't even look like he is from the lines he is from to be honest...he is very fine boned, narrow, and dainty.
---
Conformation is how far the horse CAN go,
Mind is how far the horse WILL go,
Training is how far it DOES go.
I like him. I don't see anything that would keep me from buying him. While he doesn't have the bone mass in his legs to make me think that he would hold up to heavy roping very long, he is only 4 1/2.

In my experience (especially foundation bred quarter horses) they will continue to grow until they are around 7 years old. Mine always seem to grow up in height until about 3-4 yrs and then will continue to grow out width wise and really gain body mass until about 6-7 years old.

I also noticed in your video that he had a lot of tail swishing going on, almost looks like your gullet area is to wide and might be siting down on his withers to far (can you get at least 3 fingers in between his withers and saddle?). Might check your saddle fit to make sure he doesn't get sour on you.