I like the first one as well, but to be 100% honest, I really am in love with all of them!!! LOL.....there are just too many breeds that I would love to have, TB's are def one of them! Please keep us updated on which you choose, and how everything comes along
I see potential for something in all of them. Even the gawky looking first broodmare (although, really looking at her, she's not as bad as she looks at first. I think she'll be fairly solid as atleast an all-arounder if given the right training) has potential. Gotta say though, the gelding's as sweet as pie. Warmed right up to us and is first in line for loving. I'm beginning to think that if I can get him out of his shell a bit, he might be the best as an advanced beginners/intermediate mount. Such a sweetheart.
---
Everyone in your life is meant to
be in your journey, but not all of
them are meant to stay till the end.
The first mare seems to have her hind legs in a weird position in the first two pictures you posted?

I really like broodmare #1 and her colt-both have very solid confirmation, good shoulder angles, etc.

Rescued a Seattle Slew granddaughter out of someone's backyard, starving to death recently, she's gorgeous now :)
---
Dana
Riverside, CA
I'm extremely embarressed to say that I just realized that the third picture of broodmare 1 is actually a picture of broodmare 2 ._. silly me.

Anyways.

You know, I didn't really notice until you pointed it out- but you're right. She does tend to stand a bit strange, leaning her high end to one side as of she's trying to take the pressure off. I think I'll mention it to the BO and see if we can't do some pressure tests and try to find where she's uncomfortable. Having been raced hard this season, I'm sure it's VERY possible that she's out of line and just all over feeling rotton. Especially with being cooped up in a very tiny space for the past month or two.

I just can't get over the colt. He's such a fun little guy.
---
Everyone in your life is meant to
be in your journey, but not all of
them are meant to stay till the end.
I really, really like the looks of that first mare. She's in good flesh, her conformation is really solid, and she has an intelligent face. As far as the broodmares, I like the second one better but as you said, she may not be sound.

They all appear to have potential though, with good feed and good handling. I wish you luck with them and hopefully you can find a couple that will fit in with your program.
Well we still have 5 out of the 6 Thoroughbreds at our barn, and all are doing well. Its been nasty out lately so I haven't gotten pictures, but I snapped a few of Kenzie (the youngest foal) today when we brought them over.
We did decide to keep the first mare, and she will begin her training as soon as it dries up. She's a bit of a hot head but managable, and she's very sweet. The gelding was purchased and will be leaving in two weeks to begin his retraining as a trail mount. The first broodmare and her colt are doing well, and Peppin (the colt) is growing like a weed still! He's now nearly 14hh at only 7 months old...a giant!
Sadly, Kenzie's mama, the black mare- has not done well with us. Her teeth are a wreck and even after a lot of dental work, they're still causing problems and we are having a hard time keeping weight on her. The foot that appeared to be unsound started flaring up last month, and she was unable to put any weight on it. We had the vet out again and they found an old nail in her foot, and it was beginning to abcess. She's had all kinds of antibiotics and the nail was dug out, but just as that was getting better she began to limp again. She appears to have an old bowed tendon that is flaring up. We will give her a few more weeks, but if she does not improve we will have her euthenized. As it is, she will not be able to be resold as a riding horse due to unsoundness, and there just isnt any market for a pasture puff right now. Kenzie is now being bottle fed due to the antibiotics that her momma is on, but she is beginning to graze and eat feed as well.
Kenzie is kind of in her 'raggedy anne' stage right now, since she's shedding out. I'm pretty sure she's going to end up being Sierra's color though! What a cutie.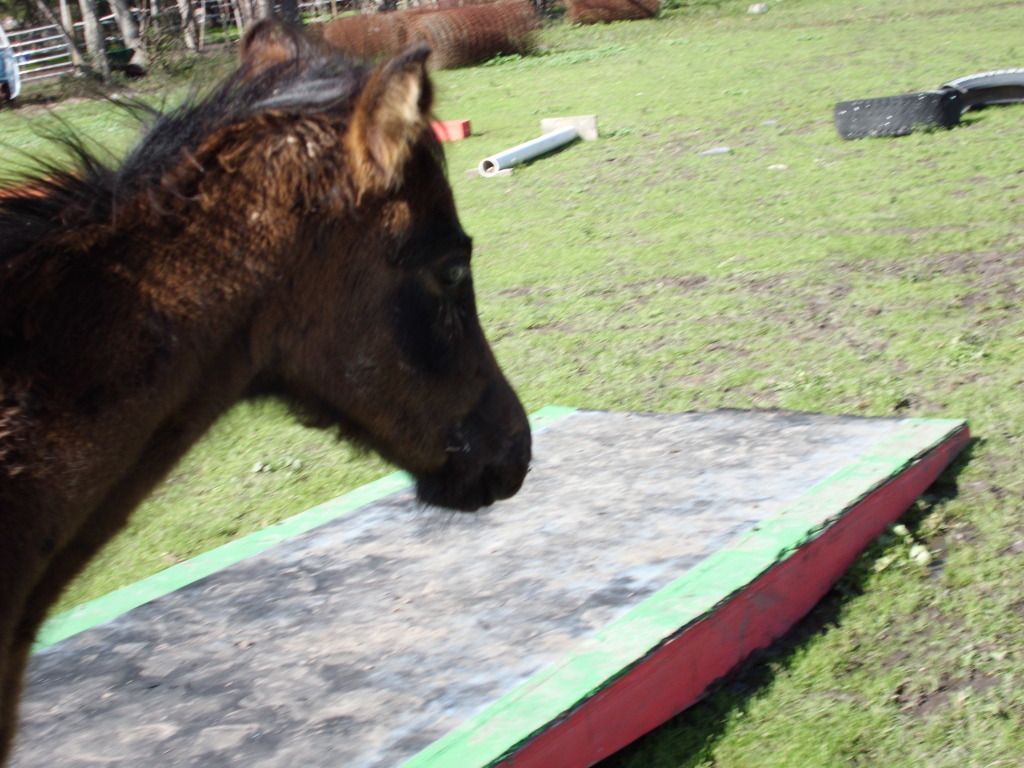 (video)
H-A-Handhalter019.mp4 video by asylumescapee95 - Photobucket
and to show you just how wet our weather has been....
well I guess its better than the drought? xD its not helping Kenzie's rain rot though!
this is how deep the water is almost everywhere!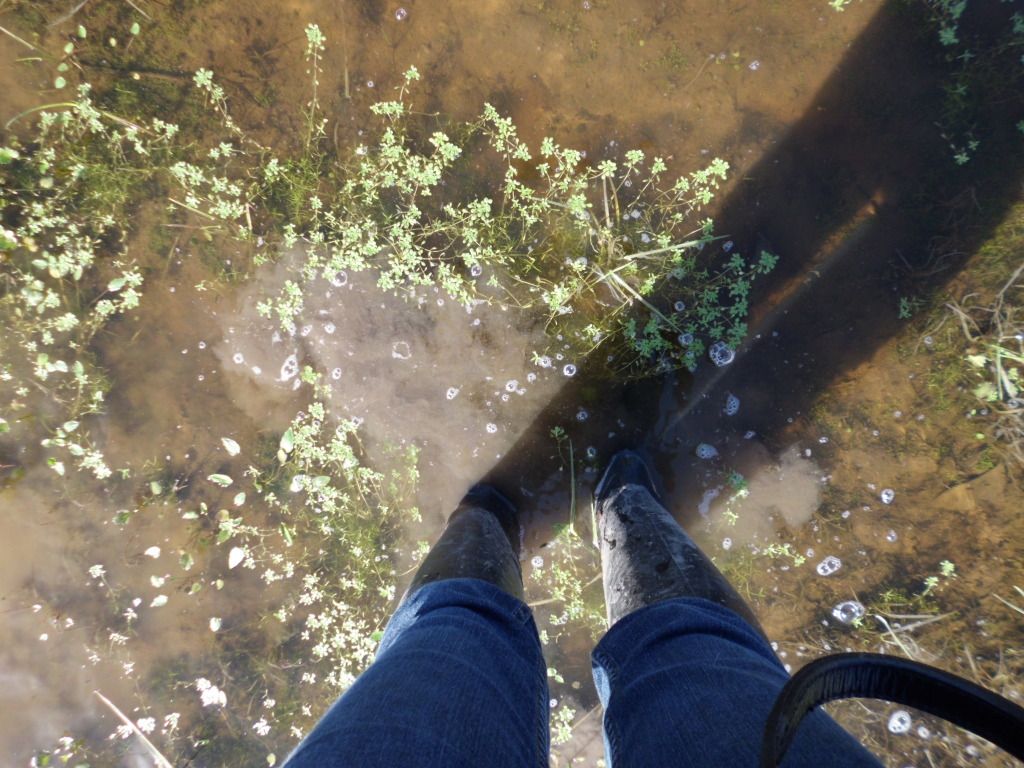 ---
Everyone in your life is meant to
be in your journey, but not all of
them are meant to stay till the end.
I'd go with OTTB1 and Weanling 1
Posted via Mobile Device
Oh be still my heart! I am totally in love with that first mare! My favorite color of bay and just love the way she's built! What did you end up naming her?
---
Do not tell me I can't...because I will
show
you that I can.
Can the little liver with socks find his way to my house?!
---
~Horses aren't a hobby, they are a lifestyle.
Website
Banned
Join Date: Feb 2012
Location: Stanford, California Home of Stanford University!
Posts: 25
• Horses:
3
I live on a horse rehab center. We rescue horses like this all the time. I think the vet was a little low, those look like 5 compared to what I've seen