What do you think ?
---
Shoulder angle is a bit steep
Cant pick out anything off about her front legs
Back is a good length
Not sure if it is just the way she is standing, but she appears bum-high
sharp slope to her croup but otherwise nice hindquarters
Back legs look ok, though she is cowhocked
Overall a nice, solidly built horse ;)
---
"If a horse fails to do something that is because he was not trained to do it. If a horse fails to do something properly that is because he was not trained properly."
www.wildestheartart.com
I can't deal with the links so I'm going to embed the pics..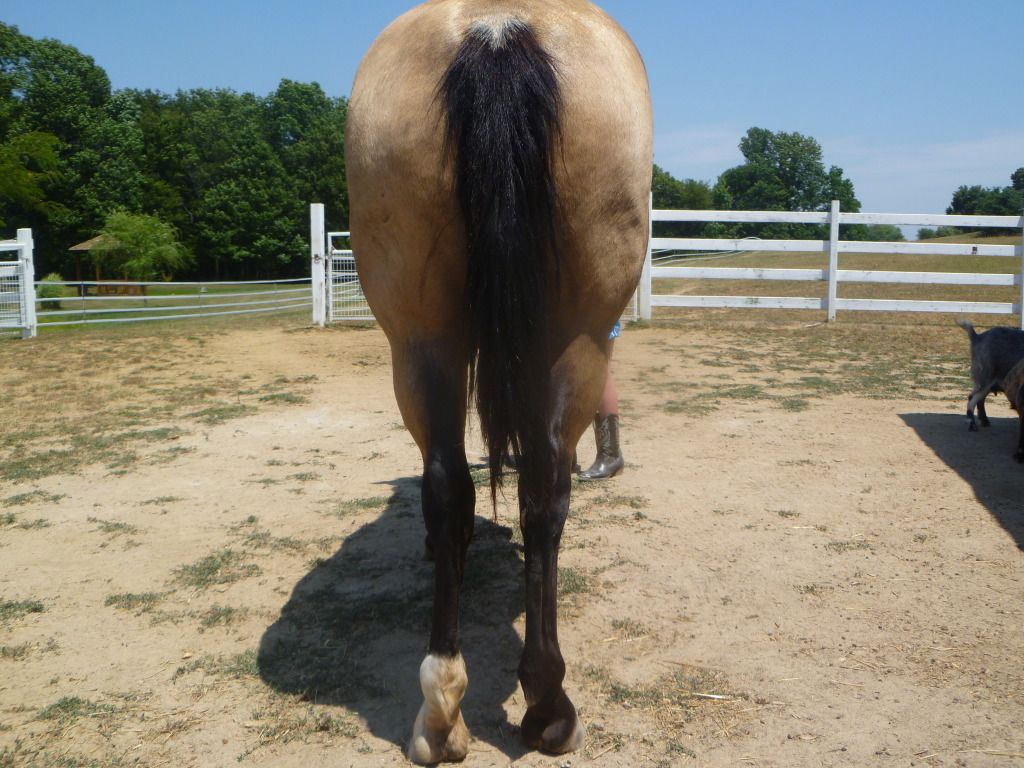 ---
"Strength is the ability to use a muscle without tension"

Alright, better. I'm new to this so I'll just say whatever I see and it may or may not be accurate
Okay, she's standing a little base narrow but she's got nice straight legs. Love her neck but she is quite fat so it's a little cresty. Steep croup, slightly downhill and bum high. Nice wither though. Big ol face :P
VERY steep shoulder angle.. doesn't match her pastern angle at all. When was she last trimmed? Her feet need to be rasped/trimmed as that affects her 'posture.'
Nice and straight from the front. I don't like her knees, not sure why..
---
"Strength is the ability to use a muscle without tension"

Overweight and under muscled... Has a thick throatlatch so she can't collect very well, steep shoulder and a little bit toed out in the back. She also needs a trim. I do like her hindquarters :) nice angle to her pasterns and her color is beautiful!
---
Horses are scared of two things... Things that move and things that don't.
Looks a little toed out in the front too, and definitely needs trimmed. Feet look small in proportion to the body, but that could be because she's overweight.
Reminds me of my buckskin.
---
So in lies the madness, the pursuit of the impossible in the face of the complete assurance that you will fail, and yet still you chase.
Woah... that is a fat horse... She needs eat less, and exercise more (dont we all :P)

Anyway, very, very solid horse. Very thick throat latch, really needs a hoof trim, I like her legs... butt high (maybe she isnt on even ground?) Her shoulder is steep, I likee her butt, and... she is... massive...