I think the previous posters covered it. She's super cute! Looks like a sweet mare! :)
I'm wondering what kind of bit you're using... The pictures aren't close enough to tell for sure but it appears like you're using a hanging/baucher snaffle (I added a picture for identification), upside down?
?
If so, just so you know, they're supposed to be attached like this: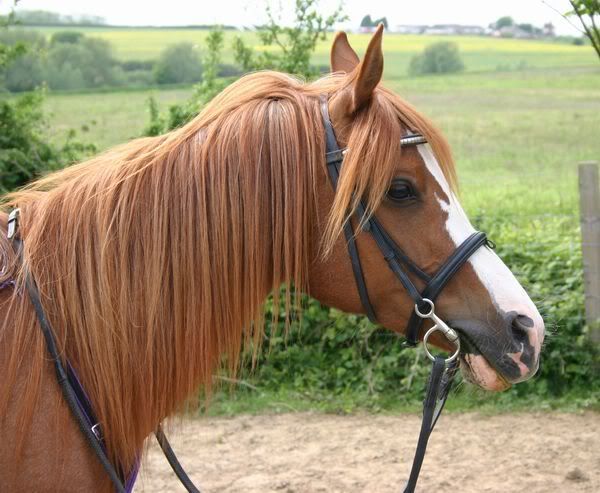 Just so you know. :)
She's super super cute.
---
Fabio - 13 year old Arabian/Lipizzan gelding

~
Rest peacefully, Lacey.

---
Last edited by Wallaby; 05-02-2012 at

09:49 PM

.
great catch on the bit wallaby! i think that will change her ride alot!!
I'm not the one riding her I don't know who that lady is I guess she's some lady from the rescue place the mare is at I guess I just used the pics from the rescues website because I didn't take any pics when I went out there but thats not me and I don't know what bit she's using or anything
Yes, her back is a bit long, but that will be all the more reason to make sure you teach and ask her to work properly and round up the way she is supposed to. The reason she looks so weak backed in the under saddle pictures is because she's plodding around on her front end and her entire body is really hollow and strung out.

Bring her home, get her working the way she should, build up some muscle on her, and she'll make an amazing little trail horse...especially if she was a ranch horse in her former life.
---
Always remember that feeling of looking at a big, open country over the ears of a good horse, seeing a new trail unwind ahead of you, and that ever-spectacular view from the top of the ridge!!! Follow my training blog:
http://robertsontraining.blogspot.com/
Don't know if anyone cares to know but I decided to get her and my adoption application got approved and I passed the home check for the adoption process and I get to bring her home Saturday!!!
Teen Forum Moderator
Join Date: Dec 2010
Location: South East Texas
Posts: 7,157
• Horses:
2
Thats fantastic! Make sure to keep us updated, she looks like a total doll.
---
Everyone in your life is meant to
be in your journey, but not all of
them are meant to stay till the end.