haha thanks :) just want to make sure I make my one photo count! lol


---
The lovely images above provided by CVLC Photography cvlphotography.com
Quote:
Originally Posted by
JustDressageIt
View Post
Wait... best photo OF you, or taken BY you? I'm confused lol I don't have any photos taken by me of my horse cantering under saddle, but I do have photos that I have taken of him cantering free, I do have photos that I have taken of others cantering under saddle, and I do have photos others have taken of me cantering.. does that make sense?
Is this more of a photography contest, or an equitation contest?
Blame my confusion on percoset lol.

It can either be of you, or if it is of someone else, you have to be the owner of the photo. It has to be under saddle
here's mine!! again!!! lol
Me and Dozer cantering. Cruddy pic I know but its all rainy out so I can't take a better one..
---
man! I have a great one! But its not on this computer. I cant get it till tues. :(
Felix and I in or first show together. He is not my horse, but I rode him nearly everyday this summer so he felt like my horse.
Jubilee
---
I refuse to let adventure leave me in the dust. The time of my life is out there, I just have to go get it.
See My Blog:
Dream Chaser
My sister on our racing pony, Buttercup before a barrel race..I love the shade in this pic: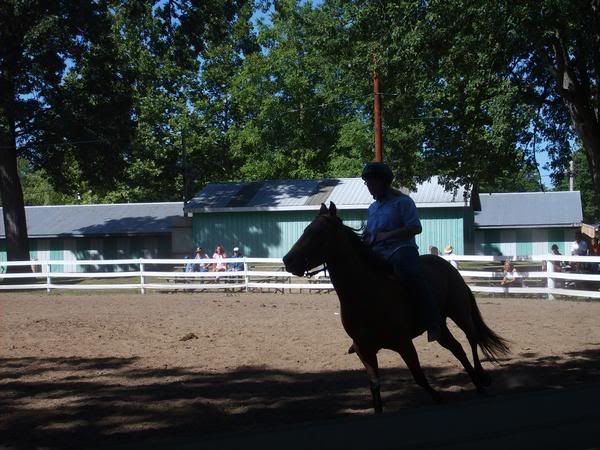 Heres mine
---
Live to ride. Ride to live.
Me on Nasty Attitude (RIP) team penning:
Similar Threads
Thread
Thread Starter
Forum
Replies
Last Post
Cantering... HELP!

IheartPheobe

English Riding

5

07-21-2009

12:40 AM

Cantering

free_sprtd

Horse Training

2

04-22-2009

09:10 PM

Cantering

kaykat31

Horse Videos

4

03-14-2009

09:55 AM

Cantering

eqryder92

Horse Training

13

12-27-2008

04:54 PM

help on cantering?

clo

Horse Training

7

11-27-2007

10:28 PM