Chasing Buffalo is awesome way betterthan cows
---
Live to ride. Ride to live.
Tasia, that buffalo chasing pic is so cool! Buffalo look so weird but cute at the same time hehe.
My sister and her crazy gelding. I wish I didn't cut his tail off!
Zucchini and I!
I always use this picture for everything..lol its the only quality picture I have of myself
---
---
The lovely images above provided by CVLC Photography cvlphotography.com
PS: as posted in the other thread, my photos are for sharing only and are not to be considered as part of the contest.
my first horse Shady and I, RIP Shady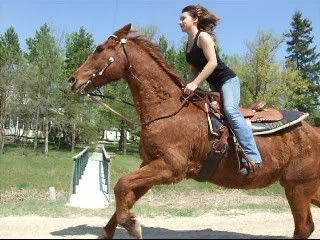 Similar Threads
Thread
Thread Starter
Forum
Replies
Last Post
Cantering... HELP!

IheartPheobe

English Riding

5

07-21-2009

12:40 AM

Cantering

free_sprtd

Horse Training

2

04-22-2009

09:10 PM

Cantering

kaykat31

Horse Videos

4

03-14-2009

09:55 AM

Cantering

eqryder92

Horse Training

13

12-27-2008

04:54 PM

help on cantering?

clo

Horse Training

7

11-27-2007

10:28 PM