Here is my picture!
I know my position sucks, but I have been working on it!
---
RIP Minnie, 1981-January 15, 2010
RIP Maggie Mae I miss you
Get your last photos in everyone! Contest ends in a couple of hours!

The results will be place from 8th thru to 1st place first thing tomorrow morning!
My fourteen year old friend Tyler riding my three year old gelding Dakota. This was the first time he'd ever cantered and the third time he's ever ridden a horse. Photo taken by me.
---
Horseshoe Loop Farm: Home of Gypsie (22 y/o TWH mare), Dakota (10 y/o TWH gelding), Codie (18 y/o Walkaloosa gelding) & Harlow (9 y/o APHA mare)
Savannah my 12 y/o Icelandic mare throwing a fit while lunging (: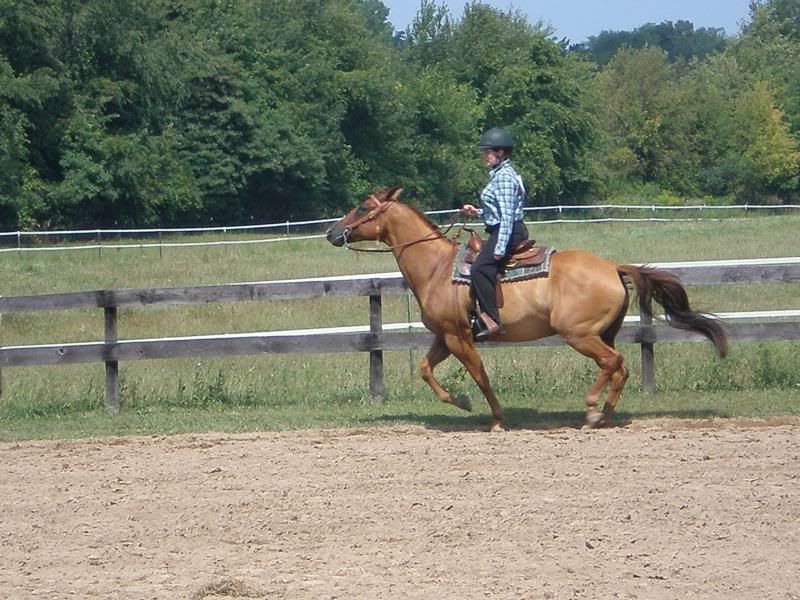 This was actually the western class from hell. My normally unflappable horse suddenly came unglued at the sight of a judges tent. This was the start of a bolt.
---
RH Queen O Anywhere "Sydney"
2009 Sugarbush draft
One of my students in Ontario Canada. I love going up there to work with her and her students.
Forget the hands, I like the horse.
Closed!
---
Contest Closed! thank you for all the entries that were posted. Results will be given shortly!
Results!
---
Once again, thank you for entering the contest! yet another fun set of photos! The marks were based on the clarity of the photo, the originality and the horse/rider combination. Stunning photos everyone!
Onto the results.
The winner of this contest was, in
1st- fourtwentyam
2nd -wesgirl
3rd- irydehorses4lyfe
4th- IheartPheobe
5th- JustDressageIt
6th-Dynamite
7th-Allison Finch
8th- blush
Was this only for english?
---
Live to ride. Ride to live.
Similar Threads
Thread
Thread Starter
Forum
Replies
Last Post
Cantering... HELP!

IheartPheobe

English Riding

5

07-21-2009

12:40 AM

Cantering

free_sprtd

Horse Training

2

04-22-2009

09:10 PM

Cantering

kaykat31

Horse Videos

4

03-14-2009

09:55 AM

Cantering

eqryder92

Horse Training

13

12-27-2008

04:54 PM

help on cantering?

clo

Horse Training

7

11-27-2007

10:28 PM