Best horse/tack match
---
rules 1 pic per horse and color.

ends july 1st

Show off your horses tack colors!!!

no min to the tack - just a halters fine all the way up to a fully tacked up horse!!
Ill have to get some pics of my gelding in his show tack!
Posted via Mobile Device
Oh man, I'm really particular about my horses' colours! This is just 4 of the 8
Fanta is in purple
Kody is in "wine" (although finding a halter that colour is borderline impossible so his halter is kinda burgundy!)
Nippa is in baby blue
And Rex is in black (he has a black lead too now!)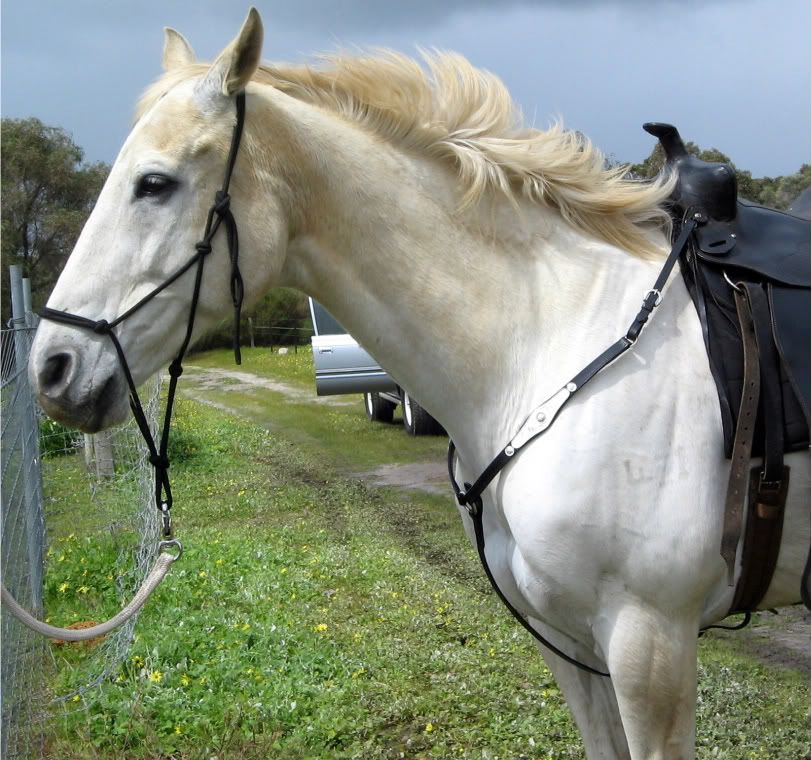 I literally avoid putting any other colour but theirs on them wherever I can!
---
Flirt-Hugo-Phoenix-Romance-Fanta-Nippa-Shiloh

Trojan 09.11.02 - 26.10.10 // Kody 01.09.89-25.06.12 // Rex 05.11.95-21.12.12

This is Velvet, her colour is bright yellow. She has her blue jumper boots on the front in this pic but she has a yellow pad, splint boots, halter and a few other random items :)
This is Brandy. Her colour is hott pink :)
---
Aw, I don't have one where she has both her halter and saddle blanket on... Can I pretty please post two?
If so, then this is her new halter (Her colours are Aqua and Purple):
And her saddle blanket (Aqua with Purple and Pearl lining):
---
Bundy doesn't have a 'colour' but I put him in the RM Williams saddle blankets because they are classy, very country and suit his colour:
(I'm going to sneak two in because I have two different cloths, shhhhh!)
---
I absolutely love everything blue so naturally, that is my horses' color.
He was trying to be sneaky and get to the grass just out of frame LOL.
---
Always remember that feeling of looking at a big, open country over the ears of a good horse, seeing a new trail unwind ahead of you, and that ever-spectacular view from the top of the ridge!!! Follow my training blog:
http://robertsontraining.blogspot.com/
Toby Keith
---
Do not go where the path may lead, go instead where there is no path and leave a trail...