Best Jump!
---
So this is pretty much about the best jump in picture.

note: i like mess up ones too those are great there so funny. for example say you get left behind enter that one too :)
any particualr style? what are you looking for form style...? or just a nice pic? (Just choosing one to put up) am tempted to put up an epic fail one LOL
This is Rebel, a mini I used to have the pleasure of working with. It's not me in the picture.
---
"Great spirits have always encountered violent opposition from mediocre minds."

Well this is our Belgian Mare free jumping into nothing :)
---
♥ Gypsy gold does not chink and glitter. It gleams in the sun and neighs in the dark ♥
OMG great little jumper!!! she tucks so nicely!!!
---
I was a dreamer
Before you went and let me down.
Ok here are a couple of entries, the first one is my friend Becky riding our instructors lesson horse Sox, the second one is Wendy Schaeffer riding Koyuna Sun Storm at the Sydney CCI*** that we went to watch last weekend
---
Boxer
Diligent, loyal, strong
Well, we aren't english jumpers (Yet) but here is a picture from fair this year!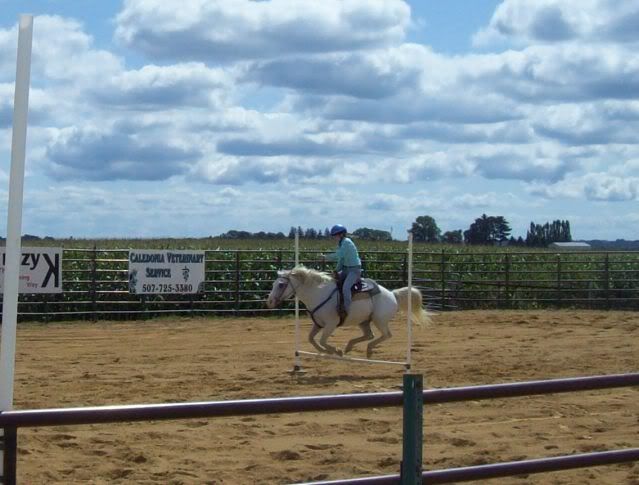 ---
RIP Minnie, 1981-January 15, 2010
RIP Maggie Mae I miss you
Sorry everyone i forgot about this( my bad) anyways love the pictures i'll still take more!

jody111: No particular style I'm not picky
So, you posted this last month. Since its in the contest section, are you going to have a deadline with voting?