Quote:
Ill have to get a photo of the shepherd jumping on the trampoline, and vaulting the picnic table.
Posted via Mobile Device
DO IT haha that will be a site!!!!!
---
Feeling down? Saddle up.
My Chihuahua, Bean.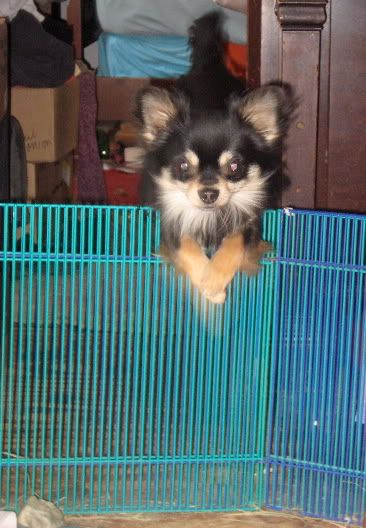 Haha, it looks like he's stuck on the gate! lol
---
When In Doubt Let Your Horse Do The Thinkin
Quote:
Originally Posted by spookychick13
What Lone said.
Haha wow i read this and i was like.. hmm well i know my dog can jump but i want to teach my cat how to jump!... i tried to make her jump for an hour plus. here a a picture of her epic FAIL
Two wrapping paper rolls forming a crossrail haha she actually cleared it a few times but i couldnt get a clear picture... then she was done..
(:
---
The Wind Of Heaven...
Thats What Blows Between A Horses Two Ears...
Cute you guys!!!! I love the little chihuahua haha!!
KEEP POSTING ONLY 3 MORE DAYS UNTIL THE WINNER IS CHOOSEN!!!
---
Feeling down? Saddle up.
grrrrrrrr
i cant find the pics of me and my friend jumping horse jumps
do humans count?
Heres my mini Blackie, he has jumped over 2 feet before.
---
. . . . . . . .
Blackie-April 26, 1999-May 12, 2012
Bandit-June 6,2006-May 12, 2012
---
He carried me away from all my fears, and his mane was there to wipe my tears. -RIP Vegas, my best friend.
adorable!!!
---
Feeling down? Saddle up.