Biggest Butts :)
---
Here is a contest for the biggest butts (equines, not people. Get your minds out of the gutter people). LOL. Any breed, any age, but must be either your horse or one that you commonly ride. If you can, list the horses name, age, and breed (if known). Thread will close at midnight on 7-31-09 then I will open a new thread for votes. After 2 weeks, on 8-15-09, I will put a poll for the top horses. No prizes, just the bragging rights to say that you have the biggest ass on Horse Forum.
Here is mine that I took today.
Name: Big John
Age: 4
Breed: Percheron
Green Broke
Join Date: Jun 2009
Location: Brokenheartsville, just north of Styxtown :)
Posts: 2,577
• Horses:
1
---
Most people are like Slinkies; they serve no real purpose, but they bring a smile to your face when you push them down the stairs.
When you come to the end of your rope, tie a knot and hang on for dear life.
Big Boy, 12 year old Quarter Horse gelding.
---
In the early days of the Indian Territory, there were no such things as birth certificates. You being there was certificate enough. -Will rogers
Oh boy! We have discovered that Jake, our belgian cross, does not like to be told he has a big butt. My husband said that once and Jake snubbed him for the rest of the day...for real! I'll see if I can sneak a pic in without him noticing.
lmao, I luv that pic Royal Affair!
Remington, 7 yr old brabant gelding.
Penny Pony's bum. ^_^
Paint x QH cross
Age Not Known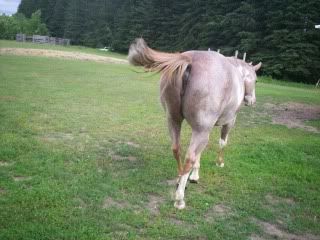 ha ha was going to post my tb's butt but she doesn't stand a chance HA.... we have QH I might enter though