the middle picture of the 2 of them..ahaha Cajun was overreacting, Mac was actually licking him, like full on puppy kisses it was hilarious cuz cajun looked soooo violated LOL
Hihi they look like big woolly mammoths. :)
---
A ride a day keeps the worries away!
Alright, I'll give it a go

The first 2 are for my mare Phoebe

The 3rd and 4th are for my gelding Solo, I know i'm in one of them but it only said no riding pics, I can put up a different one if it doesn't count

the last one is for my old mare Skye, even though Solo's in it too

=]
---
~The most important lesson my horse ever taught me is how much I have left to learn~

theres a collage and 3 single pictures
---
Ferdi - iloveyou RIP♥
Apache - You are my world. I dont ever want to loose you♥
These are my Romeo and Demi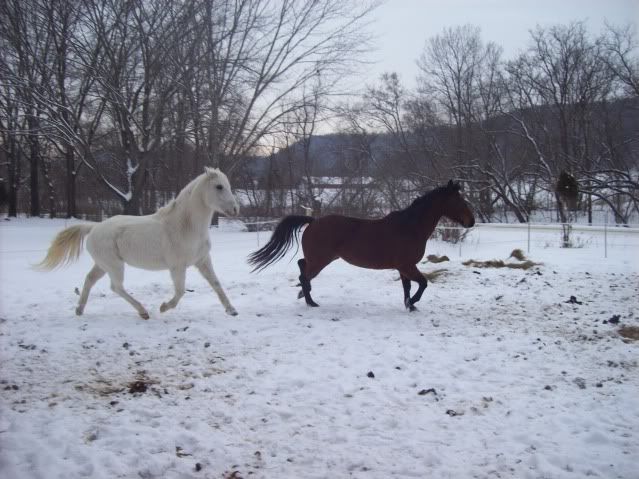 ---
RIP Minnie, 1981-January 15, 2010
RIP Maggie Mae I miss you
yea,piaffe...we don't hardly have snow..unless it's your place....Wish I could enter.
Last day!!! Should be judged by 7pmish tonight! Get your last minute pics up!!! :p
---
Is all that we see or seem
But a dream within a dream?-Edgar Allen Poe
Lassssst call! They will be judged at 8pm pacific when i get off work!!!
---
Is all that we see or seem
But a dream within a dream?-Edgar Allen Poe
Here are my 2! 1st is my 6 year old gelding and 2nd is my 3 year old mare
---
Dressage for LIFE <3 Rebel <3 Lakota <3 Tee <3