Cutest Couple Contest
---
Since Valentines Day is coming up I thought this would be a good idea for a contest.
Rules
-One entry per person
-You must own at least one of the animals or have taken the pic
-The couple must be two horses (see example)
Judging/End
-Must enter by February 9th 8:00 am CST
-I will post a poll later that day and voting will be done on Feb 13th 6:00pm CST
-Poll will be of the top 10 (I will choose the top 10)
No prizes cuz I can't do anything cool with the computer, I just thought it would be fun. Here is an example of what I'm looking for (ignore me
).
Horses 008.jpg
Great contest, I will post my picture when I get home this afternoon
Here's mine. My rats, Aero(grey) and Heidi(brown).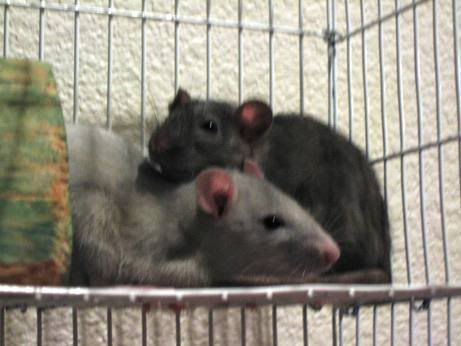 ---

Equestrian, computer person, photographer, graphic designer...
I know who I am, who are you?

awww, just horses eh. i have a cute one of my dogs. i lonly have one horse, so no two horsey shots.
what the heck ill post it any ways :)
---

~He knows when you're happy~He knows when you're comfortable~He knows when you're confident~And he always knows when you have carrots.~Author Unknown
Rusty and Ebby
---
This is my paint gelding Stitch and his paint girlfriends Stinger
---
Here is Klassy and her "husband" Rio. They are bestest of budds, its this huge long inside joke. But when Klassy coliced this summer we were hand walking her and when we went by Rio's stall they were inseprable and He helped her get better and keep her happy, so we took him out and he didnt even have to be led just walked next to her and kept nosing her.