different kinds of contest
---
end feb 11.
A Pic of your horse getting in trouble or you disciplining it
A Pic of your horse and its foal or mother/father
you showing love to your horse.
you feeding your horse or your horse eating.

please post pics this is my first contest
Green Broke
Join Date: Jan 2010
Location: south of nowhere, north of nothing
Posts: 4,643
• Horses:
6
me and my boy this xmas after not seeing him for 10 months
goo'boy.jpg
Charlie at 6 weeks... already a huge baby
chawlie baby 3.jpg
Hawkeye after charlie snuck up and tried to rip his slinky off his head
poor hawk.jpg
Charlie eating after he pushed/i tripped and broke his side panel on his stall
Attachment 84643
1. Eating (pony withthe blaze)
2. Showing love
---
I was a dreamer
Before you went and let me down.
Likes help me pick who wins. no liking your own pics
Well i dont know if it is, Regen is trying to get the cell phone.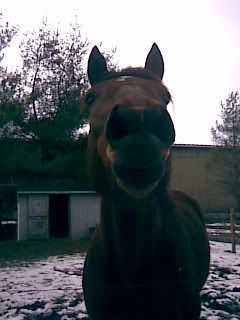 ---
each winner will receive a carrot cupcake
My grandson and new born filly.
A Pic of your horse getting in trouble or you disciplining it
This is me on a pony I used to ride, when she wouldn't canter at a show xD
you showing love to your horse.
Edited pic of me and Maggie, the horse I lease <3
you feeding your horse or your horse eating.
Grazing :)
Loving on a horse: Rebel as a foal
Eating: Annie eating a carrot
Being naughty: Manny protesting
---
"Horses are the best medicine for the soul"
!~*~Horses4Healing~*~!