after an amazing round, we decided not to go through the water!
---
Ferdi - iloveyou RIP♥
Apache - You are my world. I dont ever want to loose you♥
Mares were riled up for whatever reason...
Rainy's the bay in back.
Here is Romeo and me after cantering a circel. I had a bruise the shape of a saddle horn on my thigh...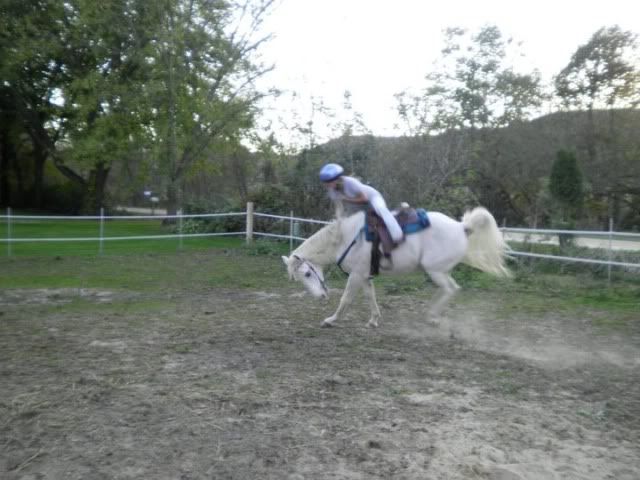 Romeo doesn't like 2 horse trailers
---
RIP Minnie, 1981-January 15, 2010
RIP Maggie Mae I miss you
Great pictures everyone!!
---
No hour of life is wasted that is spent in the saddle. ~Winston Churchill
Jack pigroots a lot when I ride, but I have never got a photo of him doing it, but here are some of the naughty things that he does :)
A little rear, this is big for him, I've never seen a huge rear from him
Attachment 47865
With saddle :)
Attachment 47866
He chased my sheep around his paddock and put a few arm movements in aswell :)
Attachment 47867
Not quite sure what was happening here - your guess is as good as mine...
Attachment 47868
Slight disagreement on the trail - jack wanted right, I wanted left - we did manage to go left after a little struggle though:)
Attachment 47869
---
Clam a llama down, calm a llama deep down in the ocean blue like a barnacle. Sitting in the tight place!
Gotta love the Mighty Boosh!
---
Last edited by peppyrox; 03-30-2011 at

02:35 AM

.
I don't have many pictures of my horses being bad, but in this one, if you look in front of Legacy(the appy) you can see Bella's but and tail WAY in the air because she was kicking at him, this was only a few weeks after we got him and she still hated him lol
Yearling
Join Date: Nov 2010
Location: Rocky Mountain House, Alberta
Posts: 781
• Horses:
1
Hehe these are great ^^
---
No hour of life is wasted that is spent in the saddle. ~Winston Churchill
Yearling
Join Date: Nov 2010
Location: Rocky Mountain House, Alberta
Posts: 781
• Horses:
1
i have a sequence of my horse bucking me 3 times and me falling off but its embarrasing lol