Got pictures of your horse sticking its tongue out?
---
I love it when I've been taking pictures and go through them to see a good one of my horse sticking its tongue out! Post your best TONGUE SHOTS! Closing date is NOV 1st. Winners announced NOV 2nd.
---
I'm so busy, I don't know if I've found a rope... or lost my horse...
this is hilarious, this was the day that tess fell in the float and cost us heapsa $$$$$ in vet bills, she thinks its funny. WELL I DIDNT!!! thanx a lot Tess. :P
---
Cross Country- The act of hurling yourself and your equine partner at a stationary object with poise and grace while attempting to survive...

Not totally a tongue but still goofy :)
---

It's not the will to win, but the will to prepare to win that makes the difference.
- Paul "Bear" Bryant (Former college football coach)
Nippa
Phoenix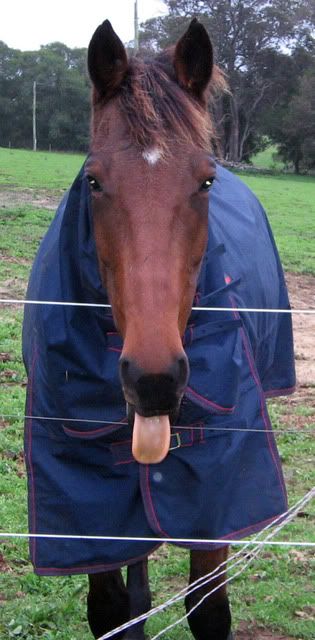 Kody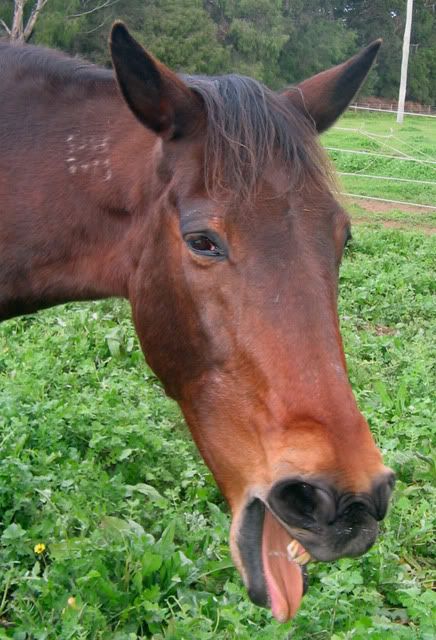 Romance
Fanta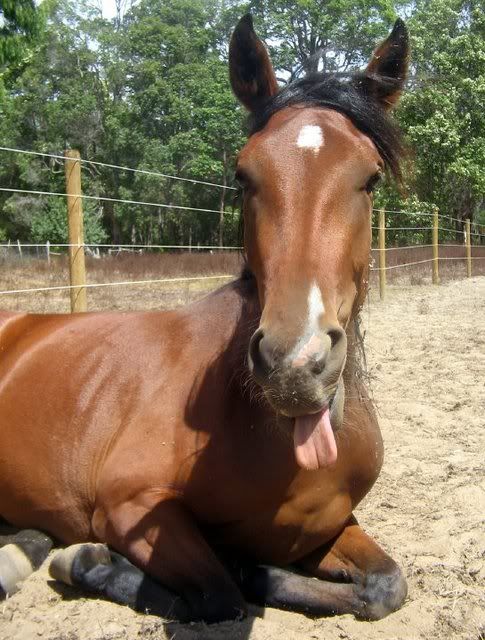 Hugo
---
Flirt-Hugo-Phoenix-Romance-Fanta-Nippa-Shiloh

Trojan 09.11.02 - 26.10.10 // Kody 01.09.89-25.06.12 // Rex 05.11.95-21.12.12

---
Last edited by WildSenses; 10-24-2010 at

12:56 AM

.
Love these!
---
"every horse deserves at least once in their life to be loved by a little girl"
<3
Here's one of my daughter on her pony waiting for the results of her class and not hearing her name. This particular judge dislikes my daughter and her pony as she consistanly gives her low marks even when other judges do no. I like both their expressions.
Jack.. :)
---
Clam a llama down, calm a llama deep down in the ocean blue like a barnacle. Sitting in the tight place!
Gotta love the Mighty Boosh!
---
Last edited by peppyrox; 03-30-2011 at

02:29 AM

.
My baby Rain
---
*Dreams are within reach, you just have to go that extra mile to catch them*