one time a rolled up a paper as a cone and taped it to my horses forehead, does that count? lol
I have one I might enter, Wally as a super hero....
When is the deadline?
---
"I was eight years old, and I've never forgotten her face when she told me about watching you ride. She told me she saw you, and your horse was dancing in the moonlight."
-- A.C. Crispin's "Sylvester"
Not a very good costume... but my old pony Spider eating a "spider" while wearing a witch hat haha and then me on top dressed as a "black" cowgirl.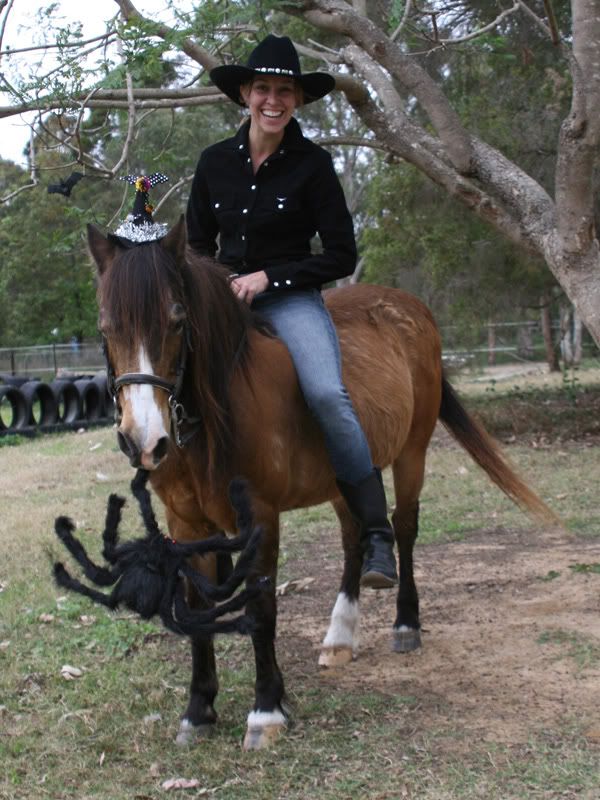 Weanling
Join Date: May 2009
Location: Charleston, South Carolina
Posts: 601
• Horses:
8
Deadline is October 30.

That picture of the horse dressed up as a sheep it LOL funny!!! Thanks for sharing it!
At my barn every year there is a halloween show were we dress our horses and the best costume wins ! when it happens ill have to post pictures , (:
---
Lola Luffnangle. <3 Heres to forever!
i will enter but i have to make my costume first
I want to dress up my boys, but I have absolutely no reason because no one but me will see it and my husband thinks it is a waste of time