Most Unique/Prettiest Paint Contest
---
Post pictures of unique or just generally pretty paints or pintos-doesn't matter which. Breed doesn't matter, as long as they have paint colouring. Contest ends August 19-you have 2 weeks to enter!!
Oh, yeah, forgot to say: the horses have to be owned by you or someone you know; no pulling random pics of the internet.
---
Can we post two different horses? I'll just post both and if that's a no-no...I'll tell you which one to take away or whatever. First one is my yearling Patches, black/white overo with War Bonnet. Second one is my MorabxDraft/Paint, Lakota. =)
---
To see the wind's power, the rain's cleansing, and the sun's radiant life, one need only to look at the horse.
My mom's spotted draft filly, Delilah =)
Hmm, Roughrider, I'll say that you can post up to 3 pictures, and it doesn't matter if they're all the same horse or not. So, basically, you can have up to 3 different horses.

These are pretty! I love paints!
Here's my boy, Joker
---
Britni & Halo (2009 QH filly)
Gunner
---
My aunt owned this little guy. Prettiest guy i've ever seen.
He was a registered APHA & although you can't see in the pick, he had a patch of white on his other shoulder.
Sadly, he became really sick as a weanling during the winter & passed away
.
---
"If a horse fails to do something that is because he was not trained to do it. If a horse fails to do something properly that is because he was not trained properly."
www.wildestheartart.com
Here's Molly, my riding instructors 35+ year old paint mare. I think she's the prettiest paint I've ever seen, but not only because of her color, but because of her personality, and will to live(hit by an atv 5 years ago and shouldn't have lived due to severe muscle injuries) and the way she has with anyone, if someone's scared, by the time they're done being around her, they're calm as can be. Best horse I've ever known.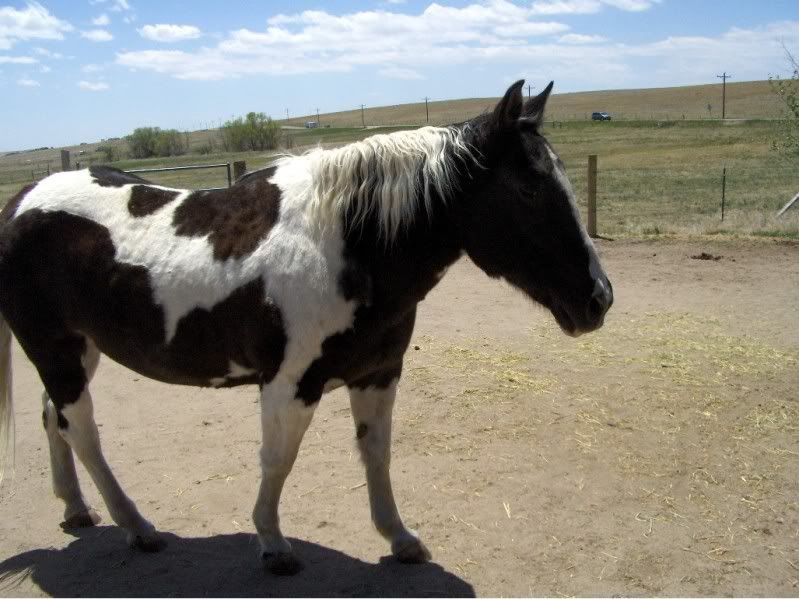 ---

Equestrian, computer person, photographer, graphic designer...
I know who I am, who are you?

The beautiful pony that i ride called Lady, all my own photos. was very difficult chosing pics so chose 3!!
Green Broke
Join Date: Oct 2009
Location: Witbank, South Africa
Posts: 2,681
• Horses:
2
---
Every girl wants their own LOVE STORY, I found mine... :)