Foal
Join Date: Aug 2010
Location: Vancouver Island, B.C., Canada
Posts: 223
• Horses:
4
My new horse needs a name!!
---
Greetings to all!
Today I just picked up my new horse. She is a registered colorado ranger horse. She was born December 27th, 2009. Her Dam is Gulden Danzing, and her sire is QAR Satang Express. She's a very quiet filly. She's a buckskin with a very small star on her forehead, and one sock with black spots in it. Her papered name is TOG Barilla (pronounced Brill-AH). I don't know if I like it or not. I would love some ideas for barn names and show names. If you can give me some suggestions that sound good with Breezy aswell, that would be wonderful!
Thanks for all the help everyone!!
This was taken when she was 2 days old:
This was taken a week ago: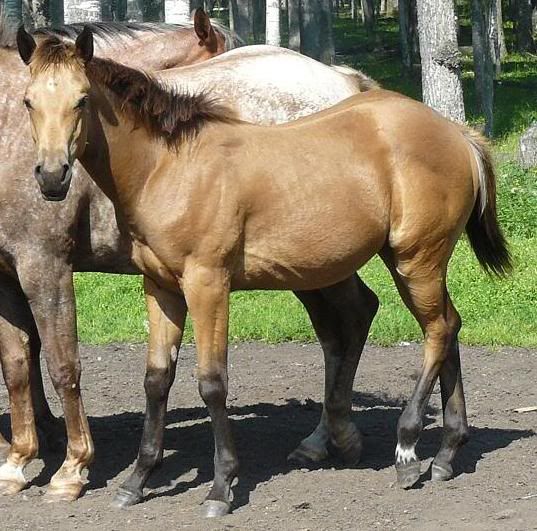 Green Broke
Join Date: Jun 2009
Location: Was in Ocala, Fl Now In West Union SC!
Posts: 3,175
• Horses:
1
I'm no good with names but Satin came to mind.
Ellie came into my head
---
I was a dreamer
Before you went and let me down.
Frankie? I almost named my new mare that. I just think it's cute, and not too common ;)
*Tiffany* -rip
---
He carried me away from all my fears, and his mane was there to wipe my tears. -RIP Vegas, my best friend.
Bella is all I can think of.
---
You just have to see your distance...you don't have to like it.
Yearling
Join Date: Dec 2009
Location: I cant tell, your strangers:)
Posts: 1,157
• Horses: 0
-Stash' (not Stash, like mustache, but Staush)
-Mattie
-Marci
-Jazmin
-Lucy
-Brenn
- Katie
-Zoey
-Sierra
---
Horses aren't just a pleasure, they are an escape from all evils of mankind.
when i saw her i thought carmel for some reason
---