Photo contest! Every one is welcome!
---
Picture contest! Anyone is welcome!

Anyone is welcome in this contest!!!! this is my first time doing this so sorry for any mistakes! Sorry there are so many rules! I just need to be clear

Rules

1) the picture(s) must be of your horse, a lease horse you lease, a lesson horse you ride, or just a horse you work with.

2) NO fake photos! Such as pictures off of Google, Bing, Tumblr, or any websites!*

3) No more then 5 pictures.

4) Any breed, color, gender, shape is allowed. Any styling, English or western, jumping or barrel racing, anything! the photo can be of your horse while he/she is being riden or on the ground. It does not matter as long as it is of a horse, it will qualify!*

5) I will judge the winning photos.

*6) there will be 1st - 5th place*

7) No prizes, just bragging rights.*

8) Try to keep it positive.*

9) contest ends February 15th 2014 and results will be posted no later then February 17th

10) PLEASE have fun!*

11) please say why you entered your photo(s), give your horses name (optional), say why you feel you photo should win, give a background about all or just 1 of your photos (optional)

AND remember have FUN and stay POSITIVE!*Thanks!!!!!!*Have a GREAT day!!!!
---
While you were cheering the football team on, I was walking my horse non-stop giving time soothing words until his colic passed, then slept in his stall all night to make sure he was safe.
I am submitting photos of my girl, Ursula. She is an 8-year-old, Shire/Thoroughbred cross. She was found emaciated in a mud lot almost 4 years ago, rescued, and resold to me. She was fairly green when I got her, and extremely nervous and head shy, but we've come a long way. We had our first real show season this past season, showing hunters, and are starting dressage and jumping lessons come spring. This horse is the best thing that's ever happened to me (besides my husband of course). She has the sweetest temperament, and she surprises me with unexpected talent around every corner.
These photos were taken this past summer, during a photo session with my husband. I ran around shaking a plastic bag to stir up the bunch, and my husband snapped the photos... Except for the last one. This one is more recent. It was taken in her paddock a few weeks ago.
I entered these photos, and I think I should win, purely because I think my horse is lovely. It may be the rose-coloured glasses talking, but I guess I'll find out! :)
For added reference: The light bay is my 23-year-old (non-characteristic) appaloosa gelding. Rags was my 4H project in high school and now he is my husband's horse. He is a wonderful horse, worth his weight in gold.
The dark bay is my grandfather's retired OTTB mare. Marie shares a birthday with my great grandmother and is named after her. She was rescued off the track with multiple fractures in both front legs. After months of stall rest and rehabilitation, she is healed. We have no plans for her future, except to keep her and love her always.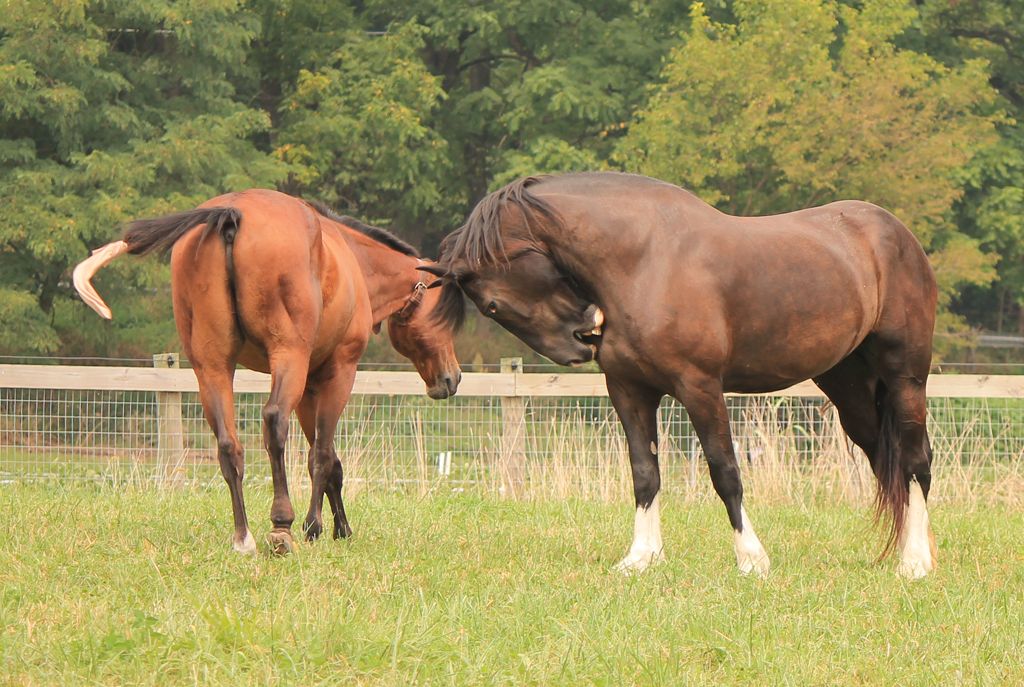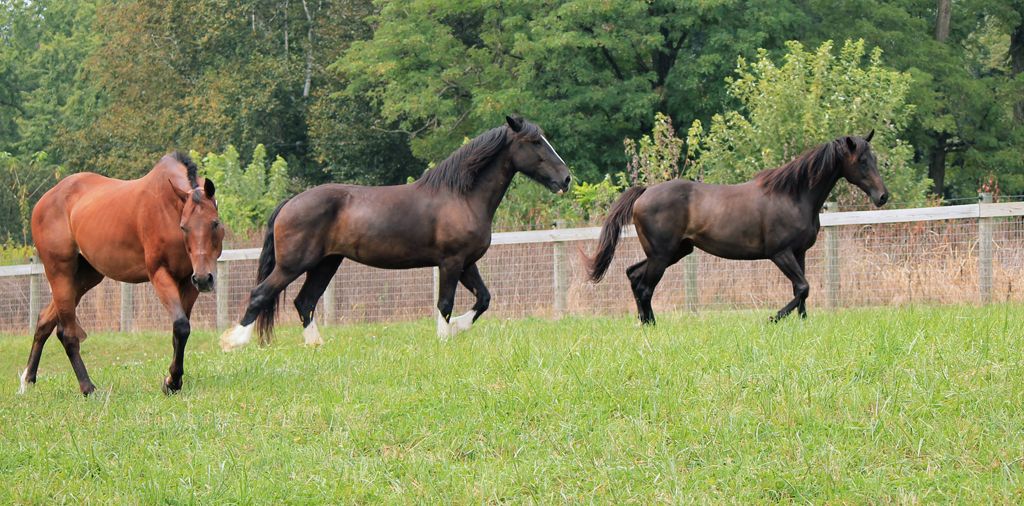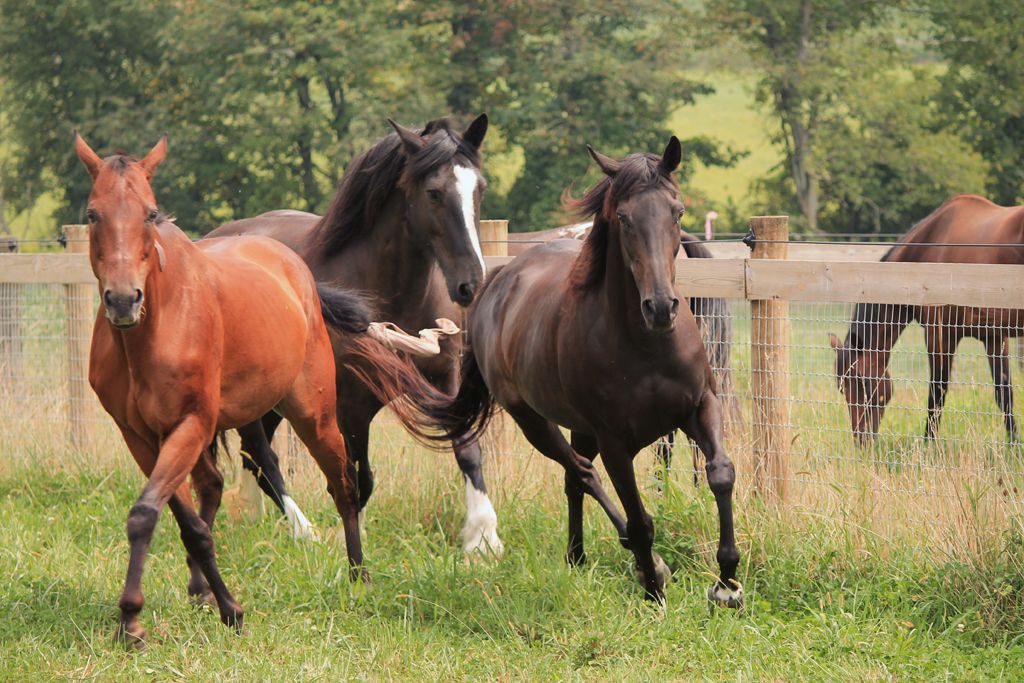 ---
The first three photos are of my OTTB, Sonnet! He's such a quirky guy but he always tries to do the right thing! The third is of Sohaelah, my (soon to be!) mare (on trial currently), and the fourth is of my child prodigy and favorite cousin, Gianna Rose and her new leased pony, Buttercup!
1.
This photo was taken the fall after I bought Sonnet. I think this picture really depicts the connection we have had from the beginning and the trust that had developed over the first few months that I owned him. I cannot even begin to explain how much he has helped me over the last three years. He came to me (a typical thoroughbred) underweight, flighty, and spooky. I was about 90 pounds when we got him in 2010, and it was very difficult for me to control him. Gradually we grew together, he helped me overcome the most difficult challenge I have ever faced: fear of gaining weight. I have gained 20 pounds since I have bought him (I think he gained like 75+)! I cannot tell you how much this horse has relieved my anxiety and kept me from making bad decisions. He has been my escape for the last three years - helping me battle the pain of anxiety and depression. He's my warrior! I think this photo really goes to show what an amazing, passionate horse he is! I could never be more proud of him!
2.
This was Sonnet's first turn out at my barn, he was showing off his fancy cherry bay coat and his athletic ability.
3.
This is another photo that was taken in early fall, I was so happy to ride bareback, it was a great accomplishment considering how skittish Sonnet was when I first bought him. This marked the beginning of a great friendship!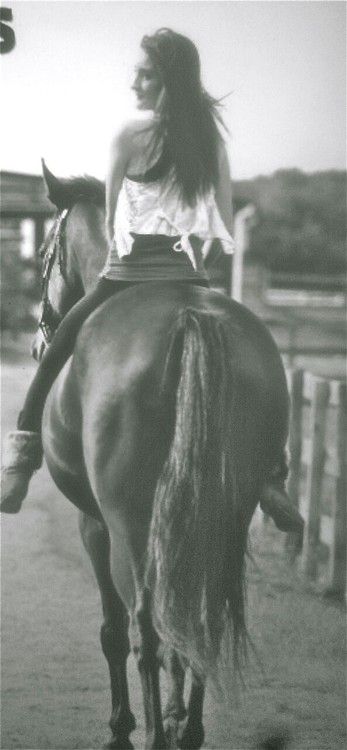 4.
This is Sohaelah (she still needs a barn name)! I love this mare so much. I've had her on trial for five days, but it only took a few hours to fall in love with her. She's so durable yet so elegant and graceful. She doesn't care about inclement weather or bad footing, she just wants to work all the time! I'm so thankful to have this mare in my life, she's absolutely perfect! (and absolutely gorgeous!)
5.
We surprised Gianna on December 23rd with her own leased pony! She cried so hard and held on to Buttercup's neck for such a long time!! You can even see the tears rolling down her cheeks in this picture! She will be taking lessons with me and my trainer Shannon separately, I couldn't be more grateful and proud!!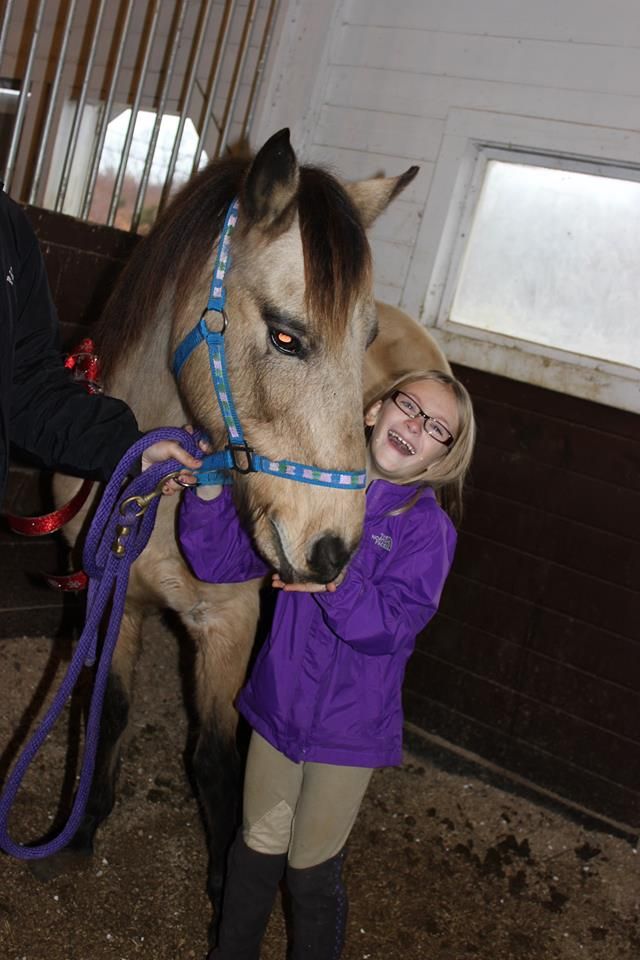 ---
Last edited by tayloranngenevieve; 01-01-2014 at

07:44 PM

.
The brown horse is my baby Grand! He is 3.5 years old, has started getting ready for riding, but never had a human on his back yet. I decided to participate in this contest, because I know he is one of a kind - he is very loving, sweet, attentive, and extremely special. He has only 1 eye, however unless you look into that fact, most of the time you cannot notice that he is blind in one side - when he lunges he does everything the same on both sides, it is just when a new person comes to check him out, I have to warn them, that he might be slightly cautious if they just go to his right side...
The first picture is from the day I got him.. he looked straight through me and I knew, we are meant to be... (I must confess I had some doubts about him, but now they are all gone)
This is a few months later, when he has already transformed and looking better..
Grand with his best buddy - Teddy. This photo is also very special, as they usually almost fight over food, water.. but that day they decided to drink together... around 3 am on New years they also were sharing the same pile of hay :)
As my last photo, is one of the sweetest photos I have taken of my boy, if not the sweetest.. This time I did not disturb his sleep, as I was unsure if he would let me touch him - I still only had him for about 4 months... but I am honored to be allowed to hug him when he sleeps..
---
This is my horse Saltys Red Rock (aka Red). He is a 2006 AQHA-registered gelding. I feel that he should win because we have been through so much together. I bought him in May of 2011 and I almost sold him not even a year later. We were not clicking and were not getting along. He was too energetic and flighty and I wasn't handling that in the right way. Not to mention he gashed his leg in January, came up lame on his front end in June, and now has a soundness issue in his right hind.
But...... He has the
best personality
and he tries 110% for me every single time. (He has more personality than one single horse needs, if that's possible.) At least now that I have figured out the right way to handle and cue him. And I've been finding that the judges absolutely love him in the show ring, because he places extremely well locally despite this year being his very first year of showing. I can do any event with Red, from showing to speed to roping and everything in-between. He is truly an
all-around
horse with a great personality. He's such a goofball.
So we started with fighting each other last year (no thanks to me), to learning more about each other, to making a great team. If my equine health folks can just get him sound, he
will
be my horse of a lifetime. And if not, he's already taught me more than I ever could have imagined.
Waiting to go into the show ring.
Iz smilz c.u.z Iz happy!
Is your camera a treat?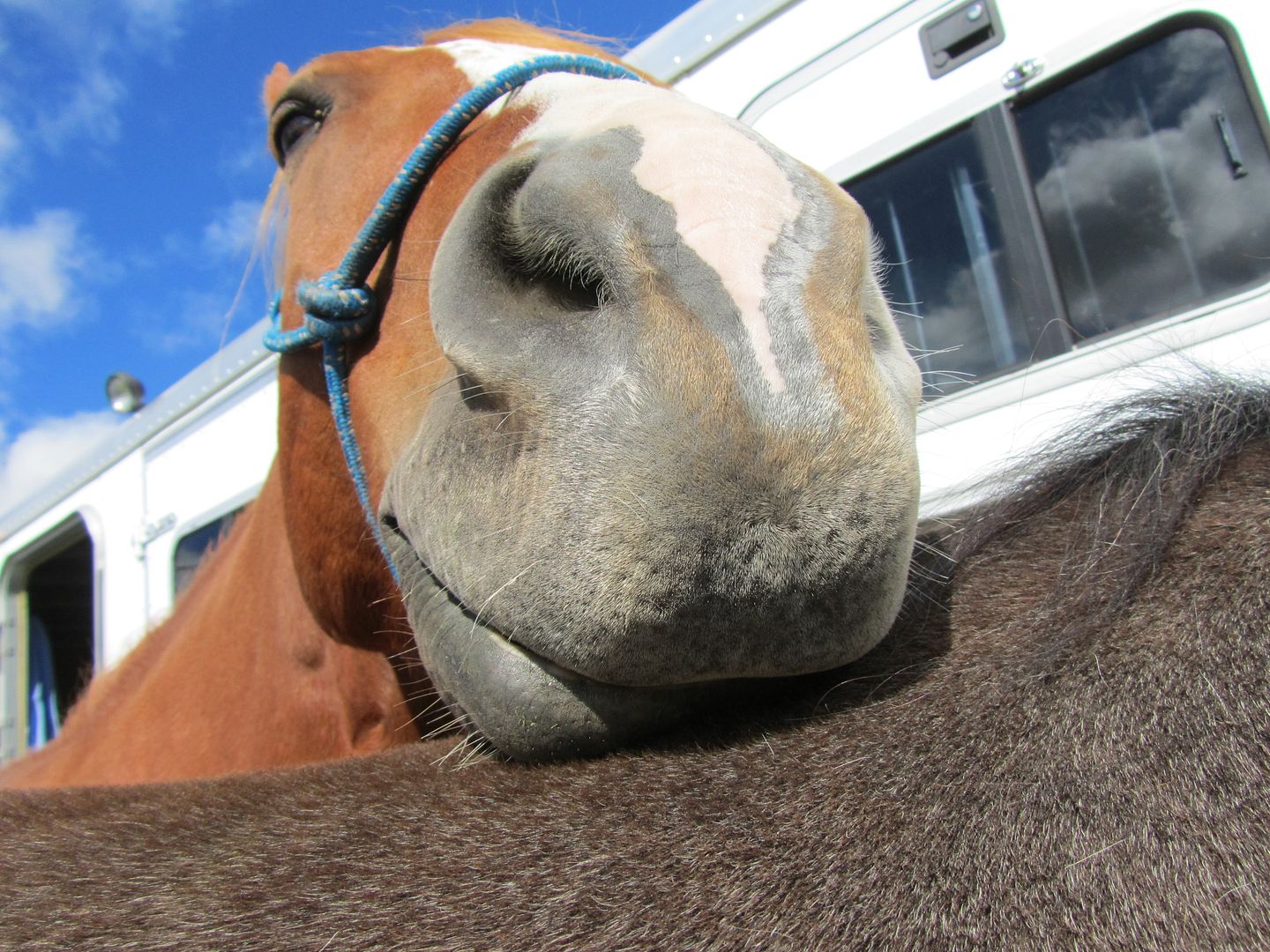 He was a perfect gentleman to give my 3-year-old niece a horsie ride, although I think he was yawning and ready for a nap after all that hard work of walking for 15 minutes (my "fire breathing" barrel horse).
Do you see a resounding theme with his facial expressions?
His other big thing is after he gets done doing something that I ask of him while riding, he will lick, lick, lick his lips with his tongue. It's hilarious.
Loads of quirks and personality!
---
∞•*˚ Βгįťţαňγ ˚*•∞
It is not enough to know how to ride; one must know how to fall.
I entered my photos because I wanted to see what others thought of her and her silly personality. My horses name is Foxy and she is an 8 year old APH mare. I met Foxy a little over a year ago but I was leasing a different horse at the time. Foxy was going to be sent to an auction so I quickly made the decision to lease her, I didn't know what I had gotten myself into. She was unable to canter and she was so out of shape that she couldn't trot for more than a few minutes. We started her trotting over crossrails and she would barrel through them. A while after I started leasing her I completely fell in love with her and made the decision to buy her and move stables. She had built up tons of muscle and was jumping 2.6' well. She had begun to love jumping more than anything else and was very good at it, she never knocked rails and really strived to be her best. I chose these photos because I think they best show her really silly and fun personality. She knows that she can make anyone smile by just being a good horse, and she is so good at cheering everyone up on their worst days. All she wants to do is make everyone happy and there is never a dull moment with her.
Beautiful photos everyone!!!!

Just a reminder that contest ends February 15th 2014 and I will have posted results by the 17th.

I will message the 3 winners and post results in the "horse contests" area.

ALL photos deserve to win though!!!!

You ALL have Beautiful horses!!!!!!
Posted via Mobile Device
What exactly are you judgin on? Just like a pretty horse or funny or something?

I will definitely post some photos - I don't have any good ones right now but I am goin riding today and was planning on taking some! And now I get to share them too, hehe!!
---
🔫 Don't Tread On Me 🐍
,.-~*'¨¯¨'*·~-.¸·,.-~*'¨¯¨'*·~-.¸
I never said what I was judging on, did I?

So sorry about that everyone!!!!

So I will be judging on, 1) Horses personality (at least what I can telly pictures, but obviously I don't know them just by a picture)

2) and beautiful picture (not on how Beautiful the horse is, they are all Beautiful, but how the picture looks)

3) and basically the ones that are sweet, and pretty.

Hope that makes sense! Lol!
Posted via Mobile Device