This is Dozer. I adjusted the lighting, blurred the background, and sharpened the main focus point (Dozer). Hope you like it! :)
---
Yearling
Join Date: Jan 2012
Location: In the middle of NOWHERE! (seriously...)
Posts: 861
• Horses: 0
I love this picture of my boy
It proves that he's not the typical "off-the-track-lost-my-mind-can't-focus-on-anything-but-running" horse.
lol I only adjusted the brightness and contrast.
---
Strength
lies within the heart
but the strength to trust
lies between the horse and his rider.
Green Broke
Join Date: Jan 2010
Location: south of nowhere, north of nothing
Posts: 4,643
• Horses:
6
This is Reno I took this picture with my phone the night before he was put down because of cancer.
I used Photoshop to add brightness and contrast to sharpen the colors.
---
*-._.-*I am bilingual: I speak English and equestrianism!!! *-._.-*
Adjusted brightness, contrast, cropped and centered.
IMG_0424.jpg
My mare, Abbi playing the in mud. (like the child she is)
The eye is the window to the soul.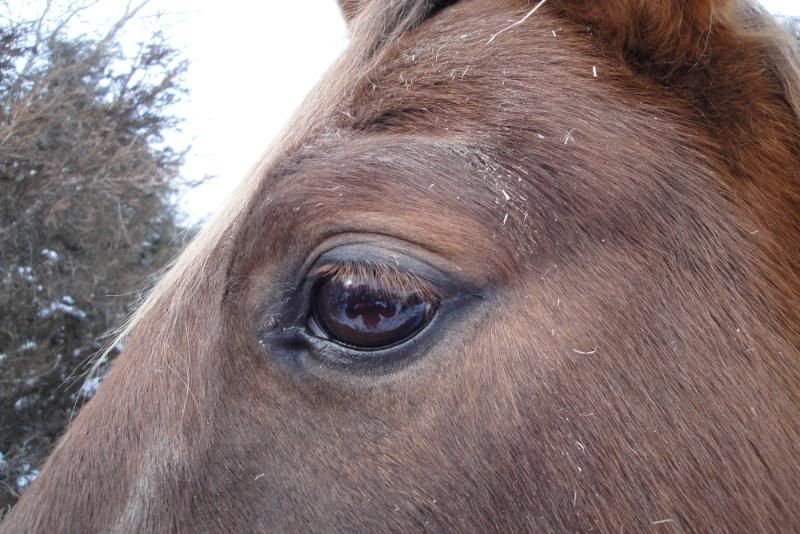 Ravishing Beau, 1998 APHA gelding. And myself, reflected in his eye. In my bright red snowsuit in the dead of winter!
---
∞•*˚ Βгįťţαňγ ˚*•∞
It is not enough to know how to ride; one must know how to fall.
Subbing so I can enter later =)
---
~ Hope is never light years away ~
Here's my entry..finally, lol.
My friend's horse Pistol at his first show on the way home from his first actual barrel run at a show.
Adjusted brightness, contrast, and added a Watermark in the bottom left corner.
---
This is my Andalusian cross Relana. There's something about this picture I love to death! :)
Sorry it's so big
.
---
"The hand should be a filter, not a plug or an open faucet."
N.Oliveira