Sheena has a beautiful head, 5.
Nice turn out too!

This is Dancer, 14yr old miniature horse.

aww!! 5! I have a soft spot for minis!
Cheyenne
Quarter horse,pony
mare
22yo
5! Love her face markings and she looks like such a sweet girl!
This is Roma. He is a 15hh 13ish year old Arab gelding.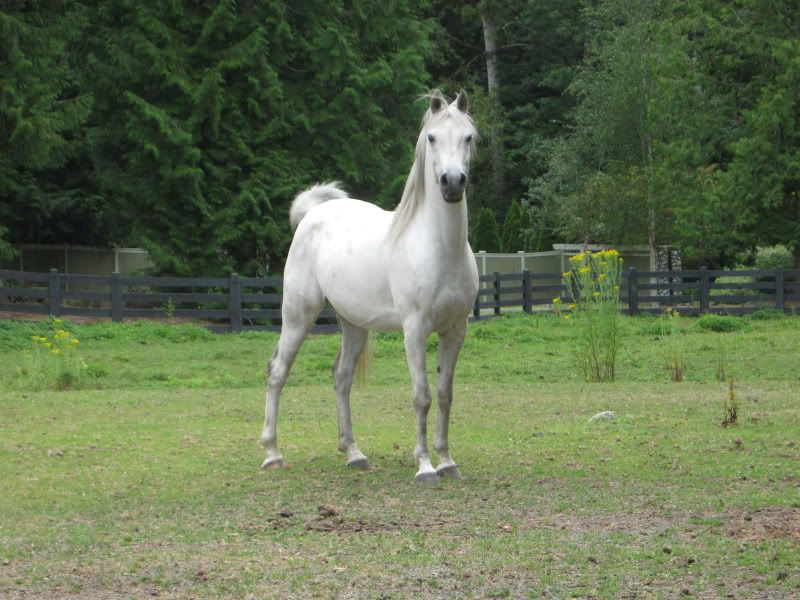 haha thanks! Yeah, she's sweet if she's in a good mood and she gets treats from you :p I have a really funny story from when someone she hated came up to her HAHA it was hullarious. Anyways, that is such a pretty horse!! 5!
This isn't my horse, it's another horse at the barn:
Vegas
QH mare
6 I think?
Vegas is a 5 she's beautiful.
Here is Dally again:
Dallas
15 now but was 12-13 at the time of the picture
Gelding
3/4 Arab, 1/4 QH
068.jpg
---
"It's a lot like nuts and bolts - if the rider's nuts, the horse bolts!" ~Nicholas Evans
Green Broke
Join Date: Oct 2009
Location: Witbank, South Africa
Posts: 2,681
• Horses:
2
5, gorgeous, and I love the halter and beautiful little child.
This is Blackjack, my instructor's 24 year old Standerd bred X gelding
photo0087.jpg
---
Every girl wants their own LOVE STORY, I found mine... :)
4, he is so sweet love his face markings :)

This is Will (right) with my friends horse at a competition.
He is a bay, 15hh anglo arab. he is 12 years old
---
Keep your feet on the ground when your head's in the clouds.
I don't know if it is just me, but no pic came thu with your post?


oh really? Here's another one then: