Quote:
He definitely needs a farrier ASAP
lol! We shall name him Fred
---
Freelance Graphic / Print / Photo / Web Designer -
Designalist
Stop by and say hey :)
Fred? I like it! LOL, I think he needs more than just a farrier.
heres my ugly horse... Sumaturo!
OMG I love Sumaturo's witchy mole!
Haha, what I love about my ugly horses is that they are not among the lemmings of the horse world. Their ugliness makes them unique and I love them pretty or not. I know that Rafe is gonna grow up to be ugly (well, have an ugly head anyway) and I will love him anyway. There is something to be said for a horse that is made fun of because he is ugly, then he goes out to kick the butts of all the "pretty" horses. Then who has the last laugh.
Like MyBoyPuck posted in another thread:
Quote:
I do love seeing people gawk at my horse when we're out on the trails, but in a scary situation, I'd rather he'd be safe and look like a troll instead of cute and dangerous.
Quote:
Now this is an ugly horse, I draw a rediculous number of horses like this. Why? I couldn't say, but it's addictive.
We have a winner, folks!
Green Broke
Join Date: May 2009
Location: Winnipeg, Manitoba, Canada
Posts: 4,510
• Horses:
2
Yeah, I think it's kind of whimsical to think all horses are "beautiful". I mean, they are because they're horses, but some just didn't get blessed with the beauty wand at birth. Doesn't mean we love them any less, ugly ponies need the MOST attention!
I think it takes a true horse person to admit their horse is less then pretty and love them anyway. It absolutely disgusts me how many people refuse to own an "ugly horse".
Haha, I do think "Farrier Fred" is our winner though
---
Quote:
I hope God tells her to smash her computer with a sledgehammer.
Yep, it happens in every species. At least a few have to be beaten within an inch of their lives with the "ugly stick" LOL.
Here is McGregor and his big, fat, square head and his goofy lookin' droopy lip! lol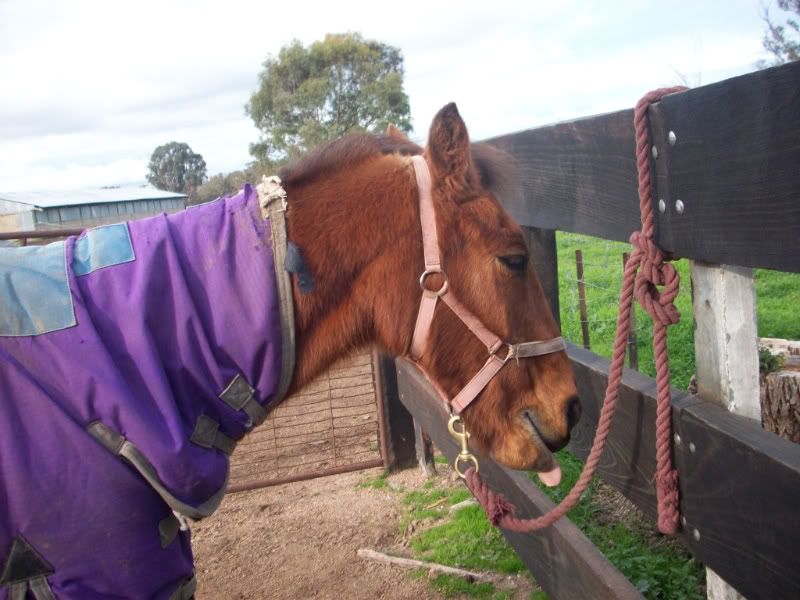 ---
HORSE RIDING:
The art of keeping a horse between YOU and the GROUND!
Quote:
OMG I love Sumaturo's witchy mole!
oh no honey, thats no mole. dont let her fool you. see, we got Sumaturo when she was 3, and she was HEADSHY, i mean, ive never seen a horse quite like her. you couldnt walk by her in crossties because if you touched the crosstie she would throw herself over backwards. anywho, she got this "lovely lump" because when she was that headshy she would throw her head up and hit the top of her stall door if anyone walked by her stall. welllll after years of doing that, this became of her nose. shes no longer like that, at age 7.... but shes got this awesome reminder of it.