trail class
---
"Be a best friend, tell the truth, and overuse I love you
Go to work, do your best, don't outsmart your common sense
Never let your prayin knees get lazy
And love like crazy"
Horsemanship
---
"Be a best friend, tell the truth, and overuse I love you
Go to work, do your best, don't outsmart your common sense
Never let your prayin knees get lazy
And love like crazy"
The first pic one is halter he's a 7 year old gelding
2dn pic showmanship
3rd pic western pleasure
4th pic competitive trail
5th pic favorite memory, Timmy was tired and my dad said smile tim one last class! And he flashed this impressed look and huffed, it was funny!
Cherished Horse Show Memory
---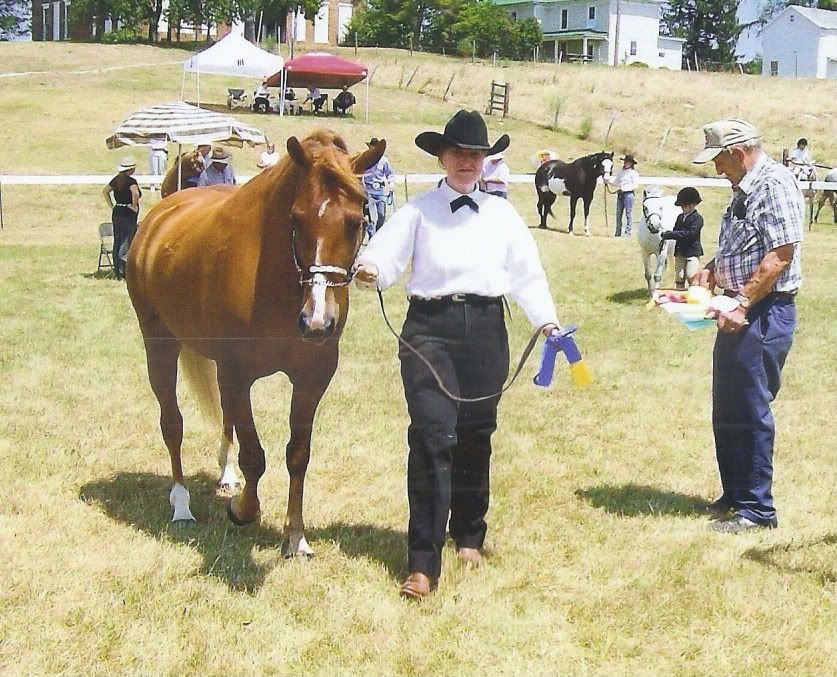 This is the first blue ribbon I ever won and i was in my late 50ies at the time. I showed my grade qh mare in my first show in over 30 years and was scared to death. We competed in a class of 10 and the other horses were all nice registered horses. I will never get over the shock and surprise and happiness when the announcer called my number for first place! I have since started showing under saddle and won lots of blue ribbons (now age 62) but none as special as that one!
10:
Jay, perpetually lame at the time, was okay for this show and the *english* horse of mine got
second
in Ranch. It was a great day of bonding with my one and only awesome horse! After this, too, we got eighth out of forty-something at the State 4-H Show. It was special to me because no matter what, Jay would be right there for me and do (almost) anything I asked of him, my always-English horse.
---
"A Bad Day Riding With Dad beats a Good Day Shopping With Mom."
8: Ranch... Sorry for the size and poor quality!