oh and here's another one!
---
~Do Your Best, Prepare For The Worst, Then Trust GOD To Bring The Victory~Proverbs 21:31
Baby Chex decided to take off mid picture and Gypsy changed her mind about a pretty head shot, ear pin!
---
Treasure Valley Gypsy watching over her kid brother CR Sizzlin' Jet Chex
I'm usually too embarrassed to show this picture, but for a bad picture contest, here it is. I think he was doing the "baby mouthing" thing.
DSC_0036.jpg
Here is another funny one of my chubby Haflinger Max cooling off.
DSC_0054.jpg
---
Last edited by 2horses; 02-06-2010 at

01:31 PM

.
Started
Join Date: Jan 2009
Location: USDF Region 1, USEA Area 2, USEF Zone 3 - Maryland
Posts: 1,903
• Horses:
3
I tried take an "artsy" picture. Didn't work
Snow 050.jpg
This is one I normally don't show people. People always ask if my horses will bite them and I always say "nope!" Guess I should revise my answer.
Snow 045.jpg
---
-Melanie
Mom to 3 bays: Beau, Daisy & Cavalina
---
Last edited by My Beau; 02-06-2010 at

01:36 PM

.
Quote: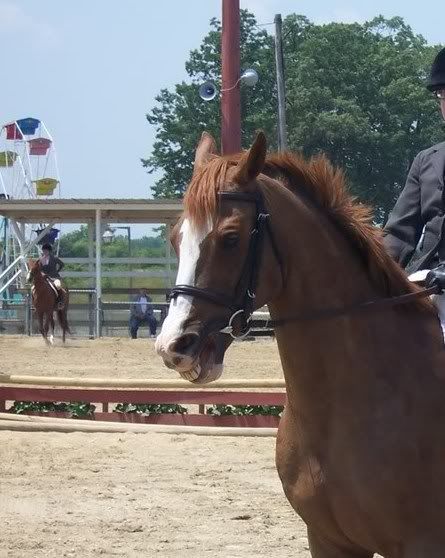 Danny..... showing off his big teeth just like he always does
Looks like he's fighting the bit to me...
haha perfect idea for a thread!

this is the first picture i ever took of my horse :) he was looking at the camera, then decided he needed a scratch!
---
Keep your feet on the ground when your head's in the clouds.
The first three are of Stoeka.
The first she sighed while I took the photo...
The second she is running away from the camera while my uncle was trying to take a photo of her...
The third she got a little excited in the show arena and decided to run away. LOL
The last two are of Night Heat.
The first she was cantering sideways and pulling a funny face at the show...
The second was taken just as she was refusing a jump...LOL
That's all I got.
---
*~ THE HORSE STOPPED WITH A JERK, AND THE JERK FELL OFF -- Jim Culleton ~*
MANURE HAPPENS
Green Broke
Join Date: Oct 2009
Location: Witbank, South Africa
Posts: 2,681
• Horses:
2
---
Every girl wants their own LOVE STORY, I found mine... :)
i wont even bother posting..... i know who the 3 winners should be!
1)2horses with the hose one-makes me want summer to come!lol
2)kmdstar
3)smarby

thats my vote!lol
I was trying to take pics of Don modelling his new rugs
he had been posing, but he moved during the delay with the digital camera
stupid digital cameras and their shutter delay!
---
"Did I not just use the word 'puzzling'?"