?Any Idea's on what this could be?
---
Recently I had roached my horses main because it was looked so bad.. It was all different lengths and it was a totally different color then his other hair he had. So after i roached it i put MTG on it hopping that it will go back nicer.. And it has been except one part ... I looked closely at it and once strip on his main had like a bald spot with like a couple random hairs and i though it could a fungus problem so i kept putting it on and i bought some miracle water.. but i hasn't seemed to help.. Do you have any ideas what it could be?


Sorry I don't have any photos to show.
It's hard to tell. Is it possible that he's rubbing it out on fencing or something?
no its not like a rub mark its like he had a fungal problem or something it is really strange..
can you post a picture of it ?
---
Riding a horse is not a gentle hobby, to be picked up and laid down like a game of solitaire...... It is a grand passion !
Could it have been a bruse? If they get brused bad enough the area will dry up and the top layer of skin and the hair will fall off.
Posted via Mobile Device
My mare's (roached) mane has a similar thing, if it's what I'm thinking it is. She has a chunk about 6 inches long on the bottom half of her mane where her mane is only about half thickness. The half that isn't hair is just a "naked" spot that she has a few mane hairs growing out of but other that that, it's just skin. My theory is that maybe at some point in her life, she rubbed there SO much that she manged to kill all the hair follicles. But I really have no idea what happened.
Here's a picture (from a year ago) where you can kind of see it, I couldn't find a better one... It's that dark chunk on the lower half of her neck...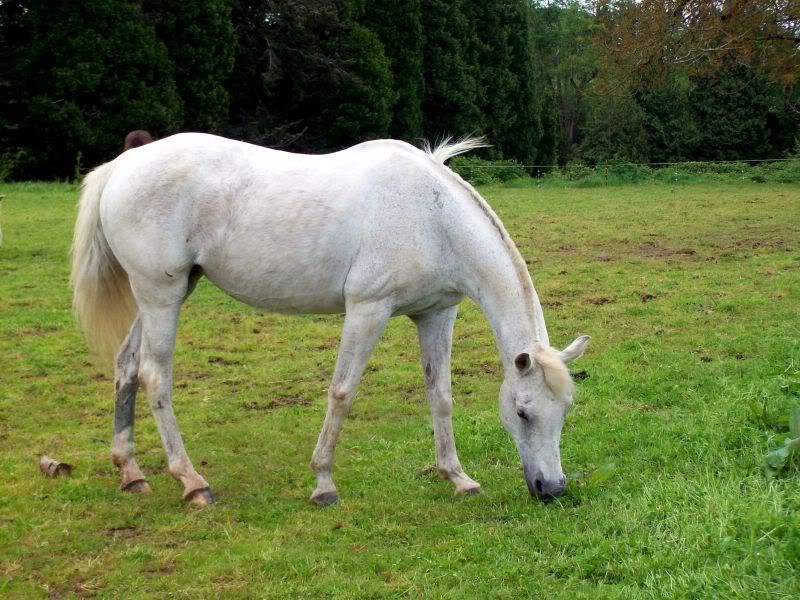 ---
Fabio - 13 year old Arabian/Lipizzan gelding

~
Rest peacefully, Lacey.

No I don't have a recent photo I'm sorry. I'll take one tomorrow of it and post it.
Yeah, from what your horses mane looks like it looks a like what my horse has. Thanks for all your help. I will try and get a photo up ASAP to give you a better perspective.
It's probably an overdose of MTG. If you put to much on at once, it can drown out the hair and cause it to fall off. A while ago everyone at my barn was using the stuff and using a lot of it, and then the horses mane started falling out. Just cut back of stop using it all together and it should come back, if it's the same thing that happened at my barn.
@OneHotFuzz:

Ugh.. Thanks for the suggestion but this all started before I even used the MTG cause I though it would help but it hasn't done anything.. It still looks the same.