Banding
---
So for show banding the horses mane i was curious if using white bands on a black mane, was distracting for a judge and if i should start using black bands? Any suggestions?
Her White Bands:
Mya (350).jpg
I've always been taught to use the colour appropriate for the horse and save the other colours for fun classes. I think it looks more professional to do it with the right colour, however I'm not sure if there is a rule or not against it.
would be safe and stick with black on black mane
doing bands in a contrasting colour does two major things,
1) It really makes the bands noticeable, so if they aren't even or very well done it becomes much more easily apparent.

2) They really bring the focus to the horses neck. If your horse has a very nice neck, and his carriage is good contrasting banding will highlight this feature.
I assume you did that banding job? It's not bad, but you're not quite good enough to do white yet.

You need a lot more practice on making them straight and flat, and subconciosly you'll do this every time you band. Look up videos on you tube to get some pointers. Just go out and randomly band your horses. Mine put up with it for a long long time, as I would experiment with widths of banding sections, lengths of manes, etc. to see what made them look best.

I personally never band a wet mane anymore. I use to - but it makes the hair very weird when it's done. It's easier for me to do a dry, clean mane. I don't use any product except mane mousse after it's completely banded, and I use a mesh mane tamer.
---
I've got a lovely bunch of Neuticals,
There they are all standing in a row
Big ones, small ones, some as big as your head
okay thanks, i band her mane when its dry and dont use any product either but some gel sometimes...and her mane is so thick i can't get it thin!! i pulled it but she can only stand there for so long before it starts bugging her, any suggestions?
You'll need a little more practice before using those white bands. You're individual sections need to be smaller. The white bands on a dark horse help elongate a horse's neck. The smaller sections are imperative to making the neck look longer.
Here's an example...long mane with white bands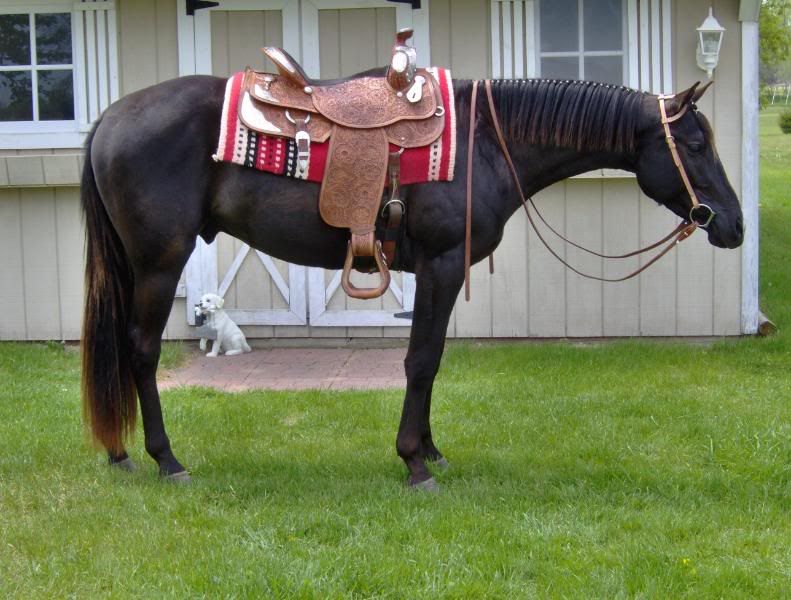 Here's a quick slideshow of how I usually band a mane. I do my banding when the mane is wet & I spray either Mane Mousse or Quik Braid as I'm working on a section. The banding comb helps me keep the bands uniform & makes the part between bands a crisp, straight line.
Others :: Mane banding slideshow by saravan - Photobucket
---
http://www.cedarviewpainthorses.blogspot.com
Home of:
Perfect Jin N Scotch - 2004 APHA Palomino Overo Gelding - Western Pleasure and Showmanship
Hanks Rainy Sky - 1998 Black and White Tobiano Paint Gelding - relaxing rides and blazing trails
wow! i wish i could band like that!! :)
Lots of practice.
Go start now!!
---
http://www.cedarviewpainthorses.blogspot.com
Home of:
Perfect Jin N Scotch - 2004 APHA Palomino Overo Gelding - Western Pleasure and Showmanship
Hanks Rainy Sky - 1998 Black and White Tobiano Paint Gelding - relaxing rides and blazing trails