The Battle of the Burrs
---
Some of you may have seen the pics I posted yesterday of Ace out grazing, she looked like this..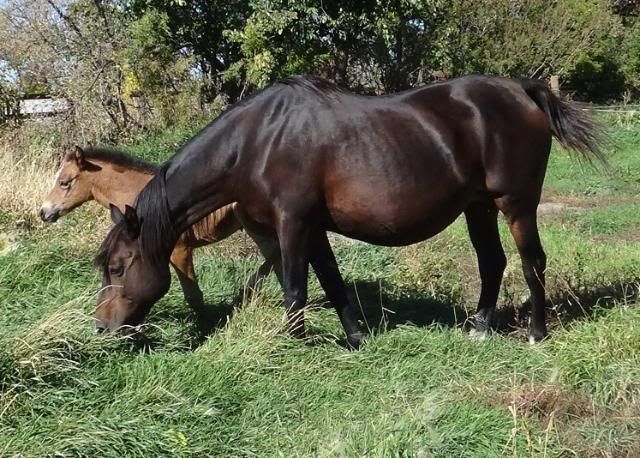 That was early yesterday afternoon, this morning she looked like this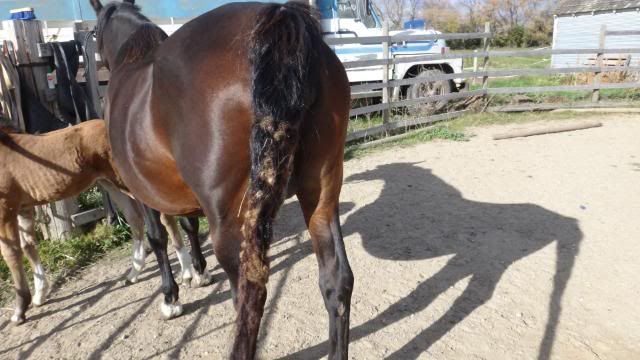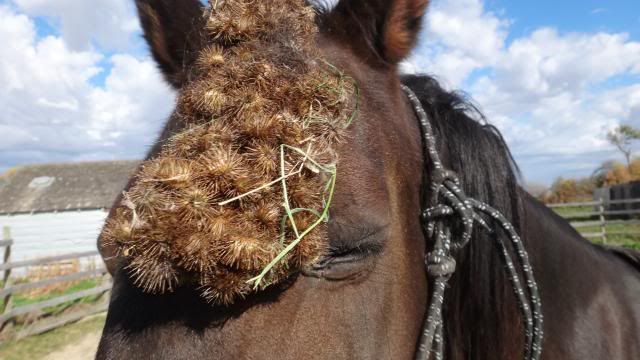 So when I had finished crying I gathered together my long sleeve shirt and long pants, and rubber gloves, a can of WD40 and a big tooth mane comb and set to work. After less than an hour I had
Even with help from
omg! THAT is quite hilarious!!! sorry! but that is a HUGE amount of burrs in sucha short time. she must have partied.... HARD lol
---

Baby, Sparta, Carmen, Henry, Hooch, Mercedes, Butterscotch
We have the same problem when we buy hay from a certain farmer. The hay is FULL of burs, but the majority is good quality. I've found the easiest thing is just to pick them out by pulling the hair apart. You might want to put some baby oil on your hands first so they slide out easier.
The only way to start is just pulling the knot apart from the bottom, I get of anything that is loose, then tease and tear into separate lumps, then you can use the comb, but only ever use the last 2 or 3 teeth just to hook in and pull out.

I used WD40 today because it's all I had to hand, I have to go to town this afternoon so I'll pick up some baby oil, I have more tails to sort out yet. I swear though if Appy Gilmore has to many in his mane I will so roach him.
She is worse than my little shetland who comes in covered in them, I am sure she waits till I clear them , then finds a patch to roll in
I really dislike them :(
---
TRAIL RIDING HOURS IN THE SADDLE

..37 hours 20 mins totaĺ 2016 !!! .2017..7 hour 15 mins
Hahahaha! That is great.
When I first bought Sunny her forelock was full of them and the old owners tried to get them all out before I came to pick her up. Let's just say, she didn't have a forelock anymore. After that, he had a mini 'fro.
It took FOREVER to get her forelock to lie down flat!
Posted via Mobile Device
There was a product that a girl I knew used to use. She got it at the $1.00 store and it is for relaxing curly hair. Works just as well as WD40 without the side effects.
---
I'm not arguing with you, I'm just explaining why I'm right.

Nothing sucks more than that moment during an argument when you realize you're wrong.

It's not always what you say but what they hear.

HOLY COW! I gasped when I scrolled down the the burry picture. At my old pasture, my fuzzy pony Duncan (in full winter coat) would come with burrs stuck everywhere on his little body, and at the time he wasn't the most patient pony. So frustrating! I couldn't wait to clip his coat off just to rid myself of the body burrs! But it looks like you did a good job getting those out. Ugh! Horrible little things.
---
Impressive Wild Angel- Ginger Happy Go Lucky- Duncan Little Boy Blue- MellowSweetwaters Eqyptian King- Sam

Wow Ace! You have to admit her forelock looked kinda cute though!
I wish I'd have taken pics of Woodstock yesterday. His mane is shoulder length and he was a hot mess. I love jojoba oil for conditioner & detangler. Lasts forever, dilutes well & smells really good.
---
Life is like a camera. Focus on what's important, Capture the good times, Develop from the negatives and if things don't work out, Take another shot.
Oh my I had two horses look just like that on Sat. so much for riding ... I spent the afternoon fencing off the shelter belt and up to my elbows in baby oil!