my mares mane is also really thick, I braid it up when it is hot, it does help keep them cool
Good to know! My filly's braids are only
Posted via Mobile Device
Whoops, hit send too soon!
They are only a few days old, but hubby and I laugh that she looks like a hippie cuz her braids are all messy....like really sloppy dreadlocks! I need to redo them when I am not in a rush...she is way too pretty to look so messy!
Posted via Mobile Device
if the braids coming down vertically aren't working, this is what I do with my mare as it stays in well, and when done off the base of the root doesn't damage the hair. I'm not even 100% on the name, looks like a running braid, but mostly i think it is just a french braid lol!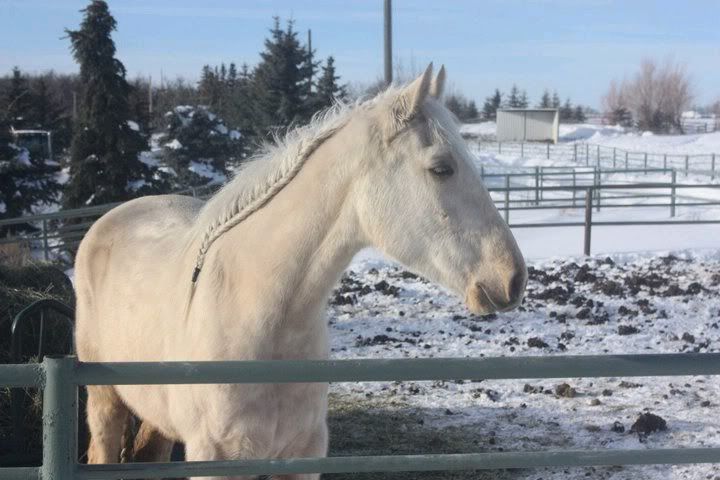 ---
Last edited by bellagris; 04-13-2011 at

09:58 AM

.
wow, that is absolutely gorgeous!!! why can't I do that????
This is a good video for it. It's basically half of a french braid. I cannot figure out french braiding for the life of me, but I can do this to my mare's mane. I started doing it just for the purpose of this thread: It's spring and she's full of energy, so our lungeing is mostly loping and her neck gets so nasty under her long, thick mane.

Also, you don't need Shine Spray or whatever it is she has unless you want it to look super fancy for a show or something. You just need to brush it out good.


Thanks for inserting a link to the video-I needed that! Now I can do my gelding's mane w/better results.
That is so COOL! Thanks!!
---
"If you talk to the animals they will talk with you and you will know each other. If you do not talk to them you will not know them and what you do not know, you will fear. What one fears, one destroys." - Chief Dan George
It's also really helpful to do while lungeing if you horse is really susceptible to "witch's knots" in their mane. Mine recently started developing this problem when it's windy outside and turns out, it'll do it if I have her loping on a lungeline.
Poseidon_thanx soooo much. Maybe I *can* do this. Cant wait to try tomorrow!
Posted via Mobile Device