Burrs in the Mane
---
I'm ready to go crazy. My yearling filly, Patches, somehow managed to find a picker bush that no other horses have found and that I can't even find. Last time, It was in her tail really bad but I got most of them out using lots of detangler and in some cases...cutting some snips of the tail out. But this time its in her mane and its worse. She has a nice long mane right now and I don't want to cut it off...but there's so many burrs in it. Any tips on how to get them out without pulling a bunch of hair out or cutting the mane? Thanks!
---
To see the wind's power, the rain's cleansing, and the sun's radiant life, one need only to look at the horse.
Tons and tons of baby oil. Really slather it on and let it sit overnight, then slather it on again before going to work picking them out. Letting it sit helps to moisten and soften the burrs so that they aren't as prickly on your fingers and they are easier to get out.
Green Broke
Join Date: May 2009
Location: Winnipeg, Manitoba, Canada
Posts: 4,510
• Horses:
2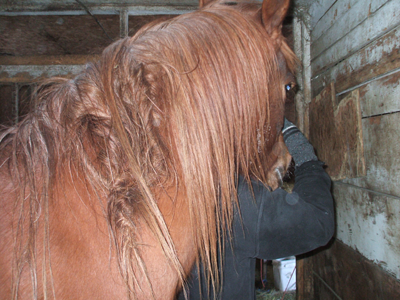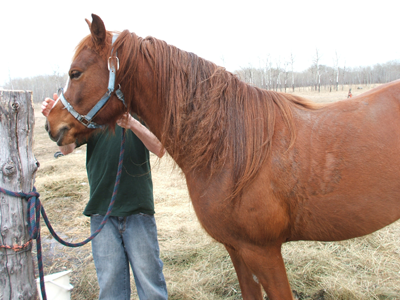 That was a two hour job and an entire bottle of baby oil, but I get 'em out every single time! That first pic is nowhere NEAR as bad as she usually got in winter - Zierra has laser beam eyeballs that can spot a burr patch from the next county and she WILL get into it only because I insist on keeping her mane long. I have attacked wind whirls that looked absolutely impossible, with minimal damage to the hair. I do use scissors to cut some piece apart as opposed to ripping them and causing more damage, but trust me, baby oil DOES work if you're dedicated enough.
Also, get yourself a product called Fiebing's Satin Sheen. It's LIKE Show Sheen but it's not - it actually helps moisturize and protect the hair, it's silicone free so it doesn't dry it out, and makes getting burrs, knotts and mud out 10x easier. I use it on Zierra once a week or so, and once you get the mane silky, even rain can't make it yucky now, it still brushes out silky.
---
Quote:
I hope God tells her to smash her computer with a sledgehammer.
I can't remember if it's magic sheen or show sheen or something sheen that we use (in a clear bottle, kind've a milky color) but they come out no problem and after a few uses, it builds up and the stuff has a hard time even sticking in the first place.

Good luck!
---
*Dreams are within reach, you just have to go that extra mile to catch them*