Goop does actually work really well. my father is a mechanic and he has stained hands and arms after 40 years of grease adn it made his hand and arms actually normal skin color again, on that note my friend has used it on her cremello mare before and it works wonders!
---
every horse deserves to be loved by a little girl
Showing
Join Date: Jun 2011
Location: Cariboo, British Columbia
Posts: 11,951
• Horses:
3
Are you cleaning this horse up for a show? If you are, let me know, I have some great money saving tips to get that horse as clean & as white as absolutely possible.
QuickSilver Whitening shampoo works well!
you could sock her tail and keep her main in socks also just braid them and cut the socks so there are 4 pieces and tie them through the braid. Or you can buy special mane and tail socks
---
just a small town girl with a big town dream :]
OK! I also own a grey and it's difficult to keep him clean. My memo is that "If i keep him clean and work on grooming him everyday and keeping him clean, then I will have less of a huge mess to take care of him if im getting him ready for a show, special occasion etc.."
When bathing my horse I BREATHE by the european brand horse shampoo called "Gallop". Only a couple of stores carry this brand as it's new but the results are absolouetly fantastic!
The "Gallop" brand has a special line "just for greys" and its a miracle worker on the coat, mane, and tail. Insantly stained coats and tips to the tail go to white. The shampoo has a special colour formula that's not as harsh as the "White n bright" is or other purple staining formulas.
What disipline are you showing? Depending on your dicipline the tail length is your desicion. Keep in mind that if you are going to keep the tail "dragging on the ground" it might be a good idea to put a tail bag on it as when the hairs are exposed like that to harsh climate they can hair break and there will be no more length to grow (split ends) Also if you are showing I don't think you want to show up with a ragedy tail. My horses tails are trimmed long enough so that when you take the end it wraps nicely around the hock. Best of luck scrubbing away at the stains! Again, gallop is a miracle worker!
there is this bleach stuff i used to use on a grey/white hores before shows. i havee noooo idea on what it is called because it wasnt my horse ( it was a lesson horse) but it worked really good! all i no is that the liquid is purple. hahah so if u see purple liquid stuff in a tack store look at it and read the bottle because it might be the stuff. it just whitens the coat! hope tht kinda help :) ( sorry tht i dont know what its called)
---
When riding my horse i no longer have my heart in my chest, but between my knees
My first horse was a grey: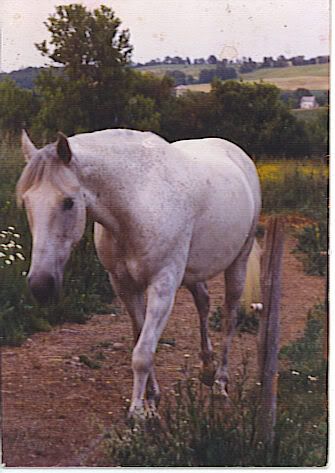 I used to use something called "White N Bright" shampoo and conditioner and it worked quite well - even on the grass stains. If you spray your horse down afterwards with Laser Sheen or some similary coat gloss, it actually helps repel dirt and stains for a short time.
Good luck!
I usually use Whitening Shampoo/Conditioner and they also have Whitening sprays which is more convenient for the face. (though i recommend using a cloth with it so it doesn't get into the horse's eyes)
I used to have a flea bitten gray too. I used quick silver shampoo on his mane and tail. It worked wonders. Its purple so be careful what you clothes you wear when you wash her.
I have tried the Goop and it does work some wonders!