Dark horse Bright sun
---
its spring people! and if you have a black or dark horse well... join the club. this time right now is the time to start putting up during the day and letting out at night. drag out the mesh sheets and get to it! that winter coat is shedding and its turned dull but the new fresh black hairs under that winter coat are delicate and under threat of the sun as the dead winter coat is shedding away and blocking those rays. of course it starts from the inside out. a year round dose of flaxseed or flaxseed oil will help improve that shine and saturate those dark little hairs with life. you can beat omegas when it comes to promoting shine and color hue. but what happens when you have the hue and its under strain? there are several products out there to help aid in your battles against the harsh elements of mother nature. my favorite sunscreen and UV block for dark horses is SunShield. they make conditioners and shampoos as well, but i have not seen it around in quite some time. if you can find it snatch every drop you can lol. i have resorted to quick screen. i dont like it but its better than nothing. also a good fly sheet with hood/and fly mask is going to help alot. never take it off unless grooming or riding. always keep them up when the sun is in sight. dont use silicone or products with agents that will dry out the horses' skin or hair. it will turn rusty. bathe weekly or bi weekly to ensure that you dont get dander on that gorgeous coat. good grass and forage that is not dead is really going to help you out! fats are one of the aids ive found to help towards my fight. however you want saturated fats more that unsaturated and not so many carbs. horses can eat avacados but very limited. it will help out alot if you give it one every other day (perhaps less) if you are very concerned about it just call your vet and ask them about it or how much you can get away with. it worked wonders for my skin so i know it helps with my horses'. seaweed is also a great treat and awesome for skin and hair if you are skeptical of the avacado. and all of these nutrients will not be utilized well unless you rub rub rub and groom groom groom. the more blood flow you get to the skin the healthier the hair and skin will be. unless you have a true black that will not fade you are going to have to do all of this and more if you want your horse to be black all summer. its alot of work and its a pain in the butt but it is well worth it. judges dont like dry, dull, BROWN black coats
if you are anything like me you dedicate your life to this cause around this time of year lol.
i have heard that avacados are poisonous to horses so if you go that route PLEASE be cautious and talk to your vet about it!
Or don't worry about it. My horses get to enjoy the great outdoors all day and all night all year. If they happen to fade a little in the Summer it doesn't matter. Small price for them getting to be out all the time. They see a closed stall as prison and don't go in unless there's food involved. Besides, a nice dark bay for the Summer makes for a nice change.
I agree, but if you're showing, you REALLY want that dark coat to look dark!!
My big head (left) bleaches to red in the summer. I took me a long time to believe that he is really "black."
My brown mare will be outside unless she requires to be stalled for medical reasons. I actually like the transition from black-ish....to liver-ish....to brown-ish...to light bay-ish. She's more of the outdoor type anyway and doesn't enjoy being stalled.
---
All horses deserve, at least once in their lives, to be loved by a little girl.
My "black" filly as a bay on the July day I elected to buy her. Actually I like her with that coloring.
And then 4 months later (on the right) in Nov with her coat changed back to black. I don't mind that color either.
Never bought a horse for the color anyway
, so it's obviously never going to make a difference to me.
I also never minded the changing of my horses coat color. It kinda went along with the seasons; spring - all shinny and new, summer - some of the shine rubbed off, fall - my old horse the color of a new horse and then of course winter - all fluffy and dark again.

But now that I show, I'm afraid my horses no longer get to enjoy all of that, they are wrapped up and covered up.
there's a serious problem with the mentality that a horse needs to be locked up and not exposed to sunlight to win a piece of colored cloth. Both in the show er and the organization that encourages such behavior by its scoring methods.
They are horses not vampires.
Teen Forum Moderator
Join Date: Dec 2010
Location: South East Texas
Posts: 7,157
• Horses:
2
I don't know... I rather like the sun bleached look of our 'black' Peruvian x Arabian boy. Its very unique!
And he sure does seem love his 24/7 pasture life. Just ask him!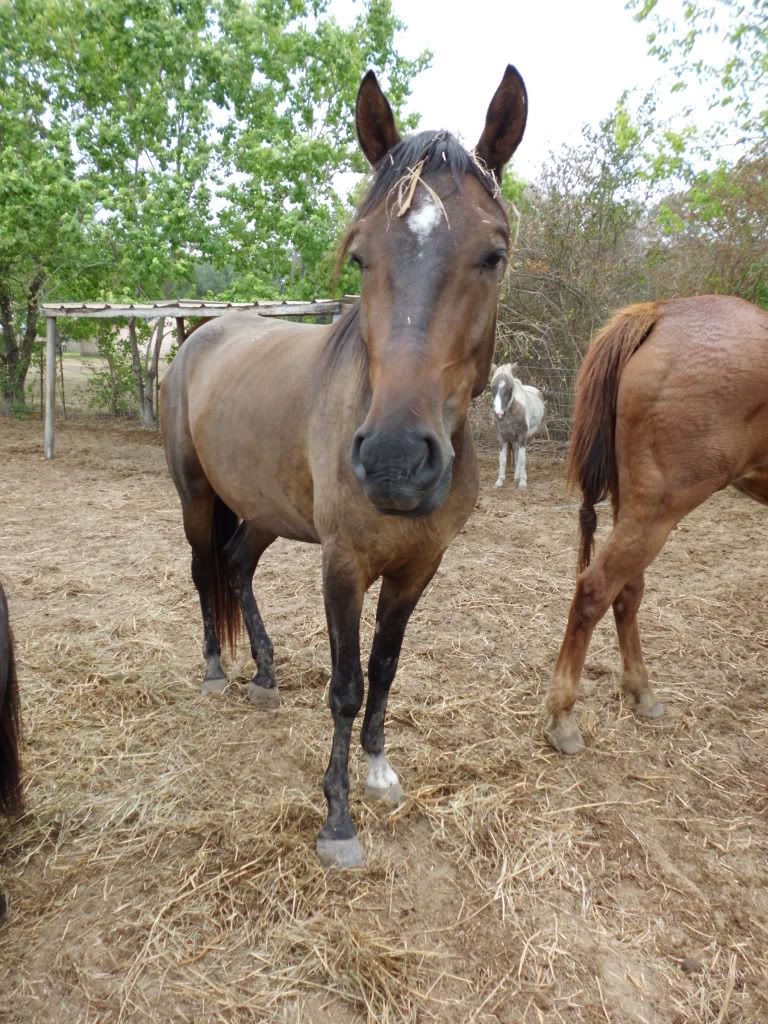 ---
Everyone in your life is meant to
be in your journey, but not all of
them are meant to stay till the end.
I guess natural bays are doomed in competitions, since they'll always look like a faded out black
.