Detangler
---
Can you use Breck KIDS spray-on detnagler in a horses hair? I got it form the dollar tree. If not what kind of detnagler should I use?
I have never used that type of detangler- but I bet it would be safe. I would check by spraying a small amount on a small portion of your horse's skin and see if he/she has a reaction to it.

I have always used LaserSheen. Drifter has a massively thick mane (which was also very long before I pulled it) and tail and lives out 24/7. He also loves the water and mud so I am constantly having to get mud matted hair undone. Lasersheen works wonders!!
Baby oil is my go to. Cheap, works great. Only down side is it's kind of messy...
I knew a cutting horse trainer that would always put Motions oil sheen spray in his horses' manes and tails. You can get it from Walmart.
I love cowboy magic or the cheap generic silkener. Wash and condition the tail first then work in a very generous amount of silkener. Work it in for a few minutes. Wait for it to dry in there. I left it over night because i had a show the next morning. When I came in the next morning her tail was SO soft. I added another palm full of detangler, worked it through again and within a minute my brush was going from top to bottom no problem. This a mare who usually grows dreadlocks for a tail! It was like to good to be true!
Cowboy magic or coconut oil always does the trick for me.
Posted via Mobile Device
Baby oil or WD40 (then wash and condition) are good options to have on hand. WD40 is great for the "super knots". Just always make sure to wash it out afterwards. This summer, I've been washing his mane with good horse shampoo and conditioner. Then, while it's still wet I douse it with Infusium 23, brush it, and let it air dry. His mane has been so much healthier with FAR fewer tangles all summer. It's been wonderfully amazing!
An example from last year: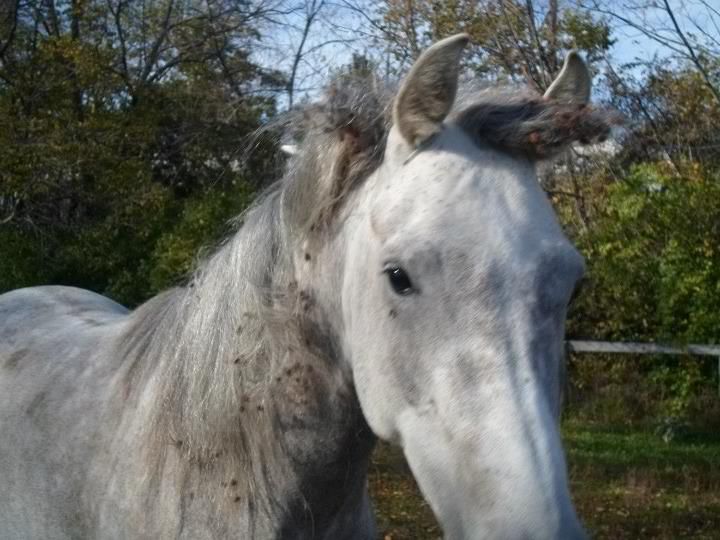 And this year:
---
The wind of heaven is that which blows between a horse's ears. ~Arabian Proverb
I use cowboy magic, it works wonders! Also a human detangler should be ok as well.
---
Being horseless is the pits!!
To make your own detangler you can always mix water with your horse conditioner you prefer. Id say about 3 parts water.. 1 part conditioner... But you could always mix your ratios depending on how you want it.
Posted via Mobile Device