Did my first few button braids today :)
---
Aaand I'm pretty proud of myself! I know they arent perfect...but you have to start somewhere, right? Lol. If you havent read my intro post, heres a little background on the horse in the picture.
He is a palomino quarter horse and as of right now, my husband and I are just doing ground training with him. He was last ridden about two years ago and we have to start allll over again with him and his sister (Lacy.) We've been doing baby steps with them, yayy! And making progress, so, for him to stand still and let me do his hair is HUGE. What a good boy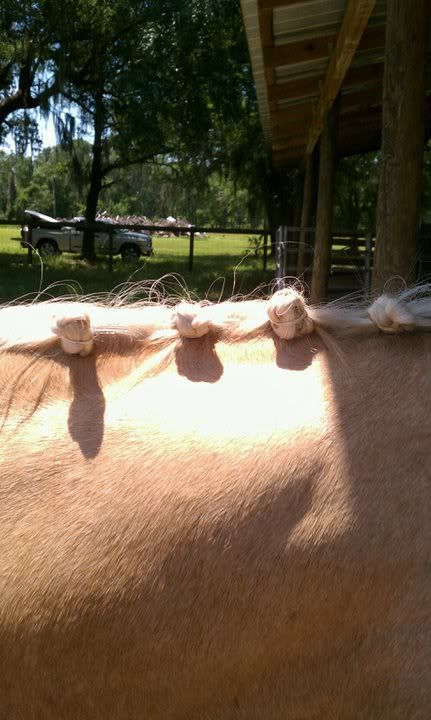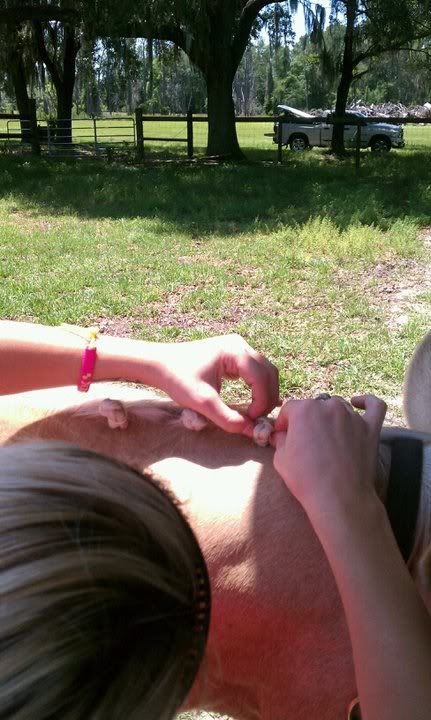 Better than my first buttun braids. Great Job!
---
Horses are my life, if theyre wasnt such a thing life would suck!
Thanks! :) His mane is a bit too long for button braids, BUT, I still wanted to try it just for giggles. I did these just with some simple mini bands, the next round will be with some yarn braided in. I did a running braid last weekend. See picture below :) He was a good boy for that as well!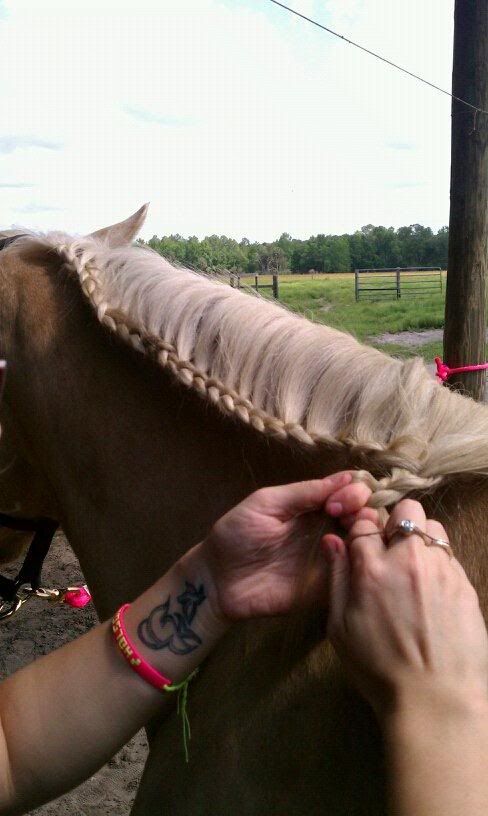 I've always wanted to try a runnign braid on my horse but she is patient enough,m I barley got button braids on her for show!
---
Horses are my life, if theyre wasnt such a thing life would suck!
Have you tried keeping her occupied? I'm pretty quick at braiding..I went to cosmetology school to do hair..so, I can do about 5-6 button braids in 5 minutes lol Their not pretty yet, but its a start. As for my running braid, it took me about 10 minutes :) I cant ride Skip yet...but he lets me do whatever I want to his mane LOL
I havent tried his tail yet though. He likes to buck, so I'm pretty sure hed kick me. I'm DYING to get my hands on his tail and do a fishtail braid, or anything. He likes to rub up against posts and his tail is all scraggly. I really need to bag it so it can grow out. lol
Funny enough, Im starting to learn how to plait on my horse for a show in a fortnight but he's mane is just so long, black and gorgeous (he looks like a friesian :3) that i just dont want to cut it off.. Oh well I guess i have to xD
Looks great!! I just wanted to say, your tatoo on your wrist is truly gorgeous!
---
Cross Country- The act of hurling yourself and your equine partner at a stationary object with poise and grace while attempting to survive...

Very good for a first try! I'd love to do a running braid in my lads mane but I have no idea how!
Oh I love the neon pink leadrope!!!
Posted via Mobile Device
haha,your horse is like your girl.
---
If you're tired of daily dull work, then go horse riding.
they look great - especially for your first attempt !

I usually rosette when banding and roll when sewing....

Hay in a haynets great for keeping them occupied for plaiting as long as they arent tugging at it... I think my horses just get bored and go into a zone haha ...