Haha^^Me to :)
---
Blue Eyed BLY~ 2/3/03
Calico Sonny Stockman x She's On Cloud Nine
One way that horses bond with each other in the wild (and out in the pasture) is by "grooming" one another. Every time I used to brush my old Arab, she would turn around & use her lips to "groom" me as well. It was pretty cute.
Grooming can def help build bonds....I groom my boy every chance I get...its relaxing for me and it gives me someone willing to listen to my problems...its also relaxing for him...ive actually put him to sleep brushing him before...

My boyfriend says it takes me to long to groom him...seeing as how i wash him brush him do his feet...brush him again...then braid his tail...lol I think I do just what needs to be done lol

But yes grooming is great for bonding in my opinion....
---
Horses Will Listen...Even When No One Else Could Possibly Understand...
It definitely works with most horses. My draft cross gelding is a former PMU colt and he was wild as a March hare when we got him but through scratching and treats, he transformed and now he LOVES to be scratched and groomed. Our POA pony had been abused and was very wary of being touched when we got him. It's been 2 yrs. now but my persistence has paid off. He now comes up to me asking to be scratched and I can finally get him to relax and do "the lip." Our paint loves to be scratched to an extent and then he's just done and walks off. Depends on the horse :)
---
Dana
Riverside, CA
I also agree! Whilst training a friends horse that i try to see regularly I always groom him before I take him out for a training session. He hasn't known me for that long and every time I groom him I personally feel closer to him and I've noticed little things from him now that I didn't before. He's walking up to me now in the field when I go to catch him, and he's also alot more cuddly which is lovely! And now he's moving a lot better to my voice commands as he is used to my voice now! I really enjoy just grooming a horse, it is very therapeutic for yourself and the horse :)
Vinty really likes being groomed for a hot thoroughbred it calms her down a lot she loves it when I just stand with her in her stall and rub my knuckles on her neck and whither and down to her shoulder she turns and nuzzles me. :)
---
You are a great champion. When you ran, the ground shook, the sky opened and mere mortals parted.
I love you Vinty, you'll always be my champion.
for the most part i think it does...except for my pony ! he HATES being brushed....he has for all 7.5yrs ive owned him. if you even brush his neck with a soft brush he gets pissy. hes just a grumpy old man though =P

my mare on the other hand LOVES any sort of attention...shes very self centered, we spend lots of time grooming & brushing manes etc =]
---
Gypsy & Scout <3
Everybody is a genius. But if you judge a fish by its ability to climb a tree it will live its whole life believing that it is stupid. ~Albert Einstein
Yes
---
Grooming certainly strengthens the bonds between you and your horse.

When I am grooming, it helps me relax and forget any problems. I concentrate on the horse and making them clean and comfortable. You can detect any changes in their coat and condition and find any nicks and boo-boos.

I also find the tickle spots that each horse likes. It might be between the front legs, on the withers, on the face, or on the behind, but they LOVE to be scratched and tickled on that spot. One or two of mine will run up and turn their butts to me because they love to be scratched there.

Sometimes I rub a clean towel over the horse and keep doing it until they are polished to perfection. Of course, with the winter hair, they don't seem to shine nearly as much.

If the weather is bad, that is a perfect time to go groom.
Yes! When I first got my mare she was really jumpy and nervous but after lots of grooming and talking she is really settled and much more quiet than my other mare. Not to mention that they love it!!
Green Broke
Join Date: May 2009
Location: Winnipeg, Manitoba, Canada
Posts: 4,510
• Horses:
2
Quote:
One way that horses bond with each other in the wild (and out in the pasture) is by "grooming" one another. Every time I used to brush my old Arab, she would turn around & use her lips to "groom" me as well. It was pretty cute.
Haha, my Arab does the same thing! Not so much when I groom her, but when I find her itchy spots. She has this spot on her back that for whatever reason, flies LOVE. I do my best to keep it soaked in fly spray but they still manage to get her (actually, she was fine this summer which was nice). So I always scratch it for her and she returns the favour: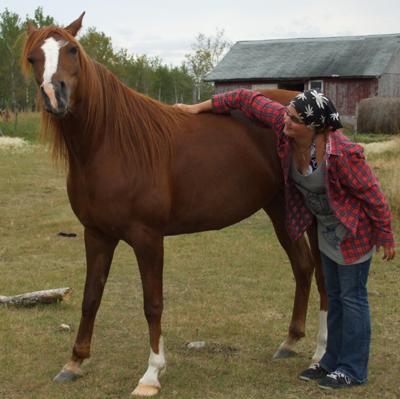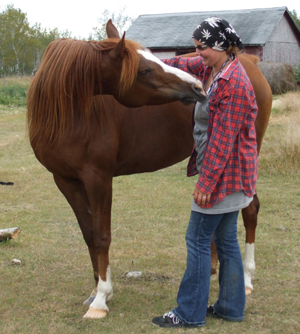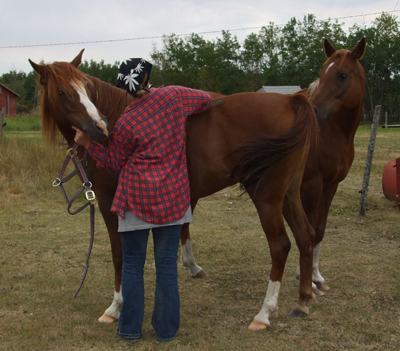 I am of firm belief that our horses delibrately get dirty so we'll brush them. They all seem to absolutely adore it, we regularly hold "grooming parties" where me and Shay-la just walk into the pasture armed with brushes and get them all cleaned up (we have 7 plus a Mini). Not only do they all stand happily, they will very UNhappily bump into you or push you when you have the nerve to move on to the next horse!
They all crowd around and do their very best to ensure you spend as MUCH time brushing them as possible!
---
Quote:
I hope God tells her to smash her computer with a sledgehammer.