Off topic (sorry)

About hair changing color... my friend has dark brown hair. About five years ago, she got a bad shock while unplugging something. Right after that, her hair started growing in white in one spot! Now she has a cool white streak
I'm very tempted to try this experiment with my 18 year old TB/Appy mare. She HAD a full mane and tail when I sold her January '08...but when I bought her back in August '08 is was all tattered and scraggly. I left it alone until this July and it was a little longer, but nothing like it was. I tried pulling it to see if it would be a little more even but instead it seems to have gotten thinner! I know these aren't the best pics to show, but a bit of a play-by-play!
THIS is the mane I sold her with! (person on her is the kid that bought her from me)
And her tail...*cries*
Here's how she came back to me...just all patchy and short!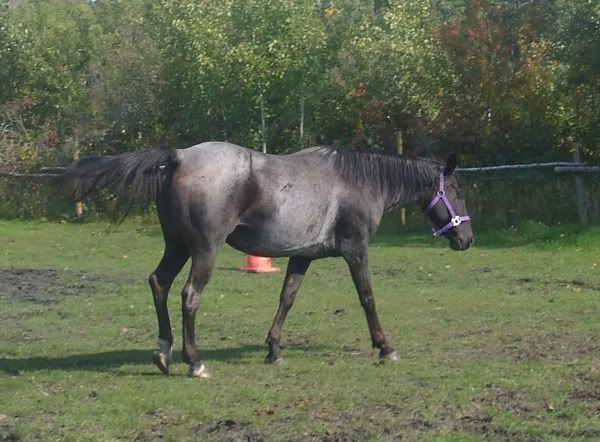 This summer before I pulled it
Pulled (don't worry, I pulled the rest by her wither too!)
*giggles* MY hair was longer than her tail!!!
And here's the most recent pic I have showing her mane. It was taken in the last week or two. It's grown a little, but more sparse.
I've used MTG on it like twice, more in her tail.
Next time I go out I'll take pics of her mane and see how she does with the clippers. She's nervous just letting me to her bridal path...nevermind her whole neck! LOL I'm sure I'll be able to do it, but do you think she's got a neck that can pull off a roach? I'm not showing her or anything, heck, not even riding her since she's retired now! But I don't want to make her look silly...LOL! What do you guys think?
---
Never ride faster than your guardian angel can fly
I bet she would look fine. Her neck is full enough that I don't think you would even need to worry about shaping it. You could just do a close shave all the way down, that would be easier anyway.
---
Always remember that feeling of looking at a big, open country over the ears of a good horse, seeing a new trail unwind ahead of you, and that ever-spectacular view from the top of the ridge!!! Follow my training blog:
http://robertsontraining.blogspot.com/
Quote:
crap... of course you do this AFTER i roach his mane!!!! now i have to see if i have any pics of him before i roached it!! lol
Yes, but you were my inspiration, AlmagroN!!
I'm a big fan of roached manes. In my opinion, roaching doesn't cause a thicker mane to regrow, it's just that all the tattered and damaged hair is gone so it grows out more uniformed so it gives a fuller appearance at first.

I know when I went from hair down to my bra strap to a pixie cut as my hair grew out it looked fuller though it was just "new" hair so it was healthier, not subjected to hair dryers and sun....I suppose a horse's mane would just not be subjected to rolling in the hay and endless sun exposure.

The "fresh" hair will always look better than the 2 or 3 year old hair of "old" mane.