You could also try a horse vac, I bet your guy would appreciate getting to keep on rolling naked
Dumb quesiton time! I am afraid to turn my horses out into the pasture in a blanket. Can't they get tangled in them when they roll?

Rhonda
Quote:
Dumb quesiton time! I am afraid to turn my horses out into the pasture in a blanket. Can't they get tangled in them when they roll?

Rhonda
Oh stop it! The only stupid question is the one not asked and especially so when it comes to the welfare of your horse. I don't know the answer so I will ditto your question LOL. I have never experienced this with my horses
My mare is older so anytime it gets windy or rainy I throw a waterproof rain sheet on her. She LOVES to roll and I've seen her roll while wearing the sheet. They should be fine out in the pasture with a blanket or sheet on. You just have to be careful that the leg straps are tight enough that they do not hang low but still loose enough to give the horse room to move. Also, the belly straps should be just touching the horse's belly (but not pulled tight!). This ensures they won't tangle their legs in any straps. Should the sheet snag on a tree branch, fence post, etc., most will just rip away.
---
One man's wrong lead is another man's counter canter.
"Adjust Your Pleasure"
2006 Medicine Hat Paint Gelding
Yeah, they are definitely just fine rolling with the blanket as long as it is properly adjusted. When I keep a horse in pasture I try to leave them naked, lol, when possible, and always allow them some time to roll bare but they always end up rolling in their blankets and sheets, too. They do just fine.
I keep my belly straps somewhere around a full side hand (like with the top of my thumb on his belly and pinky horizontal to the ground and just resting against the strap) and hind straps around the center of the top back of his legs (the part between the bottom of his butt cheek and his hock)
I hope that makes sense, haha
Do horse vacs work really good?
Quote:
Dumb quesiton time! I am afraid to turn my horses out into the pasture in a blanket. Can't they get tangled in them when they roll?

Rhonda
I have NEVER had a horse get tangled up when rolling with a rug. An old lease horse somehow managed to get out of his canvas rug on a few occasions without ripping it or undoing anything - STILL cannot work that one out - but I've never had a horse get stuck in a rug.
I cross my leg straps and all my rugs have double cross over belly straps as well. I don't do them looser or tighter than fitting my hand between the leg and the strap.
Not a stupid question at all. I can see how it could happen, but I think it would only really happen when the leg straps are too loose. They'd break if he got tangled though.
Unless you don't adjust the straps properly (too loose and the horse can easily put it's leg through a strap and get tangled, too tight and the poor thing will have a big horse wedgie :P) a rug won't become tangled when the horse rolls. Obviously if you have an ill fitting rug then your increase your chance of it getting tangled though.
Green Broke
Join Date: May 2009
Location: Winnipeg, Manitoba, Canada
Posts: 4,510
• Horses:
2
Does anyone else get BEYOND annoyed with ill fitting blankets? It's like my personal pet peeves when it comes to horses - going to these fancy boarding barns, and seeing these animals wearing torn and shredded blankets with gaping holes and dangling straps. Like, what's the POINT of it if half the body is exposed anyway? It just drives me nuts!
My mare is blanketed all winter and I have never had an issue. She somehow managed to get a leg strap undone once without breaking it - not sure how she did that. Her blanket fits, is in good repair, and I ensure all my straps are fitted snug - you will constantly see loose leg straps and belly straps and it's just asking for disaster, or at the very least, a destroyed blanket.
Pics of Zierra in her properly adjusted blanket. She's ripped it twice now, and I promptly stitch the rips up with a heavy fishing line. It doesn't look fantastic, but it prevents the rip from extending and curls the edges under so nothing can leak in. Proper blanket maintanance is paramount to equine safety and comfort IMO!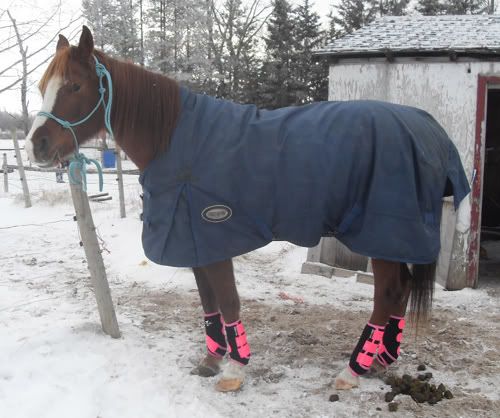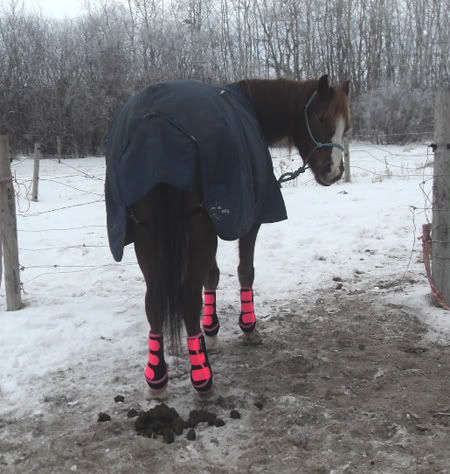 She lives all winter with this, anywhere from 4-6 months and she's constantly outdoors with trees! I've not had problems yet and I've managed to keep the blanket in proper working order even 5 years after purchasing it!
---
Quote:
I hope God tells her to smash her computer with a sledgehammer.