first braiding attempt!
---
Went to a show yesterday (no pictures from the show sadly) and decided to give a long braid a try. I think it turned out well for a first attempt. Half way through the show I had to re-do it though. I couldn't get it really tight for the life of me, but practice makes perfect I suppose.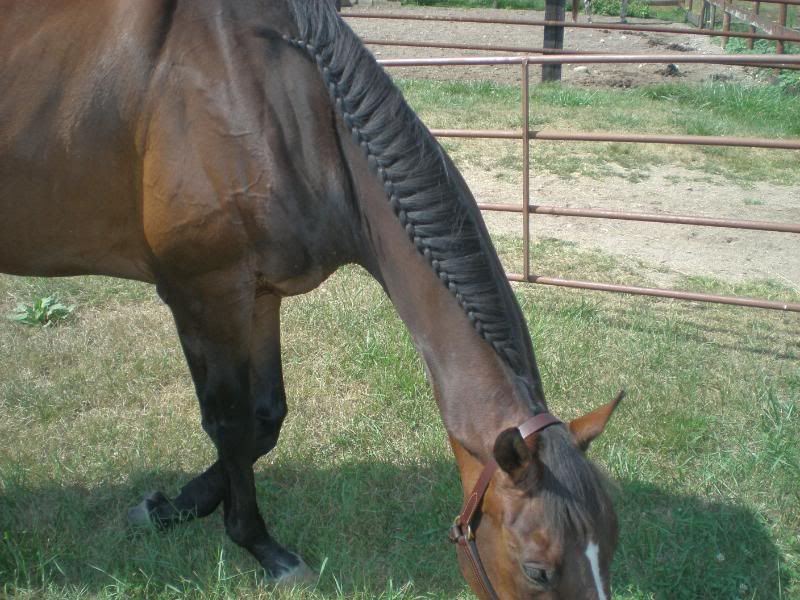 By the way, in the show we placed in all of our classes. Yay! Did beginner hunter over fences (5th place, I think we did the course too fast), beginner jumpers (1st place, cuz we did the course super fast...), beginner EQ (3rd place, picked up a wrong lead, ah well), and then the intro dressage tests 1 and 2 (1st in both which isn't saying much because there was only one other rider on a cranky pony). Was nervous about cantering him, but my friend that went with me told me to just go for it.
Awesome!!! Mane looks great! Placing in all classes is really good. Great job!
I think it looks really good! Nice and tidy. =]

I hear that sewing it up will help it stay, of course I don't know how to do that, so hopefully someone else can help you out, or maybe you can find a video on YouTube?

I'm also trying to find a way to braid that last little bit by the withers back up to the crest. I'm not sure how I'm going to do it, but it's always bothered me how it just hangs there at the end, lol.

Oh, you can also try a long braid all the way down her neck at the crest. Just another variation of the same braid. =]
---
"Great spirits have always encountered violent opposition from mediocre minds."

Congrats on the placing! Mane looks pretty cool, is that braid show acceptable, or are they looking more for the traditional english mane (Sorry don't know what it's called)
Thanks!

riccil0ve - I heard about sewing the very end up. I will have to look into that.

FehrGroundRanch - this is an acceptable alternative to braiding as far as I know. I did it this way because he has a really long mane that I reall didn't want to cut.

I think it will look better if keep getting it really tight each time I bring in a new piece of hair. This was really easy actually, I thought I was going to have issues since I can't french braid regular hair.
Yearling
Join Date: Oct 2008
Location: Sweden - the land of carrots and apples
Posts: 1,387
• Horses:
2
Mane looks great! :) If you want it really tight, try standing on the ''wrong'' side of the horse while you braid. It often helps :)

And congrats to placing :P
How old is your horse and what breed is he(she?)?
---

Always keep your head up, but be careful to keep your nose at a friendly level.


That is great, I wouldn't want to cut my horses manes either. At leat you have a choice now!
Looks pretty good...Sounds like you had a great time!
---
"The ideal horseman has the courage of a lion, the patience of a saint, and the hands of a woman..."
Was the mane wet? Thats the secret to getting a really tight braid, and have a bucket and rewet it when it drys where you are working. Hairspray can help at the end to keep it looking fresh, and don't let your horse rub! But wetting the mane before braiding is muy importante!
---
Troubled TB ~"A thorn by any other name will prick just as deep." @-'--,---
I was thinking about wetting it next time.